Sanctions Don't Bar Oil-Service Giants Bidding in Arctic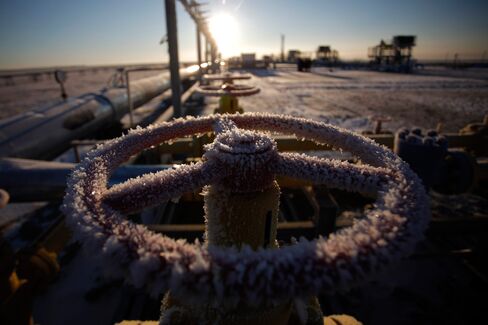 U.S. and European suppliers to the oil industry are still able to seek work in Russia's Arctic despite sanctions designed to limit their involvement because the rules don't apply to foreign subsidiaries.
Schlumberger Ltd., based in Houston and the world's largest oil services company, and Baker Hughes Inc. have used units based outside the U.S. to bid for business in Russia's Arctic, according to a Russian government website. Offshore projects in the Arctic are among those targeted by U.S. and European sanctions against Russia's oil industry.
There's no allegation either company broke the rules and none of the bids was successful. Nonetheless, the use of subsidiaries to legally skirt sanctions will raise questions about the effectiveness of measures imposed to punish Russia by limiting Western involvement in its most important industry.
Schlumberger's Russian unit bid in a December tender to supply drilling fluids to an offshore Arctic project operated by OAO Gazprom Neft, the oil unit of Russia's state-run gas exporter, according to government documents. In November, Houston-based Baker Hughes's local unit and a Panamanian unit of Schlumberger had offered drilling services at the same field.
That's possible because international subsidiaries aren't subject to sanctions, Alexander Bychkov, a partner at the Moscow office of law firm Baker & McKenzie LLP, said in an e-mail, addressing the topic generally.
The use of foreign subsidiaries is also risky for the companies involved, said Christopher R. Wall, senior international trade partner at law firm Pillsbury Winthrop Pittman LLP, speaking broadly about the subject.
Expanded Sanctions
"It's a very small bar," Wall said. "Many companies are now globally integrated, and it can be tripped very easily. I'm not sure I would advise any company to do that."
The U.S. and European Union expanded sanctions against Russia last September over its annexation of Crimea and support for separatists in eastern Ukraine. The measures restricted access to technologies and expertise used for Arctic, deepwater and unconventional oil projects that are seen as drivers of the country's future oil production growth.
"Schlumberger continues to closely monitor the U.S. and EU sanctions and restrictions, and continues to operate with full compliance to applicable laws," said Alexander Borisov, a spokesman for Schlumberger in Russia. "We do not comment on our customers' tenders, contracts or commitments."
Baker Hughes declined to comment.
Gazprom Neft Shelf, the unit of OAO Gazprom Neft working in the Arctic, said in e-mailed respond to questions that it cooperates with Russian and international companies, declining to comment on the individual tenders.
U.S. Treasury
"Our Russia sanctions do not apply to foreign incorporated subsidiaries of U.S. persons," the U.S. Treasury said. "We cannot comment on specific cases."
European Union officials didn't respond to requests for comment.
As the world's largest oil producer, Russia has become an important market for companies that supply equipment and expertise to the oil and gas industry. The sanctions were meant to curb their involvement in areas seen as crucial to the long-term health of Russia's oil industry: the Arctic Ocean and shale fields in Siberia.
"Compliance with sanctions is obligatory for U.S. and EU citizens, as well as legal persons, their international branches and units, but not for their international subsidiaries," Baker & McKenzie's Bychkov said.
Chinese Wall
To operate in sanctioned areas, the companies need to create a Chinese wall between the EU or U.S.-based parent and its international subsidiary, according to Pillsbury's Wall. Staff in the U.S. or EU can't discuss potential work in projects covered by sanctions, he said.
Subsidiaries of Geneva-based oil service provider Weatherford International Ltd. in November 2013 agreed to pay $100 million for violations of U.S. sanctions that prohibit oil services and equipment exports to Iran, Cuba, Sudan and Syria.
The local unit of western service providers may believe the risks are worth maintaining good relations with key Russian oil producers, Vitaly Kryukov, head of Moscow-based independent research company Small Letters, said in a telephone interview.
"The companies are probably hoping they will be better positioned in the Russian market than their competitors once the sanctions are lifted," he said.
Schlumberger's long-term commitment to Russia is clear. Last month, the company agreed to pay $1.7 billion for a stake in Eurasia Drilling Co., Russia's largest driller.
For related news and information:
Before it's here, it's on the Bloomberg Terminal.
LEARN MORE