JetBlue to Drop Card Partner AmEx for Barclays, MasterCard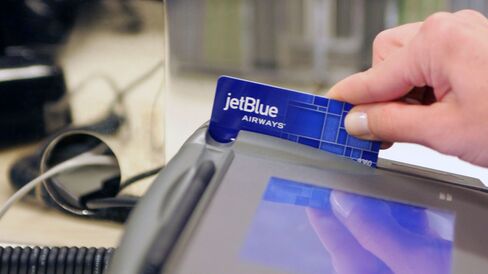 American Express Co., the lender that's ending its partnership with Costco Wholesale Corp., is also parting ways with JetBlue Airways Corp., according to people with knowledge of the matter.
The airline reached a new credit-card agreement with Barclays Plc and MasterCard Inc., said one of the people, who asked not to be identified because the deal hasn't been announced. New York-based AmEx, the largest credit-card issuer by purchases, has partnered with JetBlue since 2005.
Airline deals are prized by credit-card issuers because they often come with annual fees and the promise of awards for free trips can lure customers to spend more. Competition among banks and payment networks for co-brand agreements has intensified as merchants seek better terms.
AmEx said Thursday it will terminate its exclusive deal with Costco in the U.S. next year after the companies failed to renew their 16-year partnership. The warehouse-club retailer, which ended its agreement with AmEx in Canada last year, hasn't disclosed a replacement for its U.S. stores.
The U.S. Costco business accounts for about 20 percent of AmEx's loans and 10 percent of its cards. The lender's contract with New York-based JetBlue expires at year-end, a person familiar with the matter said in October.
Shares Fall
AmEx shares tumbled 9.2 percent since Thursday's announcement that its deal with Issaquah, Washington-based Costco would end, the biggest two-day drop in more than five years.
Doug McGraw, a spokesman for JetBlue, declined to comment, as did AmEx's Elizabeth Crosta, MasterCard's Jim Issokson and Marc Hazelton of London-based Barclays.
AmEx in December renewed its agreement with Delta Air Lines Inc. to be the Atlanta-based carrier's exclusive credit-card issuer. The six-year extension secures AmEx's largest airline partnership, which accounted for about 5 percent of customer card spending and less than 15 percent of the company's card loans in 2013, according to a regulatory filing.
The lender last month also extended its partnership with Starwood Hotels & Resorts Worldwide Inc. AmEx didn't elaborate on the terms.
CEO Change
The new credit-card partner is among changes taking place at JetBlue this year. Robin Hayes will take over as chief executive officer when Dave Barger's contract expires Feb. 16, becoming the third CEO since JetBlue began flights in 2000.
The airline also is altering its fare structure this year, including adding a bag-check fee for fliers buying the cheapest tickets. The three fare classes will give customers the choice of getting the lowest price with no free bag or paying more for fares that would have one or two pieces of luggage included, the airline said in November.
JetBlue also plans to begin adding seats to some of its Airbus A320 jets in 2016. The seats and the fare change are designed to boost sales after the carrier trailed competitors in revenue from each seat flown a mile, an industry benchmark, and failing to hit return-on-invested-capital targets.
Before it's here, it's on the Bloomberg Terminal.
LEARN MORE