There Are Now More Than Five Million Job Openings in America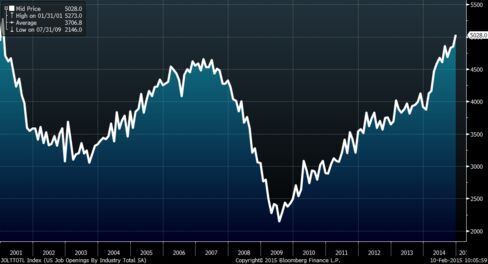 Unfilled positions at U.S. companies climbed in December to an almost 14-year high and hiring accelerated, underscoring a thriving labor market that points to a pickup in wage growth.
Job openings rose 181,000 in December to 5.03 million, the most since January 2001, from a revised 4.85 million the month before, the Labor Department reported Tuesday in Washington. The number of Americans hired advanced to a seven-year high.
An increase in the number of people who voluntarily quit their jobs signals greater optimism about finding work elsewhere as stronger demand prompts a pickup in job listings. The figures, among those used by Federal Reserve Chair Janet Yellen and her colleagues, keep the central bank on track to raise interest rates later this year.
"The fact that you have so many new jobs coming on the market shortens the time that individuals have to spend in unemployment, between jobs," said Lou Crandall, chief economist at Wrightson ICAP LLC in Jersey City, New Jersey. Crandall is the second-best forecaster of job openings over the last two years, according to data compiled by Bloomberg.
One aspect "that really sticks out here is the very large number of people who found new jobs in the month," he said. "Having the confidence to leave a job and look for another one is an important contributor to that."
Stocks Climb
The Standard & Poor's 500 Index erased losses for 2015, closing above a level where previous rallies fizzled out this year, as companies from Coca-Cola Co. and General Motors Co. surged. The S&P 500 climbed 1.1 percent to 2,068.59 at the close in New York.
The Job Openings and Labor Turnover Survey, or JOLTS, adds context to monthly payrolls figures by measuring dynamics such as resignations, help-wanted ads and the pace of hiring. Although it lags the Labor Department's other jobs data by a month, Yellen and her fellow central bankers follow the report as a measure of labor-market tightness and worker confidence.
The survey showed job openings increased at retailers, builders, professional and business services and education and health care providers. Postings declined at manufacturers.
The ratio of unemployed job seekers to openings fell to 1.7 in December, the lowest level since November 2007, a month before the last recession began.
The median forecast in a Bloomberg survey projected 4.98 million December openings after an initially reported 4.97 million the month before.
More Hiring
The number of people hired climbed to 5.15 million in December, the most since November 2007, from 5.05 million. The hiring rate increased to 3.7 percent after 3.6 percent in November. The gauge calculates the number of hires during the month divided by the number of employees who worked or received pay during that period.
Even with the gain, the increase in the number of unfilled openings indicates companies are having trouble finding qualified help.
"This is another straw in the wind consistent with my view that wage growth will have to pick up this year, as firmer growth means that businesses have a more urgent need to fill those openings and a diminishing pool of available workers means that it will take more pay to entice remaining candidates," Stephen Stanley, chief economist at Amherst Pierpont Securities LLC in Stamford, Connecticut, said in a note to clients.
Some 2.72 million people quit their jobs in December, the highest in four months and up from 2.66 million in November. The quits rate, which shows the willingness of workers to leave their jobs, held at 1.9 percent. It was 2 percent when the recession started more than seven years ago.
Dismissals Rise
Not all the news from the report was good. About 1.73 million were dismissed from their jobs in December, up from 1.66 million the prior month. In the 12 months ended December, the economy created a net 2.9 million jobs, representing 58.3 million hires and 55.4 million separations.
A Labor Department report last week showed payrolls advanced by 257,000 last month following increases in December and November that were even bigger than previously reported. The unemployment rate rose to 5.7 percent from 5.6 percent as more than a million Americans streamed into the labor force seeking work.
The gain adds to evidence that the labor market is picking up steam, creating a virtuous cycle in the process as Americans spend newfound incomes on goods and services. The Fed is monitoring both job creation and inflation as it considers the timing of its first interest rate increase since 2006.
Fed's View
Inflation "is anticipated to decline further in the near term," the Federal Open Market Committee said in a Jan. 28 statement. Still, "labor market conditions have improved further, with strong job gains and a lower unemployment rate."
Ford Motor Co. is adding 1,550 workers to help build the new aluminum-bodied F-150 pickup in Missouri and Michigan. Due to a contract, it must also give pay raises to as many as 500 U.S. hourly employees because the new hiring is pushing the company past its limit on lower-wage workers.
"In total, this action is good for our business," said Bill Dirksen, Ford's vice president of labor affairs. "We're hiring more people to make more trucks because the market likes our truck."
Before it's here, it's on the Bloomberg Terminal.
LEARN MORE