Almost No Cubans Have Broadband. Why Does Netflix Want to Stream There?
Cuba's Internet isn't ready for Netflix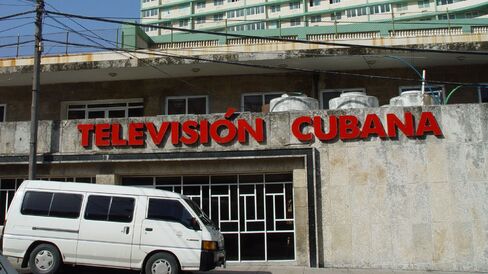 When President Obama announced a deal to improve relations with Cuba late last year, it was clearly only a matter of time before American corporate interests descended on the island. One strange step in that direction took place Monday as Netflix announced new operations in the country. "Starting today," the company said in a statement, "people in Cuba with Internet connections and access to international payment methods will be able to subscribe to Netflix."
That's just the problem: Almost nobody in Cuba has access to the sort of broadband connection required to enjoy House of Cards.
The number of fixed-line broadband connections per 100 residents in Cuba is just 0.05, according to the International Telecommunication Union. Nearly one in four Cubans use the Internet, but that number includes many people with access to local networks that are isolated from the one to which Netflix connects its servers. The island nation is similarly isolated from international payment methods.
If this were an attempt to remind the world that Cubans don't have things that many other people take for granted, it might just succeed. As an attempt to expand a business into a profitable market, however, today's move by Netflix is baffling.
Of course, a lack of blazing broadband speed doesn't necessarily disqualify countries from drawing Silicon Valley's attention. The most powerful tech companies have been increasingly focused on the developing world in recent years. But Facebook can make a stripped-down version of its service to work on the cheap phones used in poorer corners of the world—Netflix can't. So while the streaming-video company is expanding its international operations rapidly, it is picking its targets based on who has the infrastructure to handle it.
The graph below shows broadband penetration in countries Netflix added in 2014. Cuba doesn't quite blend into the mix: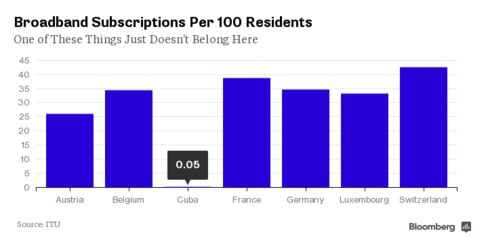 Ellery Biddle, an expert on Cuba's digital culture and the editor of Global Voices Online, couldn't find much logic in Netflix's decision to do this now. "I'm honestly racking my brain and trying to realize why they're trying to do this, and what interaction they might have had with Cuban officials or at least the telecom entity there," she says. The one market in Cuba that might be able to take advantage of Netflix's services today, says Biddle, is the tourism industry. "I don't think they'd do this without considering at all whether it was possible. But maybe that's too naive."
Netflix hasn't responded to a request for more details about its plans for Cuba. In its statement, it does acknowledge that it's early days.
Biddle says she heard from a friend in Cuba immediately following this morning's announcement. She summed up her friend's sentiment: "Who has fast enough Internet to watch Netflix, and even if they did, who has the credit card to pay for it?"
Before it's here, it's on the Bloomberg Terminal.
LEARN MORE