Russia's Siluanov Freed by Ruble Slump to Slim Welfare State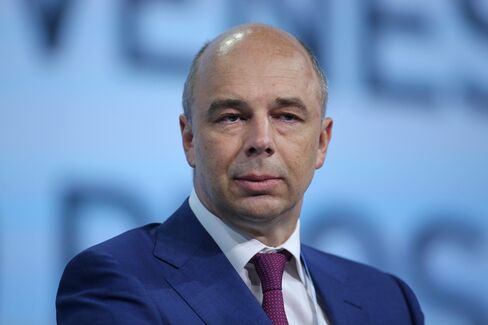 For a government rattled by the ruble's 46 percent nosedive last year, there may be a silver lining, according to Russian Finance Minister Anton Siluanov.
"Dutch disease is over," Siluanov said in an interview, referring to the fallout from a commodity boom that pushes up exchange rates and stalls competitiveness. The currency collapse is freeing the government to slim down a welfare state more generous than its Soviet predecessor, he said.
If Russia emerges from the crisis transformed, it's more out of necessity than by choice. The ruble's biggest rout since the 1998 debt default, triggered by plummeting crude prices and sanctions over the conflict in Ukraine, laid bare the drawbacks of an economy reliant on oil and gas for more than 70 percent of exports. The government must rein in spending and make way for private enterprise to unlock growth, according to Siluanov.
"We have to decide what kind of economy we want to see in several years," said Siluanov, 51, who has run the ministry since 2011. "As far as fiscal policy, I'm sure we can revisit decisions that were shelved for a long time and not taken because they were politically unpopular."
While Russia's economy is being battered by a slump in crude prices, the currency depreciation buoyed oil revenues in ruble terms. That has helped cushion the budget and ease the need to raise funds after borrowing costs soared.
Volatile Revenue
Yields on Russia's five-year ruble bonds remain almost six percentage points higher than they were on Feb. 28 last year, before Putin's annexation of Ukraine's Crimea peninsula. The yield for dollar bonds maturing March 2030 have jumped 229 basis points in the period compared with a six-basis point increase for similar-maturity Brazilian debt.
The worst performing currency after Ukraine's hryvnia in 2014, the ruble is down another 13 percent this year.
"The ruble is no longer overvalued in real terms, something that was caused by excessive use of volatile oil and gas revenues," Siluanov said. The ruble is turning a corner after last year's tailspin, he said.
The currency's real rate, which strips out the effects of inflation, has returned to levels seen in the first half of the 2000s, he said. That means Russia is no longer suffering from Dutch disease, Siluanov said.
Dutch Disease
The term was coined in the 1970s to refer to what happened in the economy of the Netherlands after natural gas deposits were discovered in the North Sea. The resulting rise in the country's currency was blamed for the demise of Dutch manufacturing.
In Russia, following five years of slowing growth, gross domestic product will probably shrink 3 percent in 2015 if the oil price averages $50 a barrel, the Economy Ministry estimates.
While Siluanov conceded this year will be "anything but simple" and output will contract, he says the economy will "complete its adaptation" in the first six months. The question is, what happens next.
"There's grounds for optimism," Siluanov said. "If an appropriate series of structural reforms is adopted and implemented in these conditions, we have a chance to get on the path of a higher and more steady growth pace than what we've seen in recent years."
Steady Growth
Siluanov counted off the ingredients for ensuring steady economic growth in the years ahead: increasing investment as a share of economic output and a bigger role for private enterprise. That, in turn, requires a more predictable macroeconomic outlook, an improved business climate and a decline in consumption, especially in the public sector.
As Russia was staggering from the lowest oil prices since 2009, President Vladimir Putin responded in early December by ordering budget cuts of at least 5 percent a year in real terms for 2015-2017. This year, most expenditures will be reduced by 10 percent, with the exception of outlays on defense, pensions and agriculture.
While that spending decrease will free up 900 billion rubles ($14 billion) in 2015, another 600 billion rubles should be trimmed this year, according to Siluanov.
"We must move away from the current paternalistic, redistributive economic model to a model focused on the creation of new value added," Siluanov said. "If we squeeze state demand, an opportunity will open up to reduce inflation and interest rates, which will stimulate private demand."
'Inflationary Spiral'
The Bank of Russia took a surprise decision last week to cut its key interest rate, in part because of its agreement with the government to carry out "tough" fiscal policy, he said.
The most important thing is to avoid an "inflationary spiral," Siluanov said.
No "full-fledged" downsizing of budget spending is possible if two areas are left untouched, according to Siluanov. Outlays on defense account for one-third of expenditures, while one-fifth is earmarked for the annual transfer to cover a shortfall in the Pension Fund.
This year, defense and security is being "partially" cut, sparing only the money needed for purchases of military equipment, he said.
Siluanov's predecessor, Alexei Kudrin, left the government in September 2011 after more than a decade as finance minister after a public feud with then-President Dmitry Medvedev over military spending.
Different Plan
Even the government's 2.3 trillion-ruble stimulus plan marks a departure from Russia's experience of dousing the 2008-2009 crisis with a flood of money into the economy, according to Siluanov.
The government doesn't have endless resources to do so, axing 27 ruble bond auctions in 2014 as the currency slump deepened. While the Finance Ministry has returned to the market with small offerings this year, the government may need to dip into its rainy-day $85 billion Reserve Fund to cover a budget deficit that economists forecast will reach the equivalent of 2.5 percent of gross domestic product.
Among its reasons for downgrading Russia to junk last month, Standard & Poor's cited a "heightened risk" that the nation's finances will deteriorate. The country spent about $90 billion in 2014 to shore up the ruble, dragging international reserves below $400 billion for the first time since 2009.
Stimulus Program
Russia is learning to live within its means because of a "structural, long-term" drop in the price in crude, which is unlike a "cyclical" downturn in 2008, Siluanov said. In the years that followed Russia's last recession in 2009, the oil price it needs to balance the budget has more than tripled from $30, Siluanov said. That's one result of the stimulus measures deployed in 2008-2009, he said.
Russia's break-even crude price for last year's budget was $100.10, Deutsche Bank AG estimated in October, higher than for Saudi Arabia and Kuwait.
The stimulus program unveiled last month avoids cracking the budget open and relies largely on state guarantees and investment from the National Wellbeing Fund, Siluanov said. Only 22 billion rubles will be spent in the first quarter from emergency reserves already written into the budget, he said.
As the severity of the crisis sinks in, the government is beginning to broach topics long seen as too contentious. One example is a possible increase in the pension age. Russia has one of the world's lowest retirement ages, set in 1932 during the Stalin era. Women can stop work at 55 and men at 60.
Cutting Pensions
"The system of pensions and social support in Russia is one of the least efficient," Siluanov said. "We are giving out social support and benefits right and left."
As life expectancy has grown, more pension-age people remain employed while continuing to get retirement payments, Siluanov said. At the same time, Russia's working population is shrinking.
Russia, which allocates about 4 percent of GDP to finance the Pension Fund, must set the task of making the system self-sufficient by 2025, according to Siluanov. The Finance Ministry is proposing measures such as gradual six-month increases in the pension age until it reaches 63 for both men and women, he said.
What makes Russia's pivot in spending more politically palatable is the strain on public finances, according to Siluanov.
"Doing things the old way won't work anymore," he said. "It's important to understand that to have the opportunity and resources to offer social support for the most vulnerable and in need of state aid, it's necessary first of all to achieve sustainable economic growth."
Before it's here, it's on the Bloomberg Terminal.
LEARN MORE