Natural Gas Shale Drillers Undaunted by 32% Price Plunge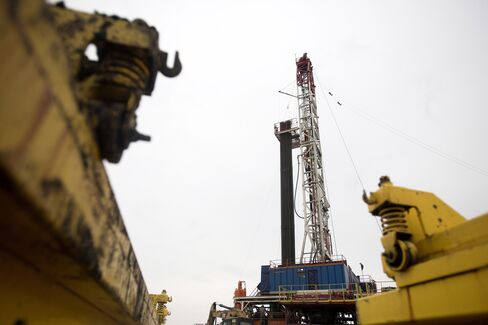 U.S. natural gas production is poised to reach a record for a fifth year as shale drillers boost efficiency, driving prices toward a low of more than a decade.
Output will rise 3.2 percent in 2015, led by gains at the Marcellus formation, the nation's biggest shale deposit, according to the Energy Information Administration. Marcellus production will increase 2.8 percent through February after a 21 percent gain in 2014, a year when prices tumbled 32 percent. Producers in Pennsylvania and West Virginia have cut break-even costs by half since 2008, according to Oppenheimer & Co.
Drilling more wells at one site and extending the length of horizontal wells are among the efficiencies that have helped gas companies cope with falling prices. The EIA expects Marcellus to climb to about 20 percent of production in the lower 48 states from about 2 percent in 2007. Cabot Oil & Gas Corp., the biggest Marcellus producer, plans to increase output by at least 20 percent this year.
"The Marcellus has been a game changer in terms of production, reserve potential, everything," said Fadel Gheit, a senior energy analyst for Oppenheimer & Co. in New York. "They are not waiting for higher gas prices to bail them out."
Gas Prices
Natural gas futures fell 2.1 cents to $2.579 per million British thermal units Friday on the New York Mercantile Exchange, the lowest settlement since June 2012. Gas has declined 81 percent from a high in 2008 as production from shale formations increased, touching $1.907 in April 2012, the lowest since 2002.
Break-even prices for Marcellus producers have dropped below $2 per thousand cubic feet ($1.95 per million Btu) from around $4 in 2008, Gheit said in a Feb. 3 interview.
U.S. gas production growth was projected to slow to 1.4 percent last year, the least since a decline in 2005, the EIA said in December 2013. Instead, output jumped 5.6 percent. Efficiency gains at Marcellus producer Range Resources Inc. include plans to increase the length of underground horizontal wells by 36 percent to 6,200 feet (1,890 meters), with a third of the total topping 7,000 feet, according to a Jan. 15 company presentation. Range used drilling efficiencies to cut costs to $2.64 per thousand cubic feet in 2014 from $3.01 in 2012.
Shale Deposits
The company said it's targeting 20 percent to 25 percent production growth "for many years."
Southwestern Energy Corp.'s output may rise 28 percent this year as it drills longer wells, increases pipeline capacity and after spending $5.4 billion to acquire shale fields, according to a Dec. 30 company conference call.
Output is also rising at other shale plays. Gas production at the Eagle Ford deposit in Texas has climbed more than fourfold since January 2007, while output at the Utica shale, much of which lies below the Marcellus, has increased 12-fold.
Proved U.S. gas reserves, supplies that can be recovered based on economic and operating conditions, jumped 9.7 percent in 2013 to 354 trillion cubic feet, equal to about 13 years of demand, a December EIA report showed.
"Just the magnitude of the build-out in shale and the pace at which it gained momentum is surprising," Jason Schenker, president of Prestige Economics LLC in Austin, Texas, who was ranked by Bloomberg in the fourth quarter as the top gas price forecaster, said Jan. 29. "Supplies will remain high. We could test the 2012 lows this spring in natural gas prices."
Pipeline Gains
While they save money at the wellhead, Marcellus producers have been able to bolster sales of the fuel as new interstate pipelines give them access to more lucrative markets priced at Henry Hub in Erath, Louisiana, the U.S. gas benchmark.
"The Northeast has been at a discount to Henry Hub and more pipelines that come on will narrow this to the cost of transport," Moses Rahnama, an analyst at London-based consultants Energy Aspects Ltd., said by phone on Jan. 5. "That will be more of an incentive to drill."
New pipelines near the Marcellus deposit will allow Range to ship 63 percent of its production outside of Appalachia, the company said Jan. 15.
Cabot plans to increase output by 20 percent to 30 percent in 2015, and will "re-accelerate activity" once the new Constitution pipeline from Pennsylvania to upstate New York comes into service later this year or in 2016, the company said in November.
"All these companies tell us the growth rate will be maintained," Gheit said. "Gas prices continue to be lower because people are convinced no matter how low gas prices go, these guys are not going to stop growing."
Before it's here, it's on the Bloomberg Terminal.
LEARN MORE