Argentine Ex-Spy Chief at Center of Prosecutor's Murder Mystery Is Missing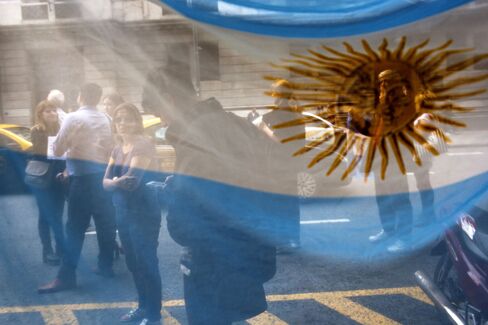 Argentine authorities can't locate the former spy chief at the center of an investigation into the death of a prosecutor who accused President Cristina Fernandez de Kirchner of an attempted cover up.
Prosecutors accompanied by intelligence agents weren't able to find Antonio Stiuso at three addresses registered to his name, Intelligence Secretary Oscar Parrilli said. Stiuso, who worked his way up through the intelligence agency over four decades before his departure last month, was summoned to testify on Thursday by the prosecutor investigating the death of Alberto Nisman from a shot to the head Jan. 18.
Even Stiuso's lawyer says he doesn't know where his client is.
"I think he's in the country but I'm not certain," Santiago Blanco Bermudez said in an interview on Argentine television channel TN.
Fernandez accused Stiuso of feeding Nisman false information after the prosecutor prepared a 300-page report saying the president sought to cover up the alleged involvement of Iranian officials in the 1994 bombing of a Jewish community center in Buenos Aires that killed 85 people. The government has lifted a confidentiality gag on Stiuso if he's questioned by investigators, Parrilli said Thursday.
'Tell Everything'
"The president wants the whole truth to be known and for Stiuso to tell everything," Parrilli told reporters in Buenos Aires.
Blanco Bermudez said he has met with Stiuso since Nisman's death and that his client is willing to testify. Talking to his client can be problematic though as Stiuso has almost 100 telephone numbers to his name and he often communicates through third parties, Blanco Bermudez said.
Nisman was found dead in his apartment a day before he was due to present his evidence against President Fernandez to lawmakers. A draft document calling for the detention of Fernandez and members of her government was found in Nisman's apartment following his death, prosecutor Viviana Fein said this week.
Under a memorandum of understanding in 2013, Fernandez and Foreign Minister Hector Timerman would push for Interpol to remove "red notices" against some former Iranian officials charged for their involvement in the terrorist attack in exchange for greater trade, Nisman said in his report. A red notice is a request to authorities abroad for help arresting and extraditing wanted persons.
In a letter published on her website Jan. 22, Fernandez said she had no doubt that Nisman was fed false information and then murdered to tarnish her government.
"They used him while alive and then needed him dead. It's that sad and terrible," she wrote in a statement on her website. "The real operation against the government was the death of the prosecutor."
Before it's here, it's on the Bloomberg Terminal.
LEARN MORE