Smartphone HIV Test Tracks Disease on the Go in Research Trial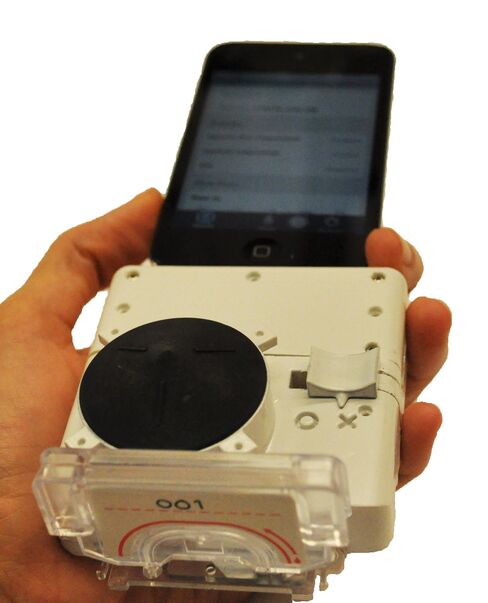 A $34 smartphone attachment to test for HIV and syphilis works almost as well as expensive lab equipment and could be used to make fast diagnoses in poor countries, researchers said.
The "diagnostic dongle" developed by New York's Columbia University attaches to a smartphone through the audio jack and is thousands of dollars cheaper than top-of-the-line lab-based testing equipment that cost about $18,450.
In tests of 96 patients in Rwanda, the device correctly identified HIV and syphilis infections 92 percent to 100 percent of the time, depending on what disease it was testing for, according to a study published in Science Translational Medicine Wednesday.
The test was used to identify disease in pregnant women that can be passed on to their children.
"If you diagnose and treat them on the spot, you can save the life of a newborn," Samuel Sia, senior author of the paper and associate professor of biomedical engineering at Columbia, said in a telephone interview. "If it's not treated, you can have stillbirth."
Almost all of the patients in the trial said they would prefer the dongle to a traditional lab test, because of the convenience and quick results. The dongle uses disposable plastic cassettes, and is small enough to fit in one hand, the researchers said.
Stop Outbreaks
Cheap, mobile tests could help contain future outbreaks of other diseases. By quickly identifying sick patients, health officials can get treatment to the ill and rapidly identify others they may have infected. The Columbia device is part of a wider effort to miniaturize medical tests that are normally done in a lab and that could be used in poor or remote locations.
Researchers have been racing to create a laptop-sized field test for Ebola after the outbreak in West Africa demonstrated the need for a rapid test. Smartphones and smartwatches, such as ones from Fitbit Inc. and Apple Inc., are also giving health researchers ways to monitor everything from walking steps to heart rate.
Sia's device uses a smartphone or iPod as a power source. A patient places his or her finger on a button that draws a pinprick of blood into the device. The blood is then analyzed for HIV and syphilis. The dongle displays the results on the smart device's screen.
Sia hopes to interest international agencies like the World Health Organization to purchase the device for developing countries. He said he thinks the platform could be commercialized in the U.S. and Europe, and used at home to track people's risk of developing diabetes or heart disease.
Before it's here, it's on the Bloomberg Terminal.
LEARN MORE