RadioShack Said to Plan Bankruptcy Filing by Thursday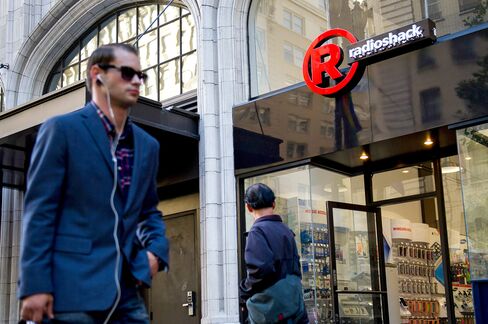 RadioShack Corp. is closing in on an agreement with creditors and other parties that would put the retailer in bankruptcy as soon as Wednesday night or Thursday morning, people with knowledge of the discussions said.
As part of the deal being completed, RadioShack would sell leases on as many as 2,000 stores to Sprint Corp. and Standard General, its largest shareholder, according to the people, who asked not to be identified because the talks are private. The rest of the electronics chain's more than 4,000 U.S. locations are expected to be closed, the people said. The filing could be delayed as the parties hammer out final details.
The bankruptcy would cap an almost-century-long history of selling gadgets and gizmos to America. RadioShack traces its roots to 1921, when it began as a mail-order retailer for amateur ham-radio operators and maritime communications officers in Boston. It eventually built a niche as a place for hard-to-find electronics and other technology. In more recent years, though, competition from Wal-Mart Stores Inc. and Amazon.com Inc. picked off customers.
The bankruptcy deal doesn't preclude other bidders from taking over some of the store leases. Amazon.com has held discussions about acquiring RadioShack locations as part of a push into traditional retail, people familiar with the matter said this week.
Bankruptcy Loan
Merianne Roth, a spokeswoman for Fort Worth, Texas-based RadioShack, declined to comment.
Under the terms being completed with creditors, a group of hedge funds and other lenders that were part of $535 million of rescue financing in October have agreed to lend the company more money to operate in bankruptcy, the people said. The latest funding will refinance the balance of the group's loan, while giving RadioShack less than $50 million of new money, they said.
The bankruptcy lenders include hedge-fund firms BlueCrest Capital Management, DW Partners LP, Mudrick Capital Management and Saba Capital Management, the people said. Representatives of the firms either declined to comment or didn't immediately respond to telephone and e-mail messages.
Standard General arranged the emergency financing last year to help the retailer survive through the holiday shopping season. RadioShack has struggled with an industrywide slump in demand for consumer electronics. To make matters worse, it has been heavily reliant on selling mobile phones, a saturated market with low margins.
Turnaround Plan
A plan to shutter 1,100 underperforming stores last year failed when lenders including Salus Capital Partners blocked the move, allowing RadioShack to close no more than a couple hundred. That left the company on course for a cash crunch in 2015, Moody's Investors Service warned last July.
Salus later accused the retailer of breaching the terms of a $250 million loan from it and Cerberus Capital Management LP by accepting the October bailout. RadioShack has denied any breach.
For Sprint, buying RadioShack stores would potentially align with Chief Executive Officer Marcelo Claure's turnaround plan that hinges on reversing the loss of customers and avoiding a drop to fourth place among U.S. wireless carriers.
Sprint has too few of its own branded outposts and has relied on third-party retailers to drive customer sign-ups and sell phones.
Before it's here, it's on the Bloomberg Terminal.
LEARN MORE