S&P Cuts European Banks on Rules Forcing Losses on Bondholders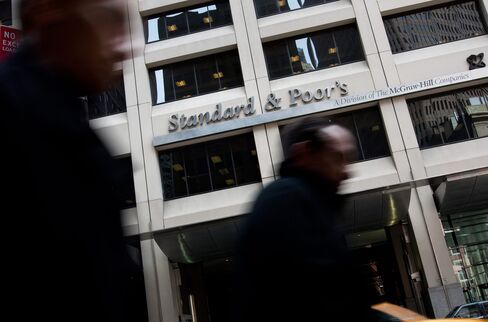 Six European banks, including Credit Suisse Group AG and HSBC Holdings Plc, had their ratings cut by Standard & Poor's on the prospect that their governments are less likely to provide aid in a crisis.
Barclays Plc and Lloyds Banking Group Plc also had the long-term ratings on their holding companies reduced. Standard Chartered Plc and Royal Bank of Scotland Group Plc had their short-term ratings lowered as well, S&P said in a statement Tuesday. Deutsche Bank AG was among other six banks in Germany and Austria that may have their credit ratings cut, S&P said.
Lenders in the U.K., Austria and Germany were singled out for ratings downgrades because those countries implemented rules requiring creditors to take losses before taxpayers at the start of this year, 12 months earlier than the rest of their peers in the 28-member European Union. S&P said in November it would review the banks' ratings because of the move.
"It was on the cards," said Roger Francis, an analyst at Mizuho International Plc in London. "This is S&P saying 'Look, the regulatory situation has changed over the last 18 months.''
The shares of Credit Suisse, RBS and HSBC were little changed at 8:06 a.m. London time. Barclays rose 0.3 percent, while Standard Chartered advanced 1.6 percent. Deutsche Bank increased 0.3 percent in Frankfurt trading.
Taxpayer Bailouts
The EU enacted the bank-resolution law last year in a bid to end taxpayer bailouts that prevailed in the financial crisis. The bloc granted 661 billion euros ($762 billion) for recapitalization and asset-relief measures from 2008 to 2013, according to European Commission data.
Under the new rules, authorities will, as a general rule, require 8 percent of a struggling bank's liabilities to be wiped out before recourse can be made to industry funds or taxpayer support. Member states had to transpose the directive into national law by the end of 2014 and have until Jan. 1, 2016 to apply all rules.
S&P's credit ratings assign a default probability that combines a bank's stand-alone strength with the likelihood that it will get support from the state or from other sources in times of crisis. Moody's Investors Service and Fitch Ratings have a similar debt-rating structure.
S&P said it's uncertain whether the Swiss government would provide support to creditors of non-operating bank holdings companies.
''Extraordinary government support will likely become less predictable in the near term," S&P said. "We continue to see unresolved questions about how the legislation may operate in practice."
RBS, which is 80 percent owned by the British taxpayer, said in a statement S&P's move wasn't specific to the bank and welcomed the ratings company's decision to upgrade its long-term outlook on the lender to stable from negative.
Officials at Barclays, Lloyds and HSBC in London, Frankfurt-based Deutsche Bank and Zurich-based Credit Suisse declined to comment. A spokesman for Standard Chartered in London didn't immediately respond to a request for comment.
Following is a table of the ratings changes:
Company                    Old ratings        New ratings
Barclays                   A-/Negative        BBB/Stable
Credit Suisse Group        A-/Negative/--     BBB+/Stable/--
Lloyds Banking Group       A-/Negative        BBB/Positive
HSBC Holdings Plc/HSBC USA A+/Negative        A/Stable
Royal Bank of Scotland     BBB+/Negative/A-2  BBB-/Stable/A-3
Standard Chartered         A/Negative/A-1     A-/Stable/A-2

Source: Standard & Poor's
Deutsche Bank Among 15 Europe Lenders Cut to Negative by S&P
Before it's here, it's on the Bloomberg Terminal.
LEARN MORE