Greece Said to Drop Writedown Request Amid EU Opposition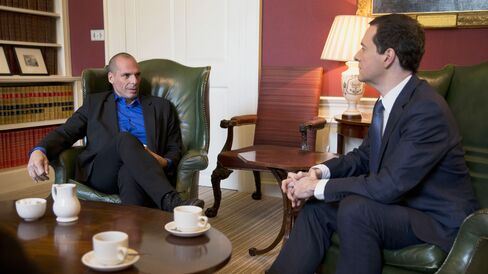 Greece retreated from its call on the euro area to write down its debt, and instead proposed to exchange existing borrowings for new bonds linked to the country's growth.
Speaking to about 100 financiers in London late on Monday, Finance Minister Yanis Varoufakis outlined plans to swap some Greek debt owned by the European Central Bank and the European Financial Stability Facility for the new securities, according to a person who attended the meeting and asked not to be identified because they weren't authorized to speak publicly. Varoufakis indicated that the move would allow Greece to avoid imposing a formal haircut on creditors, the person said.
The proposal marks a change of course for Greek Prime Minister Alexis Tsipras just a week after he took office. In that period, Greek bank stocks plummeted and government borrowing costs surged on concern that a standoff with creditors could force Greece out of the euro.
Tsipras and Varoufakis, whose Syriza party won elections last month on a pledge of ending EU-backed austerity policies, are seeking allies in Europe. They're due in Rome on Tuesday and Tsipras is also scheduled to visit Brussels and Paris.
'Biggest Risk'
U.S. and U.K. leaders have expressed concern that a prolonged standoff between Greece and the rest of the EU would pose a threat to the global economy. U.K. Chancellor of the Exchequer George Osborne, after meeting Varoufakis in London on Monday, called it "the biggest risk to the global economy."
President Barack Obama said on CNN a day earlier that "when you have an economy that is in freefall there has to be a growth strategy and not simply an effort to squeeze more and more out of a population that is hurting worse and worse."
Greece's economy has shrunk by about a quarter since its first bailout package in 2010.
Tsipras issued a conciliatory statement on Jan. 31, promising to abide by financial obligations, after Varoufakis said the country won't take more aid under its current bailout and wanted a new deal by the end of May. Before his appointment as finance minister, he had called for Greece to default on its debt while remaining in the euro.
Stocks Rebound
The premier's comment led to a rebound in Greek stocks and bonds on Monday. The benchmark equity index rose 4.6 percent, paring its 14 percent slide last week.
The plan outlined by Varoufakis in London would leave Greek debt to the International Monetary Fund and the private sector intact. Past bailouts have shifted the composition of Greek debt, leaving Euro-region governments and their crisis fund holding more than 60 percent of it, while private investors hold less than one fifth.
The invitation-only event at the Four Seasons Hotel on Park Lane, scheduled to last an hour, overran by 90 minutes as Varoufakis took time after his speech to speak with investors and bankers individually.
"They're looking to restructure EU bilateral loans and ECB loans and leave IMF and private-sector debt alone," said Sarah Hewin, head of research at Standard Chartered Plc, who was at the meeting. "At the moment, they're working at a broad case without being specific on how this restructuring will take place."
German Demands
Germany has led the EU's demands for budget cuts in the countries, like Greece, that received bailouts. Chancellor Angela Merkel has signaled that she won't give in to Greek demands for a writedown, and officials in Paris and Madrid have also rejected the possibility.
An immediate risk for Greece is the possibility of the ECB cutting off funding for the country's banking system as depositors flee. Greek banks lost at least 11 billion euros ($12.5 billion) in deposits in January, according to four bankers who asked not to be identified because the data were preliminary. The outflow accelerated from about 4 billion euros in December. Total deposits were 160.3 billion euros at the end of 2014.
At the moment, Greece has a special dispensation from the ECB because it's considered to be complying with its bailout program. That means its debt can be used in central bank refinancing operations even though it is rated junk.
"Without European loan support, Greece will run out of money in March, possibly sooner," said Nicholas Economides, professor of economics at New York University's Stern School of Business. "This could result in a new Greek bankruptcy within the euro or even a 'grexit,'" the term used for a Greek withdrawal from the common currency.
Before it's here, it's on the Bloomberg Terminal.
LEARN MORE