BlackRock Finds Few Peers With $330 Million Book of Online Loans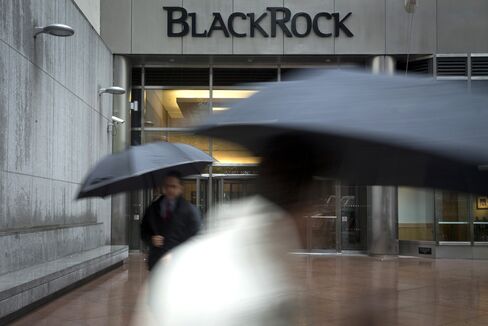 Seeking a loan online? There's a chance your benefactor will be BlackRock Inc., the world's largest asset manager.
The company, on behalf of its clients, scooped up more than $330 million of consumer debt arranged since November 2013 by Prosper Marketplace Inc., the so-called peer-to-peer lending platform that finds investors to fund borrowers, according to bond-offering documents. New York-based BlackRock is seeking to sell most of that debt to other institutions while retaining a risky slice.
The purchases represent about a sixth of debt obtained through Prosper during that period, showing how the platform has moved beyond funding from mom-and-pop investors. BlackRock's bond sale, known as a securitization, could be a harbinger for more such deals, said Matt Burton, chief executive officer of Orchard Platform, a data provider to clients investing through online markets like Prosper's and one run by LendingClub Corp.
"One of the large bottlenecks in this space for institutional investors has been volume," he said. "That's all changing."
LendingClub was on pace to about double issuance to $4 billion in loans last year, compared with 2013. The San Francisco-based company sold shares to the public in December and briefly attained a valuation of more than $10 billion.
The stock offering put a spotlight on the model it pioneered with Prosper of linking up borrowers with individuals who wanted to fund them. That initial focus earned them the moniker of peer-to-peer lenders, even as growth has been fueled more by institutions. Increasingly, the companies are referring to themselves as "marketplaces."
Lending Climbs
Loans issued through San Francisco-based Prosper soared last year to $1.6 billion, a more than 350 percent increase from
2013. BlackRock is an investor in the closely held lender.
Ed Sweeney, a spokesman for BlackRock, declined to comment on the offering, citing its open status. Sarah Cain, a spokeswoman for Prosper, also declined to comment.
Prosper's main products are unsecured consumer loans for as much as $35,000 and terms as long as five years. Borrowers apply online, the startup vets the applications and investors fund them. Loans can be used to consolidate debt, pay for medical procedures and fund purchases. Interest rates are often lower than the cost of carrying a credit-card balance.
Losses on loans backing the securities BlackRock is selling will probably reach 8 percent, "considerably higher" than what's typical for borrowers with similar credit profiles, Moody's Investors Service said in a presale report. That's partly because unsecured debt has a "low ranking in the hierarchy of borrowers' payment priorities," Moody's said.
Investment Grade
The ratings firm plans to assign an investment grade to most of the securities. The most-senior notes are initially protected against losses of 23.5 percent.
While bundling loans into bonds can benefit borrowers by bringing in investors from pensions to mutual funds, it can eventually lead to sloppy underwriting if the buyers aren't paying enough attention, said Howard Hill, author of "Finance Monsters," a book about the mortgage-bond market's history and crash.
"Without securitization, you'd be stuck with just traditional banks making loans," he said. "The danger is that the issuer falls into the 'originate-to-securitize' trap, which is especially bad if there's such a big demand for the bonds that you run through the potential pool of good borrowers and reach for the bad ones to meet it."
Credit Scores
The weighted average FICO credit scores for borrowers in a pool of Prosper loans that BlackRock is packaging into securities was 706, according to the bond documents. None of the loans has a grade below 640, one cut-off that people use to determine whether a borrower is subprime. A total of 25.9 percent is to borrowers with scores below 680, a threshold that's used by others, such as the American Bankers Association, the offering document shows.
The transaction would also raise an additional $50 million of cash to buy more loans to use as collateral.
Prosper verified at least employment or income on almost 80 percent of debt originated between July 2009 and Sept. 30 last year, according to disclosures on its website. During the period, it canceled 15 percent of loan listings for which it verified such information because they contained inaccurate or insufficient descriptions, Prosper said in the disclosures. Like with most offerings, the bond documents include a list of theoretical risks, in this case advising potential buyers to still maintain some level of skepticism.
"Noteholders should assume that none of this information provided by the borrowers was verified by Prosper or any other person," according to the prospectus. "This information may be incomplete, inaccurate or intentionally false. Applicants may also misrepresent their intentions for the use of loan proceeds."
In other words: As online lending booms, don't believe everything people say on the Internet.
Before it's here, it's on the Bloomberg Terminal.
LEARN MORE