Putin's Dancing Daughter Said to Run Fund Backed by Dad's Allies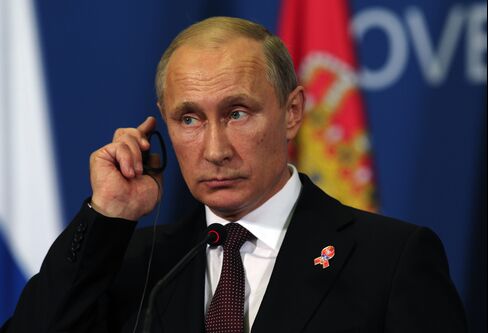 Russian executives close to Vladimir Putin are backing an ambitious startup incubator and science center next to Moscow State University that may prove lucrative.
Given the nature of Russian business under Putin, that's not a huge surprise. The twist in the story, first reported by billionaire Mikhail Prokhorov's newspaper RBC Daily, is that the young woman running two entities involved in developing the $1.6 billion project, Katerina Tikhonova, is Putin's youngest child, according to four people familiar with the matter.
Neither of Putin's daughters, Katerina, 28, or Maria, a year older, has ever given a media interview and the Kremlin has never released photographs of them as adults. Snippets and rumors have bounced around the Internet. One of the few things Putin, 62, has ever said about Katerina is that she was named after her maternal grandmother, Ekaterina Tikhonovna Shkrebneva.
Putin, who said in 2013 that he and his wife Lyudmila were divorcing, broke years of silence about his daughters in November, telling TASS that both in fact live in Moscow. That appeared to signal their entry into public life, at least for Katerina. Putin's spokesman, Dmitry Peskov, said he saw no reason to comment.
The Moscow State project is a direct competitor to Skolkovo, the unfinished Silicon Valley-inspired hub championed by Prime Minister Dmitry Medvedev, according to Stanislav Belkovsky, a Kremlin adviser during Putin's first term.
"That's her project, the anti-Skolkovo," Belkovsky said. A person who has known the Putin family for decades confirmed Tikhonova's role on the condition of anonymity.
YouTube Video
Two people with knowledge of the matter said Katerina is also a competitive dancer. She and her partner, Ivan Klimov, finished sixth at the European championships for acrobatic rock'n'roll in Kaliningrad last year. There's a video on YouTube that shows Tikhonova and Klimov dancing at a competition in Switzerland in 2013.
Tikhonova heads the National Intellectual Reserve Center and its sister fund at Moscow State, which is overseeing the construction of the technology center. Tikhonova is also a member of the university's academic board. The center and the fund share the same phone number and a woman who answered a call seeking comment said neither Tikhonova nor her deputy were available. She declined to give her name. The university didn't respond immediately to questions sent by e-mail.
'Absolutely Brilliant'
The center's website lists several of Putin's closest allies as trustees of the sister entity, the National Intellectual Development Fund, including OAO Rosneft Chief Executive Officer Igor Sechin, OAO Transneft CEO Nikolay Tokarev, and Sergey Chemezov, who runs state technology holding Rostec.
Under the Innopraktika brand, the center works with young people, companies and the scientific community in "creating, processing and applying innovations," according to the website. The center conducts studies on a topics such as nuclear fuel and capital outflows.
One of the fund's roles was to study money flows for the Russian Direct Investment Fund. The center did "an absolutely brilliant job," the head of the fund, Kirill Dmitriev, told Putin in December 2013. It found that real capital flight "is much less" than what the central bank reports, Dmitriev said, according to a transcript on the Kremlin's website.
RBC said Tikhonova attended the World Economic Forum in Davos, Switzerland, this month, though the newspaper didn't identify her as Putin's daughter. She was accompanied in Davos by Kirill Shamalov, a shareholder of PAO Sibur Holding and son of Nikolay Shamalov, a longtime acquaintance of Putin's from St. Petersburg, according to the newspaper. Sibur CEO Dmitry Konov is also a trustee for Tikhonova's fund.
Kirill Shamalov is Tikhonova's husband, according to the family acquaintence. He acquired his stake in Sibur from billionaire Gennady Timchenko, who was sanctioned by the U.S. last year over the Ukraine conflict for his ties to Putin.
Shamalov didn't answer his mobile phone or respond immediately to a text message seeking comment.
Before it's here, it's on the Bloomberg Terminal.
LEARN MORE