'Big Oil' Cuts $20 Billion in Five Hours to Preserve Dividends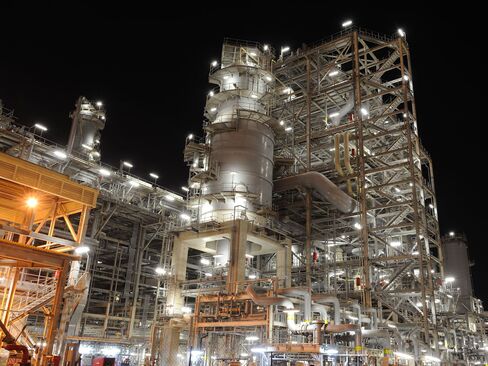 Royal Dutch Shell Plc will cut $15 billion of investment over the next three years as the crash in oil prices saw fourth-quarter profit miss forecasts.
Shell, the first of the world's largest oil companies to report earnings following the slump in crude to a five-year low, will defer or cancel about 40 projects worldwide, Chief Executive Officer Ben van Beurden said today. Exploration will also be curtailed.
"We see pressure on our investment program," van Beurden said on Bloomberg TV. "It's a game of being prudent but at the same time not overreacting."
Profit excluding one-time items and inventory changes was $3.3 billion in the quarter, up from $2.9 billion a year earlier, Shell said today. That missed the $4.1 billion average of 13 analyst estimates compiled by Bloomberg.
Shell shares dropped 4.3 percent to 2,060 pence at the close in London, the biggest decline since Oct. 31, 2013.
The global industry is scurrying to respond as oil below $50 a barrel guts cash flows. Occidental Petroleum Corp. and ConocoPhilips also announced lower spending today. BP Plc has frozen wages and Chevron Corp. delayed its 2015 drilling budget. By cutting investment, companies aim to protect returns to investors.
Iconic Item
Shell, based in The Hague, will pay an unchanged quarterly dividend of 47 cents a share and repeat the same payment in the first quarter and possibly for the rest of the year. The yield stands at 5.7 percent.
The payout is an "iconic item at Shell, I will do everything to protect it," the CEO said in the television interview.
In addition to the $15 billion of cuts in planned spending over three years, Shell warned there could be more to come should crude prices remain relatively low.
"I don't want to get into a panic, slash and burn response that we will later regret," he said at a press conference.
Fourth-quarter oil and natural-gas production fell 1 percent to 3.213 million barrels of oil equivalent a day due to the loss of a license in Abu Dhabi and security issues in Nigeria.
Refining Results
A fall in earnings from the upstream part of the business, pumping oil and gas, was offset by better results in refining and chemicals. Shell, which was forced to issue a profit warning a year ago, is expected to be the only large oil company to report a gain in fourth-quarter profit.
"Shell widely missed expectations in upstream, particularly in the Americas, but performed well in downstream - - a key cushion for integrated oil companies in a declining crude price environment," said Kim Fustier, an analyst at Edison Investment Research. Shell missing expectations by about 20 percent "doesn't bode well for competitors."
ConocoPhillips, the third-largest U.S. energy producer, reported its first quarterly loss since 2008 and has announced spending cuts. Exxon Mobil Corp., the world's largest oil company by market value, reports earnings on Monday.
Shell accelerated asset sales and cut spending even before the slump in oil prices. The Anglo-Dutch company axed a $6.5 billion petrochemicals plant in Qatar this month and said it's selling a stake in an oil-producing project offshore Brazil amid declining output and higher costs to extract the crude.
Asset Sales
Asset sales could slow in 2015 in part because potential buyers may have trouble getting funding amid the crude slump, Chief Financial Officer Simon Henry said. "There is no fire sale," he told reporters.
Average Brent crude prices in the quarter fell 30 percent from a year before to $77 a barrel. This month the benchmark extended its decline, touching $45.19 a barrel on Jan. 15.
While declining to speculate about where crude prices are headed, van Beurden warned that canceling or delaying too many projects could risk putting in jeopardy supply over the longer term.
Shell's like-for-like capital spending will be lower than last year, according to today's statement. That number, which doesn't include acquisitions, was $35 billion last year and $38 billion in 2013.
Shell has slowed deepwater projects and will be considering whether to push ahead with chemical plants in Pennsylvania and China, Majnoon in Iraq and LNG projects in Canada and Australia, van Beurden said. It may exit some unconventional projects.
Spending on exploration will be held steady this year at around $4 billion, a budget that includes an increase in Alaska and a drop in conventional exploration outside of the U.S. to less than $3 billion, Henry said. This has already meant deferring drilling plans in the Gulf of Mexico, offshore China and Malaysia.
'Hard Choices'
A year ago, when oil prices were above $100, Van Beurden pledged to make "hard choices" on new projects, sell $15 billion in assets over 2014-2015 and slow investment growth.
More than 30,000 dismissals have been announced across the oil industry as companies shrink budgets, according to a tally by Bloomberg News. Exploration and production spending will fall by more than $116 billion, or 17 percent, on weaker oil revenues, according to an estimate from Cowen & Co.
Before it's here, it's on the Bloomberg Terminal.
LEARN MORE