Nintendo's Outlook Disappoints and Mario Can't Save Wii U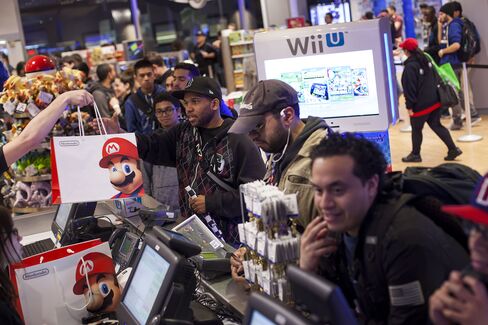 Nintendo Co.'s cuts to forecasts for profit and sales show even new titles with Mario can't make consumers choose its Wii U console over other gaming options. The shares slumped the most in more than three years.
The company halved its operating earnings forecast for this fiscal year to 20 billion yen ($170 million) and lowered its sales outlook by 7 percent Wednesday. While the sliding Japanese yen enabled Nintendo to increase its expected net income, all three projections are below analyst estimates.
President Satoru Iwata, who postponed a meeting with analysts today because of a fever, is seeing the limits of a strategy to lure hardware buyers with titles like Super Smash Bros. and Mario Kart 8. While company kept its annual outlook to sell 3.6 million Wii U units, even as it raised the software target 25 percent, the console is selling at less than half the pace of its predecessor and investors are bracing for a possible profit slump next year.
"Things don't look so good once you take away the boost from foreign exchange, because the operating profit outlook has been cut below consensus level," said Mitsushige Akino, an executive officer at Ichiyoshi Asset Management Co. in Tokyo. "Nintendo has a problem of getting their concept of gaming gain traction among users beyond their core audience."
Shares of Nintendo closed 8.7 percent lower at 11,235 yen in Tokyo today, the biggest decline since July 2011. The stock is down 11 percent this year, compared with a 0.4 percent increase in the benchmark Topix.
Yen Boost
The analyst briefing was delayed because Iwata may have the flu and its unrelated to an operation the president had last year to remove a bile-duct growth, Nintendo spokesman Yasuhiro Minagawa said by phone.
Mario Kart 8 and Super Smash Bros. for Wii U sold 4.8 million units and 3.4 million units worldwide respectively, the company said yesterday. Nintendo now expects software sales for the console to reach 25 million units.
Net income will be 30 billion yen in the 12 months ending March, the Kyoto, Japan-based company said in a filing yesterday. That compares with its previous forecast for net income of 20 billion yen and 34.5 billion yen estimated by the analysts.
Wii U consoles will probably return to losing money and 3DS earnings will fall next fiscal year, Haruka Mori, a Tokyo-based analyst at JPMorgan & Chase Co., wrote in a Jan. 21 report. Recovery probably won't begin until the year ending March 2017, Mori wrote, citing a comment by Nintendo management.
No Smartphones
The yen weakened 8.5 percent against the dollar last quarter and 4.4 percent against the euro. The currency fetched 117.64 and 132.63 respectively as of 3:05 p.m. in Tokyo today.
The company also posted quarterly earnings yesterday, with net income of 45.2 billion yen in the three months ended December, according to figures derived from nine month earnings. That compares with the 34 billion-yen average of seven analyst estimates compiled by Bloomberg. Third-quarter sales were 271.5 billion yen, missing analyst expectations for 296.1 billion yen.
Nintendo has resisted putting its games on smartphones so that it can use iconic brands such as Mario and Zelda to drive sales of its own machines and software.
The company is considering various options for mobile devices, Iwata said in Osaka yesterday without providing specifics.
Amiibo Figurines
"As a rule, we don't consider to bring games for our game machines into smart devices," he said. "If we follow current games on smartphones and we just bring our current games into smart devices, it won't lead to the future."
Nintendo cut its full-year sales target for the 3DS player 25 percent to 9 million units and reduced the outlook for the player's software by 9 percent to 61 million units.
"The 3DS has passed the peak of its hardware cycle," Eiji Maeda, a Tokyo-based analyst at SMBC Nikko Securities Inc., said before the release. "The device is the next one in line for a refresh. It would make sense to have a new model next year, so we can expect the news flow to begin from the middle of this year."
Iwata said Nintendo sold about 5.7 million of its new Amiibo figurines worldwide since late November, giving an early indication of whether the company's strategy of selling toys will be successful.
Players can choose from more than 40 Amiibo toys to enter popular characters like Mario, Link and Donkey Kong into a Nintendo game through the Wii U's GamePad tablet. The figurines retail for about $13, according to the company's website.
"The best they can hope for with the Wii U is keeping the present state of affairs," said Hideki Yasuda, a Tokyo-based analyst at Ace Research Institute. "In the game business, momentum is key. Nintendo should be thinking about new hardware."
Before it's here, it's on the Bloomberg Terminal.
LEARN MORE