ECB Supervisor Nouy Says Greek Banks Strong Enough to Survive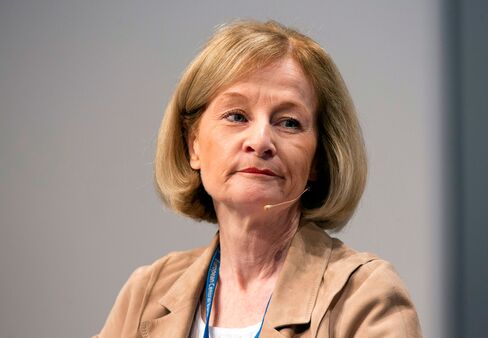 Daniele Nouy, head of the European Central Bank's Supervisory Board, said Greek lenders are capable of surviving the current market turbulence.
"The Greek banks are facing a difficult situation right now because of the recent elections, but they are pretty strong," she said on Jan. 28 in an interview with Bloomberg Television. "A lot of good work has been done to strengthen their balance sheets during the last years. They will go through this crisis like they went through the previous ones."
Greek bonds and stocks slumped for a third day yesterday on concern the nation's new government will backtrack on austerity, setting up a clash with European governments and creditors. In his first week in office, Prime Minister Alexis Tsipras stood by pledges to renegotiate the terms of Greece's bailout and appointed ministers who said they'll cease the sale of some state assets.
After falling 26.7 percent yesterday, Greek bank stocks rebounded 2.4 percent at 10:59 a.m. in Athens, led by Alpha Bank AE which rose as much as 13.7 percent after trading opened in Athens.
Nouy said the ECB has told Greek lenders that they need to be cautious in their liquidity management.
"They should not take measures that could endanger their liquidity positions, the management of their liquidity situation," Nouy said yesterday in Frankfurt. "They have to invest their treasury liquidity in highly liquid assets, in assets that can be accepted as collateral. That's a basic recommendation from a supervisor in such circumstances."
Deposit Withdrawals
Greek lenders are being closely monitored in light of a "situation that is not as exactly business as usual," said Nouy, who heads the euro area's single bank supervisor. The ECB is monitoring deposit withdrawals daily, she said.
Greek bank-deposit outflows last week accelerated to record levels amid concern about lenders' liquidity and the outcome of the nation's negotiations with creditors, according to a person familiar with the matter. The ECB is monitoring deposit withdrawals daily, Nouy said.
Withdrawals from Greek banks exceeded 14 billion euros ($15.9 billion) in the run-up to the snap elections that catapulted the Syriza party to power, including 11 billion euros that were taken out in January, the person said. Between Jan. 19 and Jan. 23, outflows were greater than in May 2012, when Greece was on the brink of exiting the euro area.
Before it's here, it's on the Bloomberg Terminal.
LEARN MORE