Kaisa on Brink of Dollar Default Spooks Money Managers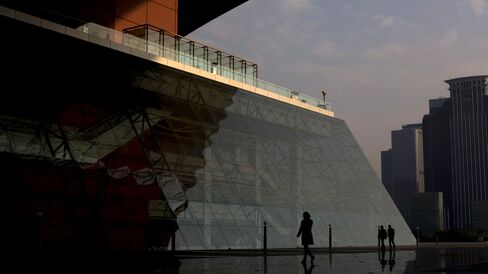 As Europe grapples with terrorism and Switzerland scrapped a currency peg, the troubles of a Chinese developer that's never reached $3 billion in market value became something investors from New York to London couldn't ignore.
A missed $23 million interest payment by Kaisa Group Holdings Ltd. earlier this month puts it at risk of being the first Chinese real estate company to default on its dollar-denominated bonds. That may signal deeper risks for China's already fragile and corruption-prone property market, which according to World Bank estimates accounts for about 16 percent of economic growth.
Chinese companies comprised 62 percent of all U.S. dollar bond sales in the Asia-Pacific region ex Japan last year, issuing $244.4 billion of the $392.5 billion total, according to data compiled by Bloomberg. BlackRock Inc., the world's biggest asset manager, owned Kaisa's 8.875 percent securities due 2018 and the ones the subject of the missed coupon payment, the 10.25 percent 2020s, its latest filing on Jan. 14 shows. Funds managed by JPMorgan Chase & Co., Fidelity Investment and ING Investment Management also held some of Kaisa's debt at the end of October, according to filings.
"The market has been too complacent," said Raymond Chia, the Singapore-based head of Asia credit research at Schroder Investment Management Ltd., which had $447.7 billion under management as of Sept. 30. Investors would be "rational to adopt a cautious approach in view of the fact that anything can happen, anywhere, anytime. It would be irrational to continue thinking that after Kaisa none of the companies will see a similar fate."
Missed Payment
Kaisa's woes began late last year when the government in Shenzhen, less than 25 kilometers (15.5 miles) from Hong Kong, blocked approvals of its property sales and new projects in the city. It's also being probed over alleged links to Jiang Zunyu, the former security chief of Shenzhen who was taken into custody as part of a graft probe, two people familiar with the matter said last week, asking not to be named because the connection hasn't been made public.
Kaisa missed an interest payment due Jan. 8 on its $500 million of 2020 bonds. The notes were sold to investors at par, or 100 cents on the dollar, in January 2013. In December, when some of Kaisa's projects were blocked and key executives quit, the debentures lost 40.1 percent. They continued to fall in January, slumping to 29.901 cents on the dollar on Jan. 7, a record low, however have since recovered to trade at about 35.2 cents.
Costs Spike
Concern is mounting that increasing financial stress among builders could spill over into a broader credit crisis in China. New-home prices fell in 65 of the 70 cities monitored in December and were unchanged in four, the National Bureau of Statistics said in a statement yesterday. Shenzhen recorded higher prices, the first city to see an increase in four months.
Borrowing costs for many developers in the world's second-largest economy have surged since Kaisa's travails began. Yields on Chinese dollar-denominated speculative grade debt climbed to 12.38 percent on Jan. 16, a Bank of America Merrill Lynch index shows, the highest since June 2012. The junk debt has lost 5.7 percent in 2015, the worst start to a year on record.
Accounts Frozen
Loan investors are also shunning Chinese developers with the bank facilities of Shimao Property Holdings Ltd., Country Garden Holdings Co. and Evergrande Real Estate Group Ltd. quoted at levels that indicate impending stress, according to offered prices compiled by Bloomberg from two traders.
Some of Kaisa's Chinese creditors, meanwhile, have asked courts to freeze the company's assets. In a statement on Jan. 9, the developer said that "several bank accounts of the group" had been frozen.
A court in northeast China froze 640 million yuan ($103 million) of deposits, people familiar said today. Dalian Intermediate People's Court, in Liaoning province, froze 540 million yuan of deposits on Jan. 12 as part of lawsuit filed by Industrial & Commercial Bank of China Ltd. while the same court ordered 100 million yuan to be stopped on Jan. 9 as part of law suit brought by China Everbright Bank Co., the people said, asking not to be identified because the orders haven't been made public.
Bondholder Risks
It's a reminder of the risks overseas bondholders face when Chinese companies run into trouble. China's bankruptcy laws favor local creditors while offering fewer protections to foreign debt claims. Kaisa has a 30-day grace period to make its missed payment.
A bigger concern for global investors may be the hurt inflicted on the property market by President Xi Jinping's effort to uproot government corruption. Bribery scandals have rocked the sector in the past and the prospect other developers may be targeted has hit bond and share prices almost unanimously.
"It's definitely a concern among investors" that similar events could happen to other Chinese developers, said Alan Jin, a Hong Kong-based analyst at Mizuho Securities Co. Emerging funding difficulties in offshore markets may have an impact on the industry's recovery, he said.
Jiang Zunyu
Inspectors sent by the central government found property related corruption cases, including misbehavior by officials in land auctions and property development, in all but one of the 21 provinces they inspected since 2013, the official Xinhua News Agency reported Oct. 13, citing the ruling party's disciplinary body.
Jiang Zunyu was named the target of a graft probe in October, according to Xinhua. Jiang was previously head of Longgang district, the people who spoke on condition of anonymity said. According to company filings, some approval procedures for Kaisa projects in Longgang were suspended last month.
The Shenzhen city government's media department referred questions on Jan. 13 and a request for contact information for Jiang or a legal representative to its foreign media office, which didn't answer three phone calls.
Agile, Hydoo
Stock moves Jan. 16 showed how jittery the markets have become. China Overseas Land & Investment Ltd. fell as much as 6.9 percent after the Shenzhen government blocked some sales for unspecified reasons. China Overseas Land later said in a company statement that all the blocked units had been sold and the move won't affect its business or finances. The Shenzhen government also issued a statement saying the restrictions were for "normal processing." Its shares closed down 2.8 percent.
Fantasia Holdings Group Co. dropped as much as 3.7 percent while Guangzhou R&F slid as much as 4.9 percent. The benchmark Hang Seng Index closed down 1 percent.
Aside from Kaisa, Agile Property Holdings Ltd. and Hydoo International Holding Ltd. were also implicated in probes in 2014.
Agile Property's shares plunged 17 percent in Hong Kong Oct. 13 after the company disclosed on Oct. 10 its billionaire chairman was put under control of prosecutors in September before being released last month. The company didn't detail the nature of the detention. In August, Shenzhen-based Hydoo removed its chairman after losing contact with him for two weeks only to learn he was assisting Chinese authorities in an investigation.
Housing's Reach
A Shenzhen government website posted an announcement on Jan. 15 that four apartments owned by Fantasia in the city had been given "restricted" status. The website didn't indicate when the status on the properties changed. That same day, Fantasia issued an exchange filing saying it no longer owned the apartments and that its business operations were normal. Dollar bonds of Fantasia fell to record lows.
"When sales are blocked at other developers, it fuels speculation of similar political risks," said Mari Oshidari, a Hong Kong-based strategist at Okasan Securities Group Inc.
Kaisa didn't respond to requests for comment about its situation or its connection to Jiang Zunyu. Agile declined to comment and Hydoo also didn't respond to e-mailed requests for comment.
Housing's influence on China's economy is pervasive, driving sales of everything from cement and steel to electrical appliances, furniture and cars. It's contribution at home, and to global expansion, make it "the most important sector in the universe," Jonathan Anderson, the former chief economist for emerging markets at UBS Group AG who now runs Beijing-based Emerging Advisors Group, wrote in a 2011 research note. Property is the main risk for China's economy, Ma Jun, the chief economist at the People's Bank of China, said in October.
While the clock for Kaisa's missed dollar bond coupon payment ticks, the company has at least secured more time to repay a defaulted bank loan, reducing its immediate cash needs. It said in a Jan. 12 statement that it received a waiver from HSBC Holdings Plc on a HK$400 million ($51.6 million) facility, which was tipped into default when its chairman, Kwok Ying Shing, resigned Dec. 31. Chief Financial Officer Cheung Hung Kwong and Vice Chairman Tam Lai Ling also quit last month.
"The most exposed are small developers, particularly in small cities with weaker balance sheets and less access to the banking system," David Loevinger, a former U.S. Treasury Department senior coordinator for China affairs and now a Los Angeles-based analyst at TCW Group Inc., said by phone on Jan. 15. "My impression is that the government won't be unhappy to see some consolidation."
— With assistance by Dingmin Zhang, David Yong, and Christopher Langner
Before it's here, it's on the Bloomberg Terminal.
LEARN MORE