F-35 Debut Hobbled by Flawed Software, Pentagon Tester Finds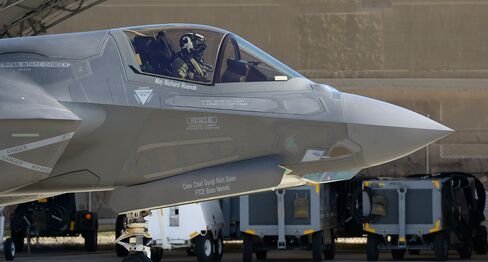 Flawed software will hobble the first of Lockheed Martin Corp.'s F-35 fighters to be called combat-ready, limiting the plane's ability to drop bombs, share data with other aircraft and track enemy radar, the Defense Department's chief weapons tester found.
The Marine Corps plans to declare its version of the F-35, the costliest U.S. weapons system, ready for limited combat as soon as July. Software essential to delivering on the plane's promised capabilities may complete flight testing next month, about four months late.
"What is clear is that" the plane "will finish with deficiencies remaining that will affect operational units," Michael Gilmore, the Pentagon's director of combat testing, said in an annual report on major weapons that was sent to Congress on Friday and obtained before its public release.
The testing report will set the stage for oversight of the $398.6 billion F-35 program by U.S. lawmakers and by allies seeking to justify the increasing cost of buying the plane. The Pentagon plans to request 57 of the aircraft in fiscal 2016, up from the 34 that were requested and the 38 that Congress ultimately funded for this year.
'Serious Deficiencies'
Each of the Joint Strike Fighters made by Bethesda, Maryland-based Lockheed will have more than 8 million lines of code once fully deployed, more than any previous U.S. or allied jet.
"Serious deficiencies with hardware and software used to develop data files" in the plane's computers are "more numerous and serious" than those first identified in 2012, Gilmore said in his cover letter to lawmakers transmitting the report. The files are needed to identify enemy radar and "are essential to conducting effective combat operations against advanced enemy air defenses, a key reason" for developing the F-35, he wrote.
Gilmore warned that unless "immediate action is taken to remedy these deficiencies," the aircraft's ability to "be effective in combat is at substantial risk."
Deficiencies in the software version known as 2B also were "identified in fusion, radar, passive sensors, identification friend-or-foe" and electro-optical targeting, even as software showed some improvement in starting the aircraft and maintaining in-flight stability, according to his report.
Joe DellaVedova, the spokesman for the Pentagon's F-35 office, said in an e-mail that he can't comment on the report's broad conclusions until it's made public.
'Disciplined Approach'
DellaVedova said the Joint Strike Fighter program continues to follow "the same disciplined approach with software development -- we test, and when we find an issue we solve it and move on. The F-35 will do what it was designed to do: defeat today's and tomorrow's threats."
The Marine version, the F-35B, flew 329 test sorties last year, 20 more than planned, he said.
The F-35 program's top official said in an e-mail that since October it's completed all software testing required for the Marine version to drop its weapons. "The weapons development program continues to track forward on the plan laid out" in 2010, when additional testing was added, said Lieutenant General Chris Bogdan, the program's executive officer.
While the Air Force and Navy versions of the F-35 also are being developed, the Marine fighter is the most complex because it must execute short takeoffs and vertical landings on fields and amphibious warships.
'Great Momentum'
Lockheed Martin spokesman Mark Johnson said in an e-mail that it would inappropriate to comment on the unreleased report, "but 2014 was year of great momentum for the JSF program on all fronts." The F-35 represents 17 percent of sales for Lockheed, the largest U.S. federal contractor.
Lockheed rose less than 1 percent to $193.06 at 11:25 a.m. after rising 26 percent in the past year.
Gilmore's report also cited signs of progress for the F-35, which is being developed as its produced, including improved reliability that lets pilots exceed the planned number of sorties.
The F-35B flew 7.5 hours last year between "critical failures," an improvement over the three-hour mark demonstrated in 2013, he said. The goal is 12 hours.
The program office, the Marine Corps and Lockheed also appear to have fixed deficiencies with the aircraft's auxiliary air inlet door, propulsion system drive shaft and clutch and a "roll post nozzle" actuator, he said.
DellaVedova said reliability has improved with each lot of aircraft because the company and the program office have incorporated corrective actions "to minimize or eliminate failures."
Northrop Sensors
Among the unresolved technical issues affecting the F-35B that Gilmore listed in the report and his cover letter to congressional defense committees:
* The aircraft's weight when empty increased 82 pounds (37 kilograms) since August 2011 and now is within 1 percent, or 337 pounds, of its weight limit.
* A system of six implanted sensors made by Northrop Grumman Corp. for 360-degree day and night navigation, in-flight awareness and anti-aircraft missile warnings "continues to exhibit high false alarm rates and false target tracks and poor stability performance, even in later versions."
* Current versions of the program's automated logistics system, which schedules aircraft maintenance, monitors in-flight aircraft condition and marshals spare parts, remains behind schedule and has deficiencies that render it "cumbersome to use and inefficient."
'Demonstrated Deficiencies'
Preliminary results from the latest version "show that multiple deficiencies from past evaluations remain unresolved and the system demonstrated deficiencies in new capabilities."
Gilmore didn't call such technical problems insurmountable, saying instead that developing and demonstrating fixes probably won't be accomplished for months and could delay testing of the final version of software that gives the aircraft its full combat capability.
Successful testing of this "3F" version would be needed before the Pentagon makes a multibillion-dollar commitment for Lockheed to begin full-scale production, which now is scheduled for April 2019.
Gilmore recommended that the schedule be adjusted to "reflect these realities," with the crucial software testing starting six months late and finishing in May 2019.
Before it's here, it's on the Bloomberg Terminal.
LEARN MORE