Japan Plans Record Budget to Help Economy Struck by Recession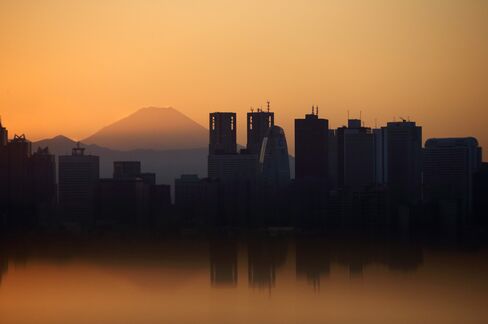 Japan plans a record budget for next fiscal year to support an economy that fell into recession after Prime Minister Shinzo Abe's government increased the sales tax.
Government ministers and the ruling coalition parties approved the 96.34 trillion yen ($814 billion) budget proposal for the 12 months starting April 1 at a meeting in Tokyo yesterday, Finance Minister Taro Aso told reporters.
Japan, fighting to rein in the world's heaviest debt burden, will see tax revenue rise to the highest level in 24 years while new bond issuance declines to the lowest since 2008. Abe's already boosted public works and assistance for small businesses through a supplementary budget for the current year.
"The budget will continue to grow each year as it gets increasingly difficult to curb social welfare spending due to Japan's aging population," said Kyohei Morita, chief Japan economist at Barclays Plc. "Given the risk that the economy will be hurt by a sudden decline in public works spending in the latter half of 2015, the government might have to draft another extra budget."
Tax revenue for next fiscal year is projected to rise to 54.53 trillion yen and cover 57 percent of the budget, up from 52 percent. New bond issuance will decline to 36.86 trillion yen, Aso said.
While the sales tax has increased, the government has plans to reduce corporate taxes by 3.29 percentage points over two years.
Economic Contraction
Gross domestic product contracted for two straight quarters after the sales tax was increased three percentage points to 8 percent in April. In response, the government deferred another planned bump in the levy and in December assembled a 3.5 trillion yen stimulus package and the supplementary budget.
Real gross domestic product should rebound, growing 1.5 percent next fiscal year, according to estimates released by the Cabinet Office yesterday. That follows a projected 0.5 percent contraction in the 12 months through March.
"The budget deals appropriately with issues Japan faces, including the revitalization of regional economies and the improvement of social welfare," said Aso. "Coupled with tax revisions for the next year, the budget will revive the economy while consolidating government finances."
The government will meet its target for halving the ratio of the primary balance deficit to GDP next fiscal year, Aso said. This gauge is calculated by subtracting expenditures excluding interest payments from revenues without bond sales, and is a key measure for the Abe administration as it attempts to control debt.
Debt Load
In a fiscal reform plan released in 2013, the government said it also aimed to achieve a surplus in the primary balance in 2020.
Japan's debt-to-GDP ratio is projected by the International Monetary Fund to swell to more than 245 percent in 2015.
Moody's Investors Service cut Japan's credit rating one level to A1 last month citing uncertainty over whether Japan could achieve its deficit reduction goals.
The defense budget will rise for a third straight year, by 2 percent to 5 trillion yen, according to a copy of the budget proposal document obtained by Bloomberg News.
Abe has increased defense spending as a more assertive China flexes its military muscle amid territorial claims in the East and South China Seas. Abe has also sought to ease restrictions on Japanese defense exports that were adopted in keeping with the country's pacifist constitution.
Defense Spending
Japan ranked fifth in global defense spending based on 2013 budgets, behind the U.S., China, Russia and the U.K., according to IHS Jane's annual defense budget review.
China increased military spending by more than 12 percent last year and has a defense budget more than three times larger than that of Japan.
Public works spending in the budget will be 6 trillion yen next fiscal year, unchanged from the current year, the budget document shows.
Social security spending will rise to 31.5 trillion yen, from 30.5 trillion yen, as welfare outlays increase with the aging population and as the government boosts spending to support child care.
Debt-servicing costs will be 23.5 trillion yen, from this year's 23.3 trillion yen, according to the document.
"It's difficult for Abe to cut spending dramatically ahead of local elections," Takeshi Minami, an economist at Norinchukin Research Institute, said before yesterday's announcement. "The government seems to be conservative in the main budget. It just drafts extra budgets whenever it's necessary to boost the economy."
Abe's Cabinet is scheduled to meet to formally adopt the budget tomorrow.
Before it's here, it's on the Bloomberg Terminal.
LEARN MORE