Italy Unemployment Rises to New High, Showing Europe Divergence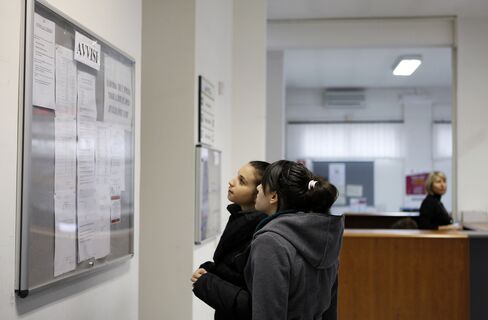 Italian unemployment unexpectedly rose to a record high that's more than double the German rate, keeping alive concerns about the diverging growth outlook in the euro area.
The jobless rate increased to 13.4 percent from a revised 13.3 percent in October, while separate data showed the euro-region rate at 11.5 percent. The reports contrast with data from Germany showing unemployment there fell to the lowest in more than two decades last month.
Italy's struggles are just one of the problems in the euro area, where moribund growth and falling prices are raising concerns that the economy will slip into a deflationary spiral. Data today showed inflation in the euro region fell below zero in December for the first time in more than five years.
Italy's unemployment reading for November was the highest since the series began in 1977. For Germany, the number of jobless fell for a third month and the unemployment rate declined to 6.5 percent, the lowest level in records going back more than two decades.
To make his economy more competitive and escape from its record slump, Italian Prime Minister Matteo Renzi is pushing through reforms to help the labor market.
"Full employment for Germany is on average within reach," said Frank-Juergen Weise, president of Germany's Federal Labor Agency. "Italy has a good program. The question is now about implementation."
Overprotected Workers
With the so called Jobs Act, Renzi also wants eliminate the gap between overprotected workers with open-ended contracts and younger people with no job security. Youth unemployment rate jumped to 43.9 percent in November from 43.3 percent in October, according to today's report from Istat in Rome.
"The contraction phase of the Italian economy is expected to stop in the coming months in the presence of positive signals for domestic demand," Istat said in a monthly report on Dec. 30. Labor market conditions "remain difficult with stagnant levels of unemployment and a rising unemployment rate."
In the third quarter, Italian exports failed to offset weak domestic demand and falling investment, meaning gross domestic product fell for the 11th time in 13 quarters. In Germany, whose economy narrowly avoided a recession in the middle of 2014, recovering sentiment among entrepreneurs and investors supports forecasts that growth will accelerate this year.
Before it's here, it's on the Bloomberg Terminal.
LEARN MORE