Gilead Drops After Drug Manager Blocks $1,000 Hep C Pill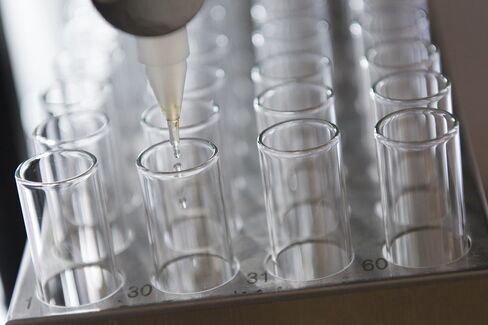 Gilead Sciences Inc. shares sank after the biggest drug-benefit manager in the U.S. chose a pill from AbbVie Inc. to be the sole hepatitis C treatment approved for many patients, as insurers seek to rein in the rising cost of medicine.
Express Scripts Holding Co., which helps insurers and large employers provide drug coverage, opted to narrow doctors' treatment options in exchange for lower prices. On its most widely used list of approved drugs, Express Scripts will include AbbVie's Viekira Pak for patients with genotype 1, the nation's most common form of hepatitis C.
The move is likely to escalate the tension between drugmakers and insurers over climbing costs. More than 300,000 Americans are now taking combinations of prescription drugs that cost $50,000 or more a year, based on Medicare data and estimates by Milliman Inc.
Express Scripts has waged a campaign all year against Gilead's hepatitis C drugs, calling their price of more than $1,000 a pill part of an unsustainable trend of surging expenses for medicine designed to treat complex health conditions. Gilead's Sovaldi and Harvoni will be left off Express Scripts' list, which covers about 25 million people, starting Jan. 1 for most patients.
"We have asked pharma companies to work with us closer and demonstrate good judgment," Express Scripts Chief Medical Officer Steve Miller said. "AbbVie heard our concerns and they came to the table in a very creative way."
$94,500 Treatment
Gilead's Sovaldi costs $84,000 for a 12-week course of treatment, and the company's Harvoni, which combined Sovaldi with another medication in a single pill, costs $94,500. Viekira Pak, approved last week by the Food and Drug Administration, sells for $83,319 before any negotiated discount. AbbVie offered a "significant discount" in exchange for exclusivity, Miller said.
While AbbVie's drug has proven effective in trials, it requires more pills than Gilead's and sometimes must be taken with another medication with unpleasant side effects. That means the Express Scripts deal will probably stir controversy about whether the company's push to rein in rising drug prices is also limiting patients' treatment options.
"Gilead has been negotiating in good faith with Express Scripts and other payers to ensure patients and health-care providers have access to our medications and can make informed treatment decisions," Gilead said in a statement.
Stocks Slide
Gilead, based in Foster City, California, slid 14 percent, the most since 2001, to close at $92.90. Bank of America Merrill Lynch analyst Ying Huang downgraded his recommendation to underperform from buy, and lowered the price target to $87 from $130.
Biotechnology and life-science companies were the biggest drag on the S&P 500 among 24 industries, taking 4 points off of the index. The group accounts for 9.7 percent of the equities benchmark, second most among 24 groups behind software companies.
The Nasdaq Biotechnology Index slipped 2.4 percent. The gauge is up 36 percent in 2014, reaching a record on Dec. 19 after recovering from a slump of more than 20 percent earlier this year.
The deal with AbbVie is for multiple years, Miller said, without providing further information. He declined to disclose the discount Express Scripts is getting for offering Viekira Pak exclusively. AbbVie Chief Executive Officer Rick Gonzalez was personally involved in the negotiations, Miller said. Gonzalez wasn't available for an interview, said an AbbVie spokesman, Morry Smulevitz.
Private Offer
The pact was the first time a specialty drugmaker agreed to a major discount off of its published price in exchange for fewer restrictions on access to the medication, he said. Gilead had been privately offering a discount of about 8 percent for its drugs to prescription benefit managers, Miller said.
In exchange for its discount, AbbVie gets a guaranteed market for its drug without limitations on the extent of liver damage patients must have before Express Scripts will approve coverage. In addition to specialists, primary-care doctors will be able to prescribe Viekira Pak under the agreement, broadening the market for AbbVie.
"This multiyear agreement will allow more hepatitis C patients to gain access to treatment," AbbVie said in a statement.
Weekend Work
The preliminary agreement was signed Dec. 19, the same day Viekira Pak won FDA approval. Express Scripts' committee of doctors that evaluates its list of allowed drugs gave the go-ahead for the formulary decision over the weekend.
"This is exactly what our plan sponsors hire us to do is to negotiate and try to make drugs more affordable," Miller said. "We look at this as being the first of what will happen the field of cancer, rheumatoid arthritis and many other of the expensive specialty fields."
About 3 million people in the U.S. have the hepatitis C virus, which infects the liver and can lead to scarring, cancer and organ failure -- sometimes necessitating a costly liver transplant. Hepatitis C is transmitted through infected needle sharing and sexual contact. Others with the infection got it through blood transfusions or organ transplants done before 1992, when the U.S. began screening the blood supply for the virus.
Gilead has said the price of Sovaldi and Harvoni, which cure the virus without many of the side effects associated with older treatments, should be compared with the long-term costs to care for those with the disease.
Lower Prices?
"For months, drugmakers have said that when competition comes onto market it will lead to lower prices for the existing treatments," said Brendan Buck, a spokesman for insurance-industry lobbying group America's Health Insurance Plans, in an e-mail. "Soon we'll know whether that's true or if they'll just continue to use government protection to keep prices sky-high."
The pharmaceutical industry's trade group said the Express Scripts deal shows the industry is competitive.
"A marketplace that fosters competition and provides patients with meaningful health-care choices is essential to sustaining the type of innovation that has transformed the lives of patients with HIV, cancer and other debilitating diseases," said Robert Zirkelbach, a spokesman for the Pharmaceutical Research and Manufacturers of America, in an e-mail.
More Pills
AbbVie's drug requires most patients to take four to six pills a day for 12 weeks, compared with one pill a day for Gilead's. Some patients on Viekira Pak will also be told to take ribavirin, an older hepatitis C drug whose side effects include fatigue and nausea. Gilead's Sovaldi doesn't require ribavirin for genotype 1 patients.
"The difference in the pill burden is trivial," said Miller. The AbbVie drug "comes in a really elegant blister pack" that makes it easy to use, despite having to take more pills.
The AbbVie drug "is very well-tolerated and has incredibly high cure rates," he said.
Clinical Trials
In six clinical trials testing Viekira Pak, 91 percent to 100 percent of patients, including those considered difficult to treat, were cured. Three clinical trials on Harvoni showed at least 94 percent of patients who took the drug were cured in eight or 12 weeks, the FDA said when it approved the medicine Oct. 10.
In addition to Gilead's medications, Express Scripts excluded Johnson & Johnson's Olysio from the national formulary. Patients who are already on the drugs will still be covered, and those with other types of hepatitis C and advanced liver disease can still get Sovaldi.
Viekira Pak may generate $2.9 billion in sales next year, according to the average of three analysts' estimates compiled by Bloomberg. The revenue will help North Chicago, Illinois-based AbbVie expand its sources of revenue beyond best-seller Humira, the rheumatoid arthritis treatment that is projected by analysts to bring in $12.6 billion this year.
Before it's here, it's on the Bloomberg Terminal.
LEARN MORE