Fitbit Said to Plan 2015 Initial Offering Led by Morgan Stanley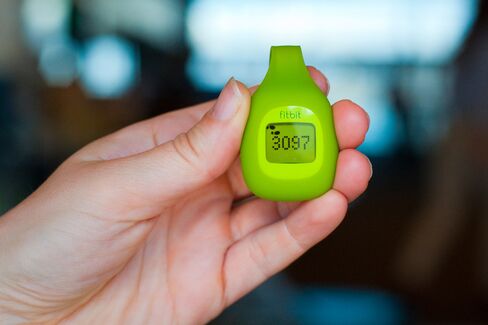 Fitbit Inc., a maker of fitness-tracking wristbands, is working with banks on an U.S. initial public offering for 2015, said people familiar with the matter.
The seven-year-old company has tapped Morgan Stanley to lead an IPO after deciding not to raise financing through a private placement, said one of the people, who asked not to be identified because the information is private. An IPO could raise about $150 million, said another person.
Stephna May, an outside spokeswoman for Fitbit, declined to comment. Mary Claire Delaney, a spokeswoman at Morgan Stanley, declined to comment. Fitbit was valued at more than $300 million last year, according to technology blog TechCrunch.
A Fitbit IPO would be among the first for the wearable-technology market, which has attracted plenty of buzz and remains an emerging product category. The number of fitness trackers is projected to more than triple to more than 70 million devices by 2018, according to a report last month from Juniper Research. The industry has become competitive, with Apple Inc. planning to roll out Apple Watch -- which has health-tracking capabilities -- in early 2015. In October, Microsoft Corp. also unveiled an activity tracking wristband called Band.
Fitbit and Jawbone, which makes the Up band, have been trying to stay ahead of the bigger technology companies by upgrading their products, some of which start at $99. Jawbone, which was seeking a $3 billion valuation earlier this year, delayed its newest health tracking band, UP3, and will miss the holiday shopping season. In October, Fitbit unveiled a new $130 wristband that monitors heart rate, steps and calories burned called the Charge. It will make two other new products -- the Charge HR and Surge -- available next year.
Volatile Year
"The basic band vendors, such as Fitbit and Jawbone, will enjoy the advantages of their lower pricing for the immediate future," Chris Jones, an analyst at research firm Canalys, wrote in a report. "Eventually, however, stronger smart band competitors to the Apple Watch will likely emerge and push smart band pricing down, threatening the basic bands."
A Fitbit IPO would follow a volatile year for technology offerings, with many startups including Box Inc., Good Technology Inc. and Yodle Inc. postponing their stock market debuts. Some technology startups recently took haircuts by pricing their IPOs at below their last valuation in a private round of financing.
Fitbit was founded in 2007 by Eric Friedman and James Park. The San Francisco-based company has raised more than $50 million of financing from venture capital investors including True Ventures and SoftTech VC. Fitbit raised $43 million in August 2013, according to filing with the U.S. Securities and Exchange Commission. The filing didn't provide the company's valuation.
Before it's here, it's on the Bloomberg Terminal.
LEARN MORE