Record Oil Tankers Sailing to China Amid Stockpiling Signs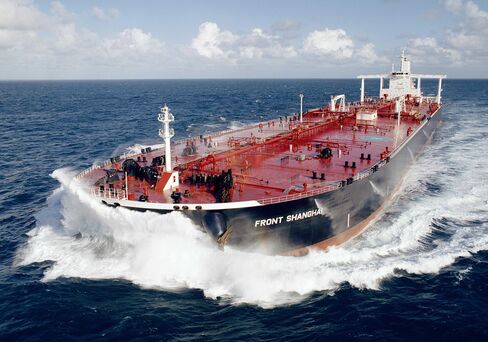 The number of supertankers sailing to China jumped to a record in ship-tracking data amid signs that the oil-price crash is spurring the Asian nation to stockpile.
There were 83 very large crude carriers bound for Chinese ports, according to shipping signals from IHS Maritime compiled by Bloomberg at about 8:30 a.m. today in London. The ships would transport 166 million barrels, assuming standard cargoes, the largest number in data starting in October 2011. The cost of hiring the vessels surged to the highest in almost five years, according to Baltic Exchange data.
The International Energy Agency, a Paris-based adviser to 29 nations, said in a report today that China may have added to strategic crude stockpiles last month, after pausing the activity in October. Oil plunged into a bear market this year, with Saudi Arabia and other nations in the Organization of Petroleum Exporting Countries offering few signs they will tackle a global glut.
"We see cargoes being picked up to be put into storage in China predominantly," Erik Folkeson, a shipping analyst at Stockholm-based Swedbank AB, said by phone today. "The steep reduction in crude prices and continued output of crude has, in my view, triggered stock building."
Daily shipping rates on the tanker industry's benchmark trade route from the Middle East to Asia jumped to $83,605 today, the highest since January 2010, Baltic Exchange data show. Swaps on the route, used for hedging freight costs, indicate daily earnings this month will average $77,964.
Strategic Reserves
Crude slumped in London and New York today after the IEA cut global demand estimates for 2015, citing weakening economies in Russia and other producer nations. Brent slid as much as 3.7 percent to $61.35 a barrel on the ICE Futures Europe Exchange. West Texas Intermediate slid as much as 4.4 percent on the New York Mercantile Exchange. Both are down about 40 percent this year.
"As the price declined it made sense to buy," Court Smith, head of research at Stamford, Connecticut-based shipbroker MJLF, said by phone yesterday.
China has to buy at least another 50 million barrels of crude in 2015 for its strategic petroleum reserve, according to Amrita Sen, chief oil market analyst at Energy Aspects Ltd., a London-based consultant. Plans to expand commercial crude inventories could raise that total above 100 million barrels, depending how quickly the country can build new storage units, she said.
"China filling up big parts of its SPR essentially helps to absorb the oversupply" on international oil markets, Sen said by telephone today. "You're not going to get China slowing down on filling before 2016."
West Africa
Part of the tanker freight-rate rally may be because of rising shipments from West Africa. Traders booked 33 cargoes of crude on VLCCs from the region this month, 43 percent more than a year earlier, according to data from Galbraith's Ltd., a London-based shipbroker.
Angola and Nigeria, the region's two biggest exporters, will ship 4 million barrels a day next month, the most since August 2012, loading programs obtained by Bloomberg show.
The cost of shipping crude to China from West Africa was $3.34 a barrel yesterday compared with an average of $2.52 this year, according to data compiled by Bloomberg.
An excess of VLCCs in the Persian Gulf shrank in the past several weeks, with 11 percent more of the ships available than cargoes, down from an average surplus this year of 17 percent, according to a Bloomberg survey of shipbrokers and owners.
Fleet Growth
"Fleet growth is slowing, meaning that every additional barrel of oil on the water will help to tighten the market," said Swedbank's Folkeson.
The crude tanker fleet grew 1.5 percent this year compared with trade growth of 1.8 percent, according to Folkeson. Seaborne oil trade will rise by 3.5 percent in 2015, against no change in the fleet, he said.
VLCC rates will rise to an average of $35,000 a day in 2015, compared with $25,851 this year, according to a median of six forecasts from shipping analysts compiled by Bloomberg.
The 83 ships en route to China compares with 67 on average this year and 68 on Dec. 13 last year.
"Primarily it's a consequence of lower oil prices still being a driver for buyers of crude to stock up," Erik Stavseth, an analyst at Arctic Securities ASA in Oslo, said of the rally in prices.
Before it's here, it's on the Bloomberg Terminal.
LEARN MORE