Zuckerberg, Cook Meet China's Internet Minister in U.S.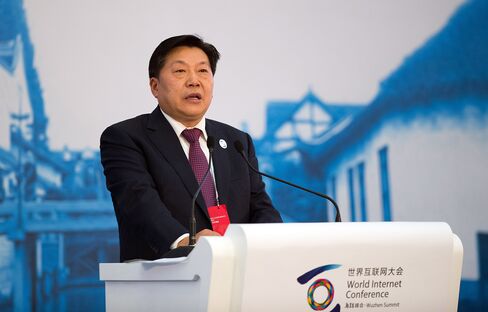 The head of China's Internet regulator met with the chief executives of Facebook Inc., Apple Inc. and Amazon.com Inc. during a recent visit to the U.S., according to a government-run website.
Lu Wei, minister of the Cyberspace Administration of China, visited the companies' offices, according to the report by China.com.cn, which is under the State Council. The post didn't elaborate on the reasons for Lu's visits or the dates. The report included photos of Lu with Apple CEO Tim Cook, who appears to be showing him a wristwatch-like device.
Facebook CEO Mark Zuckerberg greeted Lu in Mandarin, and Lu found a copy of Chinese President Xi Jinping's book "The Governance of China" on the billionaire's desk. While the world's largest social network has been blocked by China's censors since 2009, the company is seeking to build up its business selling ads to companies through a Hong Kong office and is said to have leased space in Beijing this year.
"The Chinese market is too attractive not to be in," said Lo Shih-hung, a professor at the National Chung Cheng University's Department of Communication in Taiwan. "For Facebook to get into the market, it might require them to make comprises ranging from setting up a local operation to sharing user data."
Zuckerberg, who was named to an advisory board at Beijing's Tsinghua University in October, told Lu he gives Xi's book to colleagues "to let them know the characteristics of Chinese socialism," according to the report.
China Access
In September, state-run media quoted Lu as saying Facebook "cannot" win access in China anytime soon. While the network is formally blocked, it can be accessed through so-called proxy services or virtual private networks that sidestep government filters.
"If you are hurting China's interests, China's security or you are hurting the interests of Chinese consumers, we won't allow this to exist," Lu said at the World Economic Forum in Tianjin in September without mentioning Facebook by name.
Debbie Frost, a spokeswoman for Facebook, declined to comment, as did Kristin Huguet, an Apple spokeswoman.
Pictures included in the website report show a stuffed bunny mascot for Beijing-based Xiaomi Corp., the world's third-largest smartphone company, on Zuckerberg's desk at Facebook.
Baidu Inc. Vice President Zhu Guang accompanied Lu to the meetings, China.com reported. Kaiser Kuo, a spokesman for Baidu, confirmed Zhu attended the meetings. He declined to comment further.
The website also posted pictures with Lu talking to Amazon CEO Jeffrey Bezos. It didn't provide further details. Craig Berman, a spokesman for Amazon, said he wasn't aware of the meeting.
— With assistance by Edmond Lococo, and Lulu Chen
Before it's here, it's on the Bloomberg Terminal.
LEARN MORE