Saudi-Venezuela OPEC Split Plays Out Behind Closed Doors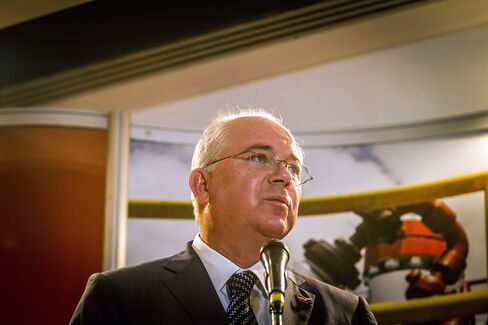 As Venezuelan Foreign Minister Rafael Ramirez urged fellow OPEC members to cut oil production at one point during last week's three-hour meeting in Vienna, the split in the group quickly became clear.
Eight countries -- including those from Angola and Nigeria, which are, like Venezuela, among the hardest hit by the five-month rout in crude prices -- embraced a reduction, according to five people briefed on the meeting. Absent from that list, though, was the most important man in the room, Saudi Arabian Oil Minister Ali Al-Naimi, who led a group of four Persian Gulf nations in voicing dissent, the people said.
And with that, the push for a cut, which would require unanimous backing, was shot down, leaving OPEC's daily output target at 30 million barrels and triggering a 10 percent collapse in prices by the next day. The disagreement cements the formation of two camps that had been brewing for weeks within OPEC: the financially strapped nations pleading for a cut to trim the supply glut and boost prices, and the fiscal powerhouses willing to withstand lower prices in a bid to get U.S. shale drillers to curb their expansion.
"There are the ones in OPEC who want a supply cut, and to see prices to rise immediately, but can't do much about it," said Eugen Weinberg, head of commodities research at Commerzbank AG in Frankfurt. "And there are those who can do something to boost prices, but don't want to until their goals are met, and so they wait."
OPEC Center
Brent crude, benchmark for more than half the world's oil, already had fallen 32 percent from a high for the year in June by the time the ministers gathered in the Austrian capital for the Nov. 27 meeting. The U.S. standard, West Texas Intermediate, was down the same amount.
Brent added 52 cents to $71.06 a barrel on the ICE Futures Europe exchange in London at 12:26 p.m. Singapore time. WTI gained 69 cents to $67.57 in electronic trading on the New York Mercantile Exchange.
From the beginning, it was clear that this wasn't going to be just another meeting of members of the Organization of Petroleum Exporting Countries.
Inside the gray, boxy, nine-story building near the Danube Canal that houses OPEC's secretariat, the ministers sat in alphabetical order at two long rectangular tables in a hangar-like room to field questions from the press. There were so many journalists present -- about 300 were registered -- that they had to be broken up into two groups. Naimi declined to respond to all the questions directed at him.
More Vocal
Once the meeting began in earnest, he became more vocal.
After Ramirez put forth the output cut proposal, others suggested the amount should be 5 percent, or 1.5 million barrels a day, according to Iraqi oil minister Adel Abdul Mahdi. Naimi expressed concern about rising supplies from U.S. shale producers, according to Iran's oil minister, Bijan Zanganeh. Demand for OPEC's crude will fall every year until 2017 as U.S. supply expands, eroding its share of the global market to the lowest in more than a quarter-century, according to the group's own estimates.
The ministers of Kuwait, the United Arab Emirates and Qatar, all members of the Gulf Cooperation Council along with Saudi Arabia, showed support for Naimi, according to the people, who asked not to identified because the discussions were private. The four Gulf nations didn't respond to requests for comment from Bloomberg News today. Venezuela's Information Ministry didn't respond to an e-mailed request for comment.
Balancing Budgets
The four nations opposing a cut require the lowest oil prices among the group's members to balance their budgets, according to figures compiled by Bloomberg. Saudi Arabia, the world's largest oil exporter, has $745 billion of reserve assets, data from the country's monetary authority show.
Iran ultimately backed the decision to maintain output in the interests of OPEC unity, Zanganeh said. When there isn't unanimity, the previous limits are maintained, per OPEC's rules.
The accord was "not in line with what we wanted," Zanganeh said as he exited the secretariat on Nov. 27. Allowing prices to tumble in a bid to get shale producers to curb investment is a risky strategy, he said the next day in an interview in Tehran.
"These prices that we see are not a sufficient enough reason yet to say that definitely, within the next four or five months ahead, shale oil output will drop by 1 million or 2 million" barrels a day, Zanganeh said. "There are no facts or figures to say that shale production would definitely decrease."
Spending Cuts
Some of the OPEC members being hurt the most by the rout in crude announced potential budget cuts after the meeting. In Venezuela, where foreign reserves sunk to an 11-year low last month, President Nicolas Maduro said in a Nov. 28 television address that he was ordering "a series of cuts in the nation's budget."
Iraq's government is considering spending cuts even as the conflict with Islamic State threatens to reduce economic output for the first time in at least three years. The government formed a panel to look into ways to reduce next year's proposed budget deficit to a "realistic level," according to a Nov. 29 cabinet statement. The current budget proposal projects a deficit of about 47 trillion Iraqi dinars ($39 billion).
Naimi, on the other hand, expressed pleasure with the decision. Upon exiting the meeting, he described the agreement as a "very happy" one, while U.A.E. Energy Minister Suhail Al-Mazrouei said he supported the group's retreat from its traditional role of adjusting supply to counter declining prices.
"We don't support to be a swing producer whenever prices fall," al-Mazrouei said on Twitter. The "market will dictate the right stable price and we are not targeting or setting a specific price."
The lines in OPEC are drawn.
The next meeting is scheduled for June 5 in Vienna.
Before it's here, it's on the Bloomberg Terminal.
LEARN MORE