Uber Struggles to Woo Germans Spoiled by Mercedes Taxis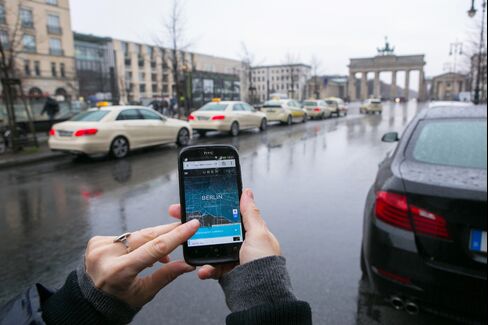 Uber Technologies Inc. is winning customers around the world by offering cheaper rides in fancier cars. That strategy isn't working in Germany, where the taxi fleet is ruled by Mercedes-Benz luxury sedans.
The Daimler AG upscale brand accounts for about 60 percent of German taxis, with the market made up predominantly of the $51,800 E-Class. They're new too, with an average age of 3.5 years. By comparison, more than half of Uber's German fleet consists of Volkswagen AG's Golf compact or lower vehicle segments, and the cars can be as old as 10 years.
With regulators in Germany challenging its business model, the country has been among the toughest markets for Uber to crack amid a global expansion underpinning a valuation of the San Francisco-based company of as much as $40 billion. The fact that Germans are used to a higher level of comfort in taxis than elsewhere makes gaining traction all the more difficult.
"Not paying taxi rates for going from point A to B is attractive, but I don't really know anything about those drivers or the cars they're driving," said Boris Knoblich, a 40-year-old marketing consultant in Berlin. "You don't become a taxi driver overnight and that offers security, and you know their cars are up-to-date."
While the E-Class is the most popular model used by German cabbies, Stuttgart-based Daimler even produces taxi versions of the top-of-the-line S-Class. A September survey by weekly newspaper Die Zeit found that 73 percent of Germans weren't interested in a service like Uber even if it was much cheaper.
Impressing Germans
"I don't notice competition from Uber at all," said Rainer Wieblitz, a 30-year taxi veteran in Munich who drives an E-Class. "None of my customers have ever mentioned them."
Uber -- a smartphone app for booking car services -- says it's tougher to impress customers in Germany with nicer autos than in the U.S. or France. The company's German chief Fabian Nestmannn is looking for ways to change opinions and make the fleet more attractive. While vehicles in the basic service are always owned by drivers, one option Uber is considering is making deals directly with automakers to improve the quality of the fleet, the company said.
Uber last week scaled back the basic service in Berlin and Dusseldorf, limiting it largely to weekends after being forced to drop fares to comply with regulation that only licensed drivers may transport passengers for profit. The company says the reduced fare -- to 35 euro cents (44 cents) per kilometer from 1.60 euros -- can only be a temporary solution. Uber also operates in the German cities of Frankfurt, Munich and Hamburg.
Rapid Expansion
In an interview with newspaper Frankfurter Allgemeine Sonntagszeitung last month, Nestmann suggested dropping mandatory health checks or tests of local geographic knowledge for German taxi drivers.
Founded by Travis Kalanick and Garrett Camp in 2009, the service has expanded rapidly and now operates in about 220 cities worldwide. In Canada, another market where Uber has faced legal challenges, the country's Competition Bureau said last week that cities should reconsider moves to ban mobile-taxi applications because they often offer lower prices, convenience and better service.
Uber is also looking at areas outside of passenger transport, such as logistics, to increase business. Uber has offered bicycle courier deliveries in New York, and tested moving services in Atlanta and Nashville, Tennessee.
Market Valuation
Its backers include Goldman Sachs Group Inc. and Google Ventures. The company is in talks to raise about $1 billion to finance a rapid international expansion, people familiar with the situation said last month. The second round of fundraising since June would value the five-year-old startup at between $35 billion and $40 billion, they said.
Uber's global proliferation shows how the Internet and changing consumer preferences are influencing the way people get around. Daimler in September bought the mytaxi and RideScout apps, stepping up an expansion into transport services.
Mytaxi lets users book licensed taxis via the smartphone app, while RideScout allows users in North America to choose from a range of transport options. The acquisition is part of Chief Executive Officer Dieter Zetsche's to attract new, younger customers, who are less interested in owning their own car. Daimler also runs the Car2Go short-term rental program.
Uber drivers in Germany believe price will ultimately pull people to the basic service, and customers seeking limousines can use the premium offering with bigger cars.
"The ease of use is just phenomenal, we're quick and polite, and our fare to the airport in Munich is no more than 31 euros -- that's half of what Munich licensed taxis charge," said Uber driver Karmel Baci. "Lots of people comment to me how normal taxi drivers are often very rude, complaining about not being able to find the people when they've ordered taxis or complaining about having to wait."
Before it's here, it's on the Bloomberg Terminal.
LEARN MORE