Singapore Civil Servants Win or Lose Bonuses on the Economy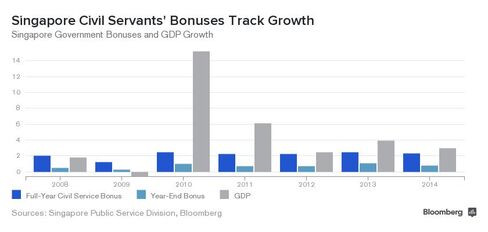 In Singapore, civil-servant bonuses rise and fall with the economy's performance, and the latest payout shows the island's growth is cooling.
The government declared a year-end bonus this week equal to 0.8 of a month's salary for civil servants, bringing the full-year package to 2.3 months. That compares with 1.1 months at the end of 2013 and 2.5 months for all of last year.
Singapore is bracing for slower global growth with the government predicting Nov. 25 that the island's expansion will slow to about 3 percent this year from 3.9 percent in 2013 and the recovery beyond will be uneven. The nation, which has some of the highest-paid ministers in the world, links civil servants' bonuses to how well the $298 billion economy does.
"This is in line with the slower pace of growth this year," said Irvin Seah, an economist at DBS Group Holdings Ltd. in Singapore who used to work for the city's trade ministry. "Business activity this year is also slow. I would not be surprised that even private-sector bonuses may be trimmed."
Civil servants are typically paid a variable incentive twice a year, on top of a fixed one-month bonus. The mid-year payment was skipped in 2009, when the economy contracted during the global recession.
Growth Peg
"Singapore may be one of the few countries that explicitly pegs bonuses to growth," said Vishnu Varathan, an economist in Singapore at Mizuho Bank Ltd. "That means it's got less scope for bouts of populist adjustments, which tend to happen with electoral cycles."
The government said this week the nation's 2015 growth outlook "remains modest," with a tight labor market domestically restraining construction, retail and food services. It also cited the risk that the euro zone economy will fall into a deflationary spiral, the possibility of an unexpected tightening of U.S. monetary conditions and the threat from geopolitical tensions.
With price pressures easing, scope is growing for the central bank to ease monetary policy at its next decision in April. Core inflation eased to 1.7 percent in October, falling below 2 percent for a second straight month, and the odds of a shift in stance will rise if the gauge slips to 1.5 percent or below, said Chua Hak Bin, an economist at Bank of America Merrill Lynch in Singapore.
Services Slow
The smaller government bonuses this year could also mirror a weakening of pay increases among Singapore companies, said Wai Ho Leong, a Singapore-based economist at Barclays Plc. The "property cycle is slower, tourist arrivals are also slower, so that could be why many firms in the services industries may see slower levels of activity and slow wage growth this year," he said.
Fewer than half of the 1,030 financial services professionals surveyed by eFinancialCareers in September and October in Singapore and Hong Kong expect a higher bonus this year, according to the Dice Holdings Inc. company's website.
Singapore's government has said its high ministerial salaries prevent corruption and help attract and retain talent. The island's parliament in 2012 agreed to cut the prime minister's annual income by 36 percent to S$2.2 million ($1.7 million) and that of new ministers to about S$1.1 million, down from S$1.58 million.
Before it's here, it's on the Bloomberg Terminal.
LEARN MORE