Samsung Mobile Executives Set to Pay Price in Overhaul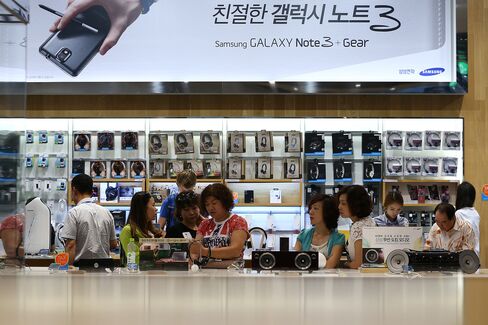 Leaders of Samsung Electronics Co.'s mobile-phone unit may be replaced as the controlling Lee family tries to revive a business where profits slumped by $4.5 billion as upstart Chinese vendors won market share.
The management restructure, part of a revamp across the more than 70 companies that make up Samsung Group, is the first under heir apparent Lee Jae Yong since his father Lee Kun Hee was hospitalized in May after a heart attack. Hundreds of executives at companies including Samsung C&T Corp. and Samsung Heavy Industries Co. are expected to change jobs.
The moves are the latest twist at Samsung as the Lee family restructures its empire and prepares to hand over power to a new generation. The company plans to cut the number of new smartphone models by a third next year and has transferred 500 engineers out of the mobile unit, putting the spotlight on division head and co-Chief Executive Officer Shin Jong Kyun.
"A large-scale leadership change at the mobile division may come," said Chung Chang Won, an analyst at Nomura Holdings Inc. in Seoul. "The top leadership who misstepped in the mobile business will have to pay the price."
Shares of Samsung Electronics fell 0.3 percent to 1,220,000 won at the close of trade in Seoul. The stock has fallen 11 percent this year and is headed for its second straight annual decline after a 9.9 percent drop in 2013.
Fewer Models
Samsung Group, South Korea's biggest chaebol, has typically used its year-end management shakeup to set goals for the next year. In 2013, the conglomerate announced 16 top-level appointments on Dec. 2 before detailing another 475 executive promotions three days later, citing its principle of "compensation aligns with the performance."
Samsung Group declined to comment today on the details of its annual review of managers.
While the amount of job changes this year may not match the size of last year's revamp, the mobile business will attract the most attention, said Oh Sang Woo, an analyst at Leading Investment & Securities Co. in Seoul.
"Samsung needs to freshen itself up now, so any major top-level shuffle will revive the tension and change the complacent culture," Oh said. "Samsung was slow addressing the new market trend, which allowed smaller players like Xiaomi to kick in. It now needs strong leadership who can take decisive, but timely, action."
Even before the management announcement, Samsung is taking steps to find new growth.
Connected Devices
Samsung transferred the workers from the mobile unit, the largest contributor to earnings since 2011, to other divisions as it seeks growth in connected devices, people familiar with the matter have said. In May, the company replaced the leader of its mobile-device design team.
Still, with the company last month posting its smallest quarterly profit since at least 2011, the focus is on the division led by Shin, one of three co-CEOs and leader of the mobile phone unit since 2009. During that time he led the company to become the world's biggest smartphone maker, shipping 316 million devices in 2013, more than double that of Apple.
Shin may be moved out of his role as head of mobiles, the Wall Street Journal reported, citing unidentified people familiar with the matter. Co-CEO Yoon Boo Keun may add the mobiles division to his role leading home appliances and TVs, the Journal said.
Apple Devices
The third co-CEO of Samsung Electronics is Kwon Oh Hyun, who leads the semiconductor and display panel businesses.
While Suwon, South Korea-based Samsung remains the world's largest vendor, its grip is slipping. The company's smartphone market share dropped to 24.7 percent in the third quarter, compared with 35 percent a year earlier, according to Strategy Analytics. Apple Inc. ranked second with 12.3 percent while Beijing-based Xiaomi Corp.'s share more than doubled to 5.6 percent.
Operating income from the mobiles unit fell to 1.75 trillion won ($1.6 billion) in the September quarter compared with 6.7 trillion won a year earlier.
Shin, 58, who largely focused on research and development since starting at Samsung in 1984, has overseen all aspects of the top-selling Galaxy products. He also led Samsung's push into the large-screen category known as phablets because they are between the size of a phone and tablet computer.
Apple's release in September of new large-screen iPhones has eaten into the market that Samsung pioneered, while Xiaomi won over budget buyers with feature-packed devices using Google Inc.'s Android operating system.
To revive Samsung's growth, the company's leadership needs to further integrate hardware and software, instead of just being a skilled manufacturer, to help set it apart from the dozens of other Android phonemakers, said Cyrus Mewawalla, a London-based analyst at CM Research Ltd.
Cheil IPO
"They must be led by a software man, not a hardware man," he said. "Any other strategy will simply delay Samsung's demise rather than fix its long-term problems. The difficulty here is that the entire leadership team needs a different mindset."
For 46-year-old Lee Jae Yong, the challenges at Samsung Group extend beyond trying to revive smartphones.
The family's grip over the chaebol is under pressure from government rules discouraging the structure that allows the Lees to exert control over more than 70 companies through a web of cross-shareholdings while holding only 2 percent of the stock.
Against that backdrop, Lee Jae Yong has accelerated restructuring since his father's heart attack. The family's de facto holding company, Cheil Industries Inc., will have its initial public offering next month after the IPO of Samsung SDS Co. on Nov. 14.
"Samsung now needs more flexible and open-minded leadership, who can manage many talented professionals in areas including design, software and marketing," said Nomura's Chung. "What Samsung needs now is a leader who listens to the market and helps encourage its people."
Before it's here, it's on the Bloomberg Terminal.
LEARN MORE