Nokia Unveils Android Tablet in Return to Mobile Devices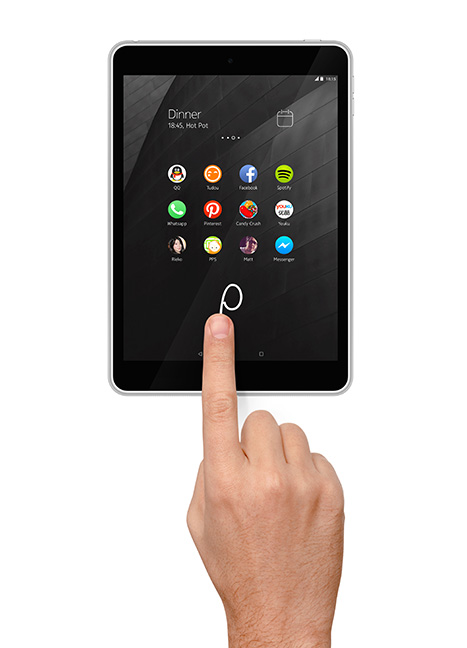 Nokia Oyj unveiled a tablet running Google Inc.'s Android software, marking a return by the former smartphone-market leader into mobile devices just months after it sold its handset business to Microsoft Corp.
The N1 tablet uses Nokia's software on top of the Google operating system, Sebastian Nystrom, head of products at Nokia, said at the Slush technology conference in Helsinki today. The device is made and sold by Foxconn Technology Group and costs $249 plus tax. Sales will start in China in the first quarter and Nokia expects the N1 to be available in other markets.
The tablet is the latest twist in 149-year-old Nokia's history that includes transformations from one industry to another. Chief Executive Officer Rajeev Suri, who took over in May after Nokia sold the money-losing mobile-phone unit to Microsoft for about $7.5 billion, is expanding beyond wireless-network equipment, which now accounts for about 90 percent of the Espoo, Finland-based company's sales.
"We wanted to start with something small that caters to our fans," Nystrom said in an interview. "There is room for better products out there."
Nokia shares rose 1.5 percent to 6.31 euros at 2:12 p.m. in Helsinki. The stock has gained 7.7 percent this year, giving Nokia a market value of 23.6 billion euros ($30 billion).
Aluminum Body
With its market capitalization down from 300 billion euros in 2000, the challenge for Nokia is to once again find a new incarnation to revive its fortunes. Founded as a wood-pulp mill in 1865, Nokia's transformations have included switches from rubber boots and toilet paper to cables, televisions, computers and mobile phones.
Nokia is re-entering the mobile-device market as its brand is fresh in consumers' minds. Even as the company doesn't own a handset business anymore, its devices are still for sale at retailers and online stores. Microsoft is dropping the Nokia name from its products, a change the Redmond, Washington-based company signaled when it announced the acquisition.
One challenge for Nokia is to ensure the tablet's quality is indistinguishable from the devices it made itself, Ian Fogg, an analyst at research firm IHS Technology, said today in a report. Competition in the tablet market is fierce, with dozens of manufacturers ranging from those making Android tablets that sell for $100 to Apple Inc. iPads that can cost $700.
The N1 has a 7.9-inch (20-centimeter) screen and aluminum body. It includes an Intel Corp. processor and the Lollipop version of Android. On top of that, it runs Nokia's Z Launcher interface software, which predicts and highlights the apps consumers are likely to want based on time of day and location.
Microsoft Terms
Foxconn will be responsible for manufacturing, distribution and sales. It'll also handle customer care, including liabilities and warranty costs, as well as software licensing and contracts with third parties. Nokia is licensing the brand, industrial design, Z Launcher software and intellectual property to Foxconn.
When agreeing to sell its phone division to Microsoft, Nokia said it would be restricted from licensing its brand for use in connection with mobile-device sales for 30 months and from using the Nokia brand on Nokia's own mobile devices until the end of 2015.
A Microsoft representative in London didn't immediately have a comment.
Nokia agreed to sell the phone business last year after racking up losses of more than 5 billion euros over nine quarters. Once the No. 1 smartphone maker with a market share topping 50 percent, Nokia dropped outside the top five in recent years as Apple's iPhone and Android phones gained dominance.
The company has three businesses left after the phone-unit sale: the networks division, its maps business, and a research and development unit which is responsible for licensing its patents. The new tablet is developed by the R&D division.
Before it's here, it's on the Bloomberg Terminal.
LEARN MORE