China Seeks Global Internet Influence at CEO Forum on Canal Bank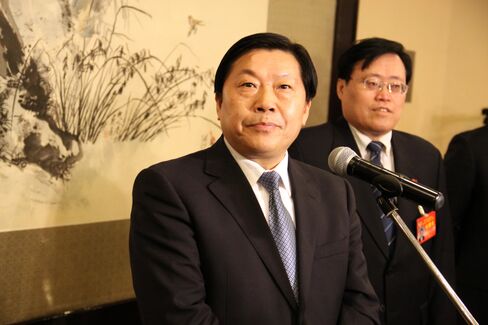 In the ancient town of Wuzhen, China's Internet titans are poised to gather near the Grand Canal as the nation seeks to set out its alternative vision for the future of the global industry.
The World Internet Conference starting tomorrow will include appearances by leaders of China's three largest Internet companies, which have a combined market value of more than $500 billion. Alibaba Group Holding Ltd. Chairman Jack Ma, Tencent Holdings Ltd. Chief Executive Officer Pony Ma, Baidu Inc. CEO Robin Li and others will discuss topics including cross-border e-commerce and cybersecurity.
One presence will loom large: Lu Wei, minister of China's new Cyberspace Administration. The conference is something of a coming out party for the regulator since its establishment in February and Lu is expected to lay out China's vision for a greater role shaping the Web's development beyond its borders.
"China can now look at the U.S. as an equal when it comes to the size, power and influence of its Internet market," said Cyrus Mewawalla managing director of London-based CM Research Ltd. "This creates a tension in respect of who sets the world order in the digital universe. China clearly wants more power when it comes to determining world standards governing the Internet, but China sees the Internet very differently from the U.S."
China's role in the Internet is partly dictated by the sheer size of its own market.
Government Priority
The nation has 632 million Internet users, including 527 million who access the Web from mobile devices, and the total could rise to 850 million by 2015, according to government data. Each of those numbers is larger than the population of every country in the world except for India.
Lu's office, originally founded in 2011 under the State Council Information Office, was restructured and became independent with greater powers this year. That came after the Communist Party started a new panel overseeing Internet security and information technology development led by President Xi Jinping in February.
With the upgrade, the office became the most important governing organization on Web matters in China, showing the high priority leadership has placed on the Internet, said Wang Yukai, a public policy professor at the Chinese Academy of Governance and a member of the national advisory body of information development.
'Panoramic View'
"The key message that the office, as well as the conference, is trying to get over here is the country is accelerating the progress to make China a world power in Internet industry," Wang said.
The office, which had maintained a low profile in the months since its founding, is staging the conference to "give a panoramic view for the first time of the concept of the development of China's Internet and its achievements," Lu said in an Oct. 30 media briefing. Lu said China aims to make the town in eastern China a base for Internet gatherings similar to Davos in Switzerland which hosts the World Economic Forum.
Representatives from Apple Inc., Microsoft Corp. and Google Inc. will attend, according to a report by Xinhua News Agency. A spokesman for Lu's office declined to answer questions today pending a press briefing in Wuzhen scheduled for 3 p.m.
China's concept of Internet development is one that's built around control of the information flow and is devoid of any protection of Internet freedoms that are assumed in markets like the U.S., said David Bandurski, editor of the China Media Project at the University of Hong Kong.
Facebook, Twitter
"It's beginning to look like a separate block with a separate vision of the Internet," Bandurski said. "Censorship, on a real-time basis, is the vision China is presenting. They are saying 'It's possible. We are big, we are worth a lot of money and we insist on control.' You have two world views of the Internet."
China censors the Internet heavily, blocking websites including Facebook Inc. and Twitter Inc. and deleting postings on microblogging services like Weibo Corp. that it deems a threat to social stability.
An official crackdown on Internet pornography led to fines for Sina Corp. in April for 20 articles and four videos that were deemed to contain lewd and pornographic content, Xinhua News Agency reported at the time. The same month, online video sites run by Sohu.com Inc. and Youku Tudou Inc. were ordered to remove U.S. television shows including "The Big Bang Theory" and "The Good Wife."
In August, China's government issued rules that restrict the dissemination of certain types of news, including political, on instant-messaging applications like Tencent's popular WeChat application.
Limited Role
"Some strict regulations have been imposed to renew control of the Internet, crack down on online videos and censor unhealthy content," said Ricky Lai, an analyst at Guotai Junan International Holdings Ltd. in Hong Kong "There will be more regulation in future."
The few foreign Internet leaders to attend include SoftBank Corp.'s CEO Masayoshi Son and LinkedIn Corp. Chairman Reid Hoffman.
Son is one of the most successful foreign investors in China's Internet, with his stake of more than 30 percent in Alibaba valued at about $90 billion after the e-commerce operator's U.S. IPO in September. Alibaba is the world's seventh most valuable listed company by market capitalization.
It's also a reminder of the limited role that foreign companies are allowed to play in China, said Hideki Yasuda, a Tokyo-based analyst at Ace Research Institute.
Self-Censorship
"Son doesn't make a market in China by himself," he said. "Son runs business in the U.S. but, in China, Son acquired minority stakes. Investment cannot be carried out in China if an investor wants to run a company directly."
Already the debates have begun to embroil multinational Internet companies, even in their operations beyond China.
LinkedIn started a Chinese-language professional networking site in February, requiring the company to comply with local censorship rules. LinkedIn initially went even further, so that when a user in China shared a post deemed to be in conflict with the government's rules, the company blocked that content globally. In September, LinkedIn changed that policy to unblock content outside China.
That episode brought criticism of LinkedIn for being complicit in China's censorship, serving as a reminder of the cost of doing business in the world's largest Internet market, said Charlie Smith, the founder of Greatfire.org, a group opposed to Internet censorship. Smith uses a pseudonym for fear of reprisals by Chinese authorities.
LinkedIn Policy
"It's better for the authorities to highlight the companies that do agree to self-censor - like LinkedIn," Smith said. "China will try to create the image that foreign companies are willing to do whatever it takes to get into China, including self-censoring content and cleansing the web of negative stories about China."
Hani Durzy, a spokesman for LinkedIn, said it started operations in China to try and reach the 140 million business professionals based there.
"While we strongly support freedom of expression, we recognized when we launched that we would need to adhere to the requirements of the Chinese government in order to operate in China," Durzy said. "So the decision to proceed in China was one that we weighed heavily. In the end, the most important consideration for us was providing an opportunity for millions of Chinese professionals to significantly expand their economic opportunities."
— With assistance by Edmond Lococo, and Keith Zhai
Before it's here, it's on the Bloomberg Terminal.
LEARN MORE