Draghi Says ECB Measures Could Include Buying Government Bonds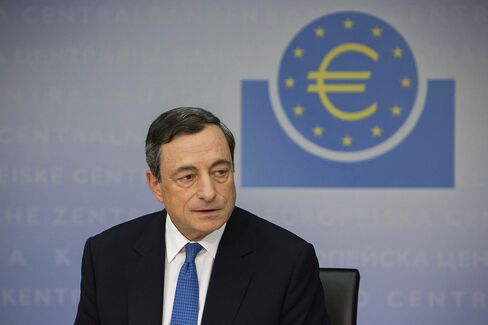 Mario Draghi has explicitly cited government-bond buying as a policy tool officials could use to stimulate the economy should the outlook worsen.
"Unconventional measures might entail the purchase of a variety of assets, one of which is sovereign bonds," the European Central Bank president said in Brussels yesterday in answer to a question during his quarterly testimony to lawmakers at the European Parliament.
Draghi had stopped short of mentioning government debt in opening remarks yesterday and after the ECB's monthly policy decision on Nov. 6, even as he said that officials have been tasked with the preparation of further stimulus measures. His latest comments come less than three weeks before the institution's critical December meeting, when it will publish new forecasts that are likely to show a weaker outlook for growth and inflation.
While Draghi will succeed in his goal of boosting the ECB's balance sheet back toward 3 trillion euros ($3.74 trillion), he'll have to override some policy makers' qualms on quantitative easing to do so, according to a majority of economists in Bloomberg's monthly survey. So far, the ECB has restricted purchases to covered bonds, though asset-backed securities are now on its shopping list too.
Data released yesterday showed that officials accelerated covered-bond buying last week, with the total settled rising by more than 3 billion euros -- up from 2.6 billion euros the week before -- to 10.5 billion euros.
ECB Executive Board member Yves Mersch said yesterday that purchases of ABS will start this week. He also said that the central bank could "theoretically" buy sovereign debt, gold, exchange-traded funds, and even real estate to counter a longer period of low inflation, while warning against rushing in.
2015 Resolutions
"Unconventional monetary policy measures can have also unintended side effects in the medium and long term if we use them too aggressively or too extensively," Mersch said at a conference in Frankfurt. "Every possible new measure must therefore be thoroughly screened for effectiveness, efficiency and and conformity with out mandate."
Draghi insisted his institution can't fix the economy on its own and began his comments in the parliament yesterday by presenting European lawmakers with a list of policy resolutions for them to pursue next year.
"2015 needs to be the year when all actors in the euro area, governments and European institutions alike, will deploy a consistent common strategy to bring our economies back on track," he said. "Monetary policy has done a lot. It can do more if structural reforms are implemented. It can't do everything."
Fiscal Tension
U.S. Treasury Secretary Jacob J. Lew urged Germany last week to spend more to spur the euro-area economy, saying Europe's "status-quo policies" don't support the Group of 20's growth agenda. Germany and the Netherlands should "pursue more fiscal policies to boost demand," he said in Seattle.
That message was hinted at yesterday by the ECB's chief economist, Peter Praet, who is also a member of the Executive Board.
"Countries which have some fiscal leeway should think how to use it in the best interest of their own economies and the euro area," Praet said in an interview published in the Nikkei newspaper.
Such comments are at odds with German Chancellor Angela Merkel's pledge to balance Germany's budget. Her stance was backed yesterday by the Bundesbank in its monthly bulletin.
"A still-high debt ratio and unfavorable demographic developments also speaks for Germany's pursuit of a structurally balanced budget in the medium term," the Bundesbank said, adding that much-needed investment in infrastructure can be financed without new debt.
In the parliament, Draghi said there is an "urgent need to agree on concrete short-term commitments for structural reforms in the member states" and on the "aggregate fiscal stance for the euro area."
Before it's here, it's on the Bloomberg Terminal.
LEARN MORE