Pimco Offers Special Post-Gross Bonus to Retain Talent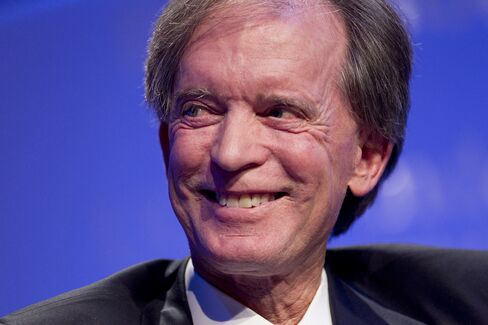 Pacific Investment Management Co. introduced a 225 million-euro ($279 million) award program to retain top talent after the surprise departure of Bill Gross.
Pimco, a unit of Munich-based Allianz SE, is seeking to reassure staff and clients rattled by the exit of its chief investment officer and co-founder. Investors have pulled billions of dollars from the firm's funds since Gross, 70, resigned in September to join Janus Capital Group Inc.
The new bonus plan applies to "all employees that are not participating in the Pimco profit pool," including senior portfolio managers below the level of managing director, Allianz Chief Financial Officer Dieter Wemmer said on a conference call today.
The "Special Performance Award" comes on top of bonus and salary policies already in place. It consists of a cash award to be granted in the fourth quarter and paid over the next 12 to 30 months, Allianz said today in its quarterly report. The bonus is expected to cost an average of 33 million euros before taxes for each of the next five quarters and 10 million euros each for the remaining six quarters, the Munich-based insurer said.
"It's important to keep together our teams for customer service and investment performance," Wemmer said in the call.
Gross was the second high-profile departure from Pimco this year. Chief Executive Officer Mohamed El-Erian abruptly resigned in January after clashing with Gross over management of the firm. Since Gross left, Pimco has hired back old members of the investment committee including Marc Seidner, who had left in the wake of El-Erian's departure. Pimco hasn't lost any portfolio managers since Gross, Wemmer said.
Personnel Costs
Operating profit at Pimco declined 7.9 percent to 594 million euros in the third quarter from a year ago, Allianz said in a presentation of its earnings today. It said variable personnel expenses, which are tied to profit, fell 8 percent. Overall, Pimco reduced expenses by 4 percent in the three months through September.
Pimco, based in Newport Beach, California, suffered 49.2 billion euros in client redemptions in the three months through September, Allianz said. Most of the outflows occurred in the last week of the quarter, after Gross's departure on Sept. 26. The asset manager said earlier in the week that clients pulled $27.5 billion in October from its biggest mutual fund.
About 80 percent of last month's outflows came from the U.S. and about 70 percent from funds formerly managed by Gross, Wemmer said in today's call.
The Pimco Total Return Fund, which had been under Gross's control until his resignation, had $170.9 billion in assets after 18 straight months of net withdrawals through October. That's down 42 percent from a peak of $293 billion in April 2013. The fund's management has been taken over by Mark Kiesel, Scott Mather and Mihir Worah.
Before it's here, it's on the Bloomberg Terminal.
LEARN MORE