Sprint Tumbles After Forecast Cut, Mobile Users Flee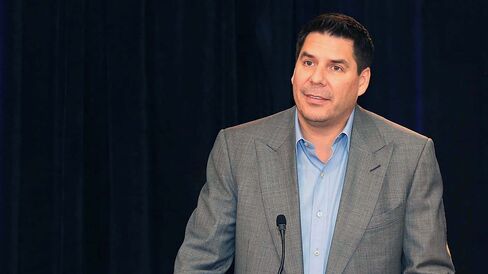 Sprint Corp. shares tumbled after the U.S. wireless carrier lost subscribers for an 11th straight quarter and lowered its earnings forecast for this year.
In response, Sprint is cutting 2,000 jobs as it tries to reduce annual costs by $1.5 billion, according to a statement yesterday. The Overland Park, Kansas-based company reduced its adjusted profit forecast for calendar year 2014 by $1 billion to no more than $5.9 billion. The shares fell as much as 17 percent, the most since a merger with T-Mobile US Inc. fell through almost three months ago.
New Chief Executive Officer Marcelo Claure is trying to revive a carrier that reported widening losses as monthly mobile-phone customers fell by half a million in the fiscal second quarter. Sprint's losses forced SoftBank Corp., the Japanese wireless carrier that owns two-thirds of Sprint, to forecast its first profit drop in at least nine years.
"I was aware of the challenges facing the business, but not to the level of detail that I saw when I became the CEO," Claure said in a phone interview yesterday. "When I came in August, Sprint was in the worst place it had been in many years, so that forced me to take probably quicker action than I would have like to."
Sprint shares were down 16 percent to $5.19 as of 9:43 a.m. in New York.
Sprint is eliminating about 6.5 percent of its 31,000 employees, a month after announcing an earlier round of job cuts. The combined firings may save $400 million a year, Sprint said.
Customer Losses
Monthly subscribers, including tablets, fell by 272,000 during the quarter that ended Sept. 30, worse than the 203,000 expected by analysts. The defections highlight the challenge facing the third-largest U.S. wireless carrier, at a time when Verizon Communications Inc., AT&T Inc. and T-Mobile US Inc. are all gaining customers.
The efforts to lure subscribers with price reductions have taken a toll on industry profits.
Sprint reported a wider net loss of $765 million in the fiscal second quarter, compared with $699 million a year ago. The company said it now forecasts adjusted earnings before interest, taxes, depreciation and amortization of $5.8 billion to $5.9 billion in calendar year 2014, down from a prior projection of as much as $6.9 billion.
"One must concede that they have a lot of heavy lifting to do," Craig Moffett, an analyst at MoffettNathanson LLC, wrote in a research note yesterday. "They are doing all this at a time when T-Mobile has already reset industry pricing levels lower."
SoftBank Forecast
SoftBank today cut its forecast for operating profit for the year ending in March by 10 percent to about 900 billion yen ($7.9 billion). SoftBank has been unable to stem customer losses at Sprint since paying $22 billion for the U.S. carrier last year. That's putting pressure on billionaire Masayoshi Son's goal of creating the world's largest wireless carrier through more international deals.
Claure, who was named CEO after SoftBank's failed attempt to merge Sprint with T-Mobile, has since set out to dramatically reduce expenses and offer competitive plan prices.
In his first weeks on the job, Claure introduced a shared data plan with 20 gigabytes for $100 a month, twice the data offered by T-Mobile for the same price. Verizon and AT&T are firing back with another round of price cuts on shared wireless plans as the fight for new subscribers intensifies.
Turnaround Urgency
Sprint lost 500,000 monthly phone customers in the quarter, bringing the losses so far this year to 1.8 million. The most recent quarter's phone customer defections were partially offset by 261,000 tablet additions.
Claure said on a conference call yesterday that Sprint stopped losing customers after Apple Inc.'s new iPhone 6 and iPhone 6 Plus were introduced in September. He started an aggressive "iPhone for Life" promotion that lets customers get a new version of the device every two years.
Meanwhile, Sprint said it's reviewing management and plans to add executives through a combination of internal candidates, new outside hires and resources from SoftBank.
"Most wireless carriers are like supertankers: It takes a while to turn them around," said Roger Entner, an analyst with Recon Analytics LLC in Dedham, Massachusetts. "With a new captain on board, there might be more urgency than before."
Before it's here, it's on the Bloomberg Terminal.
LEARN MORE