Japan's Pension Fund Cutting Local Bonds to Buy Equities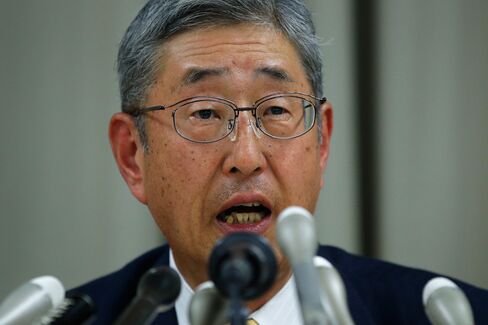 Japan's public retirement-savings manager will put half its holdings in local and foreign stocks and start investing in alternative assets as the world's biggest pension fund seeks higher returns.
The 127.3 trillion yen ($1.1 trillion) Government Pension Investment Fund set allocation targets of 25 percent each for Japanese and overseas equities, up from 12 percent each, it said at a briefing today in Tokyo. GPIF will reduce domestic bonds to 35 percent of assets from 60 percent. The new figures don't include an allocation to short-term assets, while the previous targets did. Analysts surveyed by Bloomberg this month had anticipated levels of 24 percent for local stocks, 15 percent for global shares and 40 percent for Japanese bonds, taking short-term holdings into account.
The new allocations were released hours after the Bank of Japan unexpectedly added to monetary easing, sending the Nikkei 225 Stock Average to a seven-year high. Reports that the fund's announcement was coming today also buoyed shares. Investors have been awaiting the revised strategy since a government panel said last year GPIF was too reliant on domestic bonds, with the central bank stoking inflation and pension payouts mounting as the nation's population ages.
"The BOJ and GPIF announcements are delivering a double punch to push up stocks," said Ayako Sera, a market strategist at Sumitomo Mitsui Trust Bank Ltd., which has the equivalent of $354 billion in assets. "The BOJ came as a total surprise with almost nobody expecting action today."
GPIF increased its target for foreign bonds to 15 percent, up from 11 percent. The fund will put as much as 5 percent of holdings in alternative investments such as private equity, infrastructure and real estate, with those accounted for within the other asset classes rather than as a separate allocation.
Strategy Change
The pension fund's previous strategy was designed on the assumption that deflation would continue, GPIF President Takahiro Mitani told reporters today. The new weightings are based on the expectation that consumer prices will rise, he said.
The Topix index has rebounded 18 percent from an April low amid expectations an increased allocation to Japanese stocks by GPIF will boost share prices while more investment in foreign assets will help weaken the yen. The measure's 4.3 percent rally today was the steepest since June 2013 and erased its loss this year. The Nikkei 225 soared 4.8 percent today.
In the first policy change since Governor Haruhiko Kuroda began record asset purchases in April last year, the BOJ said it is targeting an 80 trillion yen expansion in the monetary base, up from 60 to 70 trillion yen before. The central bank's bond-buying made it easier for GPIF to cut its allocation, Mitani said today.
GPIF Survey
The median prediction of 12 fund managers, strategists and economists in a Bloomberg News survey conducted Oct. 22 to Oct. 28 was that GPIF would reduce domestic bonds to 40 percent and raise local stocks to 24 percent. The projection was 13.5 percent for foreign bonds and 15 percent for overseas shares, with a 5 percent allocation seen for short-term assets.
GPIF revised its deviation limits today, and gave itself room to breach them as the fund rebalances holdings. The limit for Japanese bonds was increased to 10 percent from 8 percent, while that for local stocks was raised to 9 percent from 6 percent.
Foreign stock investments will be assessed against the MSCI All-Country World Index, which includes emerging-market shares, according to GPIF. Most were previously benchmarked against the MSCI Kokusai Index, which tracks developed markets.
The timeframe for the fund's changes hasn't been decided, Mitani said today.
"How long GPIF takes to adjust its portfolio will be key," Norihito Fujito, a senior investment strategist at Mitsubishi UFJ Morgan Stanley Securities Co., said by phone before today's announcement. "Common sense would dictate about five years, I'd say. But even if it is done over such a medium to long term, it will still have a significant impact."
Before it's here, it's on the Bloomberg Terminal.
LEARN MORE