Hungarian Premier Orban Scraps Internet Tax Amid Protests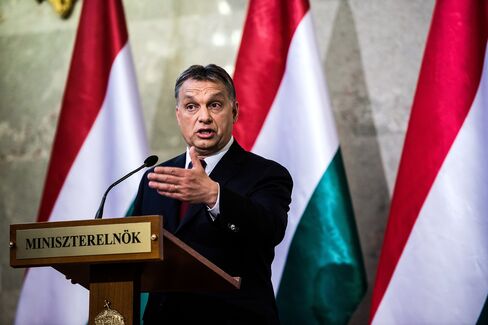 Hungarian Prime Minister Viktor Orban suspended plans to introduce the world's first Internet tax, bowing to pressure after tens of thousands of people protested at rallies across the eastern European Union country.
"Whatever the government's intention was, this tax simply can't be introduced," Orban told state radio today, adding that he wanted instead to hold "national consultations" on the issue next year. "We want to govern with the people."
The plan sparked two of the biggest rallies against Orban's administration since he returned to power in 2010. The demonstrations widened into anti-government protests against perceived state corruption and power centralization.
They followed a run of three election victories for the Hungarian premier, whose party triumphed in general, European Parliament and nationwide municipal elections this year. In July, Orban pledged to replace liberal democracy with an "illiberal state."
"We have reconquered politics," Karoly Fuzessi a member of the Facebook group that organized the protests said at a celebratory rally in Budapest today, attended by several thousand demonstrators, according to estimates by Index news website. "From tomorrow we can walk with our heads held high again."
Telekom Gains
Magyar Telekom Nyrt., the Hungarian unit of Deutsche Telekom AG, jumped 5.3 percent to 340 forint today in Budapest, the most in eight months. It competes with the local unit of Liberty Global Plc and Digi Kft. for broadband customers and subsidiaries of Telenor ASA and Vodafone Group Plc in the mobile phone market.
The government planned to impose a levy of 150 forint ($0.62) per gigabyte, which the ruling party later agreed to cap at 700 forint a month for household users and 5,000 forint for companies. Orban said his aim was to extend an existing levy on the telecommunications industry, which includes a tax on phone calls and text messages. He conceded that's not what people saw.
"The government wanted to expand a telecommunications tax and yet the people saw an Internet tax," Orban said. "People are questioning whether the tax makes any sense at all."
The expansion of the telecommunication tax "cannot be introduced" in its current form, the Economy Ministry said in an e-mailed statement today, announcing that it withdrew the proposal. The debate about the bill "has gone astray," it said.
Mass Rallies
Orban's intention to reopen the issue next year on the Internet tax issue signals he's unlikely to give up on his tax plan, said Jozsef Tobias, head of the opposition Socialist Party, according to MTI state news service.
Two rallies in Budapest drew tens of thousands of people in the past week. Protesters said the tax, which the government envisioned generating about $100 million, was less about the budget than a government trying to limit people's access to information.
The uproar came after four years of power consolidation by Orban, including the approval of a new Constitution over opposition protests, the ouster of the Supreme Court's chief justice and the curtailment of judiciary powers as well as the establishment of a media authority exclusively led by ruling-party lawmakers.
"Orban had to stem this wave of discontent," Peter Kreko, an analyst at Political Capital, said by phone. "This tax had basically no backers, not even among government supporters."
Travel Ban
An overhaul of the electoral law allowed Orban to retain his constitutional majority in April's election, even as he lost voters while his Fidesz party remained by far the most popular group amid a divided opposition. This month, the government had to defend itself against allegations of graft at the National Tax Office after the U.S. barred six unidentified Hungarian officials on suspicion of corruption.
Orban's concession today may not be the last word on the Internet tax. The prime minister said he wants to start a discussion with voters about Internet regulation and whether the government can tax the "huge extra profit" generated on the Internet.
"Those who believe Viktor Orban today are making a mistake," said Tobias, of the opposition Socialist Party, according to MTI. He said Orban wanted to "win some time" with his retreat before imposing an Internet tax "under another name and in another way."
Orban in December 2012, faced with street protests by high-school and university students, pledged not to cut state aid to universities, only to reverse course once the rallies faded. Protest organizers called on protesters to remain active in opposing the government's policies.
"This isn't the end of our duties," Fuzessi said. "We will continue to act against any plans that are contrary to Hungarian society's interest."
Before it's here, it's on the Bloomberg Terminal.
LEARN MORE