Disaster Averted in NYSE Stocks as Backup Feed Kicks In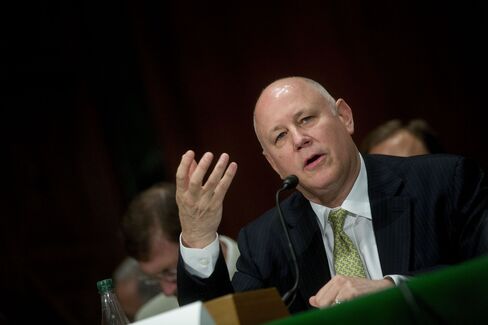 Securities professionals around the country endured a rough few minutes yesterday as a feed for carrying prices and quotes for thousands of stocks on the oldest American equity exchange misfired.
Traders were startled just before 1:30 p.m. when the New York Stock Exchange reported an "ongoing issue" with its securities information processor, the conduit for data underpinning trades and quotes. Ten minutes later the malfunction was reported resolved as backup systems activated.
However brief, the breakdown will train more scrutiny on a key piece of infrastructure in the $23 trillion U.S. stock market: the pricing links between the 11 exchanges and more than 40 alternative venues where shares changes hands. Their importance was underscored in August 2013 during a more severe SIP malfunction at Nasdaq OMX Group Inc. that prompted a three-hour trading halt for thousands of companies.
Yesterday, traders observed unusual pricing patterns in one of the most popular exchange-traded funds and said they stepped back from the market when NYSE communicated the problem.
"We were a little more careful when that came out, but I didn't notice anything too out of the ordinary," Thomas Garcia, the head of equity trading at Santa Fe, New Mexico-based Thornburg Investment Management Inc., said by phone. "One exchange may not have known another exchange had traded something so the quote would've been a little bit stale, but it didn't affect much of what we traded."
Dark Pools
Investment Technology Group Inc. had to close its Posit dark pool for about 30 minutes, according to Jamie Selway, head of electronic brokerage and sales at ITG. Goldman Sachs Group Inc. briefly halted trading in its Sigma X dark pool, according to a person familiar with the matter. That venue also uses the NYSE's SIP. Tiffany Galvin, spokeswoman at the bank, declined to comment. Both venues price securities using NYSE's SIP.
According to a NYSE statement published after the market closed, the issues stemmed from a network hardware failure at its data center in Mahwah, New Jersey, just after 1 p.m. Half an hour later, the division overseeing the processors switched to a backup facility in Chicago. All the feeds were operational within a few minutes, NYSE said.
NYSE users following the company's online alerts found out about the problems a little later. The first, published at about 1:40 p.m., reported an "ongoing issue with the NMS SIP," or the securities information processor for stocks. Two NYSE venues were "experiencing issues publishing and receiving trades and quotes," it said. Another notice, 10 minutes later, said the markets were processing trades and quotes normally.
Price Swings
Among the peculiarities observed by traders during the breakdown, one of the most popular U.S. securities, the SPDR S&P 500 ETF Trust, saw prices oscillate over a 20-minute period starting at 1:19 p.m. About $1 billion of shares changed hands as the ETF made about a dozen instantaneous lurches from around $199.32 to below $199, data compiled by Bloomberg show.
The broader market was mostly unfazed and stocks closed near their highs of the day. The Standard & Poor's 500 Index climbed 0.6 percent to 1,994.65 as of 4 p.m. New York time. It had reached 1,999.40 earlier.
The disruption also affected the industrywide service for distributing U.S. equity options prices, known as Opra.
A breakdown in the processor run by the Nasdaq in August 2013 caused a three-hour halt that froze trading in thousands of securities. While traders saw erratic moves in some stocks and options yesterday, they said the issue looked less widespread.
'Kind of Boring'
"Thank God there's not too much volatility and it's kind of boring today," Frank Ingarra, head trader at Greenwich, Connecticut-based NorthCoast Asset Management LLC, said by phone yesterday. "It may be an issue in thinly traded names, but for bigger, more liquid names, people will find ways to trade them."
NYSE runs the SIP for the stocks it lists, as does Nasdaq - - although Nasdaq is competing with Tradeworx Inc.'s Thesys Technologies LLC for the right to run the system for its companies.
Before it's here, it's on the Bloomberg Terminal.
LEARN MORE