Trina Drops as Japan Outlook Sinks Chinese Solar Makers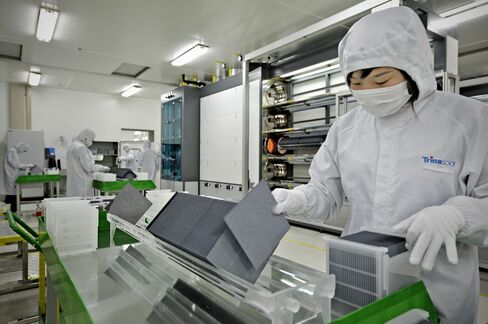 Trina Solar Ltd. and ReneSola Ltd., two of the world's largest solar manufacturers, led a decline in Chinese stocks traded in the U.S. on concern Japanese demand for renewable energy will weaken.
Trina, China's biggest profitable panel maker, dropped 5.6 percent to a seven-week low at the close in New York. Yingli Green Energy Holding Co., the world's largest solar producer, slipped to the lowest level since June while wafer maker ReneSola sank 7 percent. The Bloomberg Global Large Solar Index slumped 3 percent for its third day of declines.
Solar stocks extended their slump amid growing concern that a potential change in Japan's government incentives for clean energy may crimp demand from the world's second-largest solar market. The industry has suffered as overproduction led to a glut of panels, fueling two years of losses and bankruptcies.
"All of the Chinese module guys rely heavily on Japan," Gordon Johnson, a solar analyst at Axiom Capital Management in New York, said in an e-mailed response to questions. "If the world's second-largest market puts the brakes on new solar installations, prices for solar panels will fall, negatively impacting the Chinese module producers."
The Bloomberg China-US Equity Index slid 1.9 percent to 105.66 after a manufacturing index reading for September remained flat from the previous month. Markets in Hong Kong and mainland China are closed for the National Day holiday.
Subsidy Revision
American depositary receipts of Trina, based in Changzhou, China, tumbled 1 percent to $11.40. Trading volume was more than triple the 90-day average, data compiled by Bloomberg show. ADRs of Yingli, based in Baoding, fell to $3.08 and ReneSola sank to a one-month low of $2.79.
Japan may revise the subsidies, which were introduced in July 2012 and led to a boom in solar installations, the Yomiuri newspaper reported yesterday. Japan's Kyushu Electric Power Co. suspended applications from solar producers seeking to access its grid on capacity and market constraints. Officials at Japan's trade ministry weren't immediately available for comment.
Trina said in a statement dated Sept. 29 that it will sell $100 million of convertible notes and issue $2 million additional American depositary shares. The new offering raises concerns, according to Johnson.
"They are using equity investors to finance the build-out of solar farms for which they are not certain if there is a demand," Johnson said.
ETF Slides
The iShares China Large-Cap ETF, the biggest Chinese exchange-traded fund in the U.S., retreated 2.1 percent to a three-month low of $37.46. The Standard & Poor's 500 Index dropped 1.3 percent amid concern over weaker economies in Europe and geopolitical turmoil as the Federal Reserve prepares to end its bond-buying program.
China's Purchasing Managers' Index was at 51.1 in September, the same as August's reading, government data issued yesterday showed. That compared with the 51.0 median estimate in a Bloomberg News survey of economists. Readings above 50 signal expansion.
E-commerce China Dangdang Inc., an online retailer, plummeted 7.2 percent to $11.32, a three-month low. 21Vianet Group Inc., an Internet data-center operator, tumbled 6.4 percent to $16.85, extending its losing streak to a sixth day. Alibaba Group Holding Ltd. dropped 3.1 percent to $86.10, the e-commerce giant's lowest price since it started trading last month.
Before it's here, it's on the Bloomberg Terminal.
LEARN MORE