Christie Rejects Food Aid Giving $54 for Each $1 Paid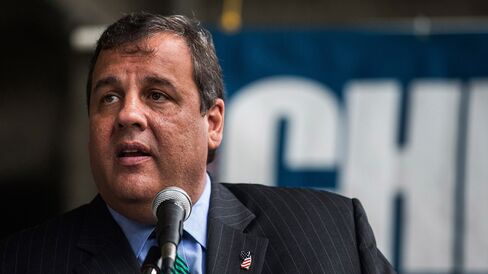 Three states are ending a program that qualified residents for extra food paid for by the federal government -- including two, New Jersey and Wisconsin, led by potential Republican presidential candidates.
Congress in February passed a law to raise the costs of so-called heat-and-eat programs. Such initiatives had allowed states to give residents as little as $1 a year in home-heating assistance to qualify for an average of $1,080 a year in added food stamps. The new minimum state contribution is $20 per household a year, and Chris Christie's New Jersey, Scott Walker's Wisconsin as well as Michigan are taking a pass.
Christie said a proposal to let New Jersey participate in the program didn't require recipients to show they needed heating assistance, a violation of new federal guidelines.
"Distribution of benefits without regard to actual heating and cooling expenses as envisioned in this bill is clearly impermissible," Christie wrote to the state's General Assembly in vetoing a measure to qualify the state for a program that gives $54 in federal money for every $1 the state spends.
A surge in food stamp use during the financial crisis became an issue in the 2012 presidential campaign, with Republican hopeful Newt Gingrich labeling President Barack Obama the "food-stamp president." Controversy continued through this year's reauthorization of the farm bill. Food stamps, the biggest U.S. cash-transfer program, became a proxy for the conflict over the role of government in serving the needy and almost derailed the legislation.
Presidential Bids
That two governors considering a run for the presidency let their heat-and-eat programs end isn't coincidental, said Julian Zelizer, a Princeton University public affairs professor.
"Many factors are involved in these kinds of decisions, but national politics certainly is a big one," he said. "Christie is someone who wants to appeal to conservatives even if his rhetoric aims at moderates. For Walker, this is less about proving he really is conservative as trying to maintain his image as the tough conservative."
Federal spending on food stamps -- formally called the Supplemental Nutrition Assistance Program -- more than doubled from 2008 to 2013, with most of the money spent at retailers including Supervalu Inc. and Kroger Co. The program cost a record $79.9 billion in fiscal 2013, almost one-eighth of the roughly $650 billion a year Americans spend on groceries.
Nutrition Program
About 46.5 million Americans got food stamps in June, the latest month data were available, down from a peak of 47.8 million in December 2012, according to the U.S. Department of Agriculture that runs the nutrition program.
Raising the state cost of heat-and-eat to $20 was designed to push states out of the program and save an estimated $8.6 billion in food-stamp costs over a decade. Those savings may not be realized: 16 states, mostly in northern regions with high winter energy use, participated in the program and 13 have either found ways to pay for the higher minimum or have announced plans to do so.
The third holdout, Michigan, is led by Republican Rick Snyder. The three states accounted for 20 percent of food-stamp recipients in the 16 states.
Michigan Aid
Michigan state administrators decided the additional state money needed to maintain heat-and-eat would pull too much aid from residents who rely heavily on home-heating assistance, said Bob Wheaton, a spokesman with the state's Department of Human Services.
"We don't want to be providing our limited energy assistance funds for people who don't need it, for the goal of meeting a loophole in the farm bill," Wheaton said in a telephone interview.
In Wisconsin, changing the threshold requires legislative action, which lawmakers didn't do, said Laurel Patrick, press secretary for Walker.
The Wisconsin governor, who survived a bruising recall drive in 2011 and is in a difficult re-election fight against former Trek Bicycle Corp. executive Mary Burke, has a history of turning down federal aid, including a Medicaid expansion under Obamacare.
"The legislature is unlikely to do anything without a different governor," said Bob Jones, executive director of the Madison-based Wisconsin Community Action Program Association. "Governor Walker is known for not taking federal dollars."
Christie Veto
In New Jersey, Christie last month vetoed the bill passed by the Democratic-controlled state Legislature to raise the heating aid threshold, saying the law wouldn't comply with guidance provided by the Department of Health and Human Services that required documentation of need for heating aid.
Kevin Roberts, a spokesman for Christie, said in an e-mail that "New Jersey is complying with the Obama administration's unequivocal requirements and guidance for administering these programs."
Hunger activists reject that logic.
"If other states are keeping the benefits going, I don't see how we can't find a way to fix this," said Adele LaTourette, director of the New Jersey Anti-Hunger Coalition in Englewood.
New Jersey state Senator Raymond Lesniak, a Democrat from Elizabeth, today introduced a resolution directing Christie to tap unused energy funds to keep providing the nutrition aid. "Hunger in America is a real problem, and it is just as real in New Jersey," he said in a statement.
'Welfare State'
Zelizer, at Princeton, said "Christie is someone who wants to appeal to conservatives even if his rhetoric aims at moderates."
"These kinds of actions give him some credibility down the line that he will be a Republican who will be tough with the welfare state," he said.
Meanwhile, residents are beginning to feel the pinch of the reductions hitting their states.
Fred Bruker, a 72-year-old resident of Point Pleasant Borough, New Jersey, previously received extra food-stamp benefits although, as a renter in a rooming house, he had no direct utility bill. In recent months, he's seen his monthly assistance fall from $138 a month to $15.
To compensate, he said he's eating less. In the past month he's lost 5 pounds. "I can't believe we're not doing anything about this," he said. "They've approved this in the past because they thought it was important. Is it not important now?"
Before it's here, it's on the Bloomberg Terminal.
LEARN MORE