Lego Closes In on Mattel as Box Office Hit Boost Sales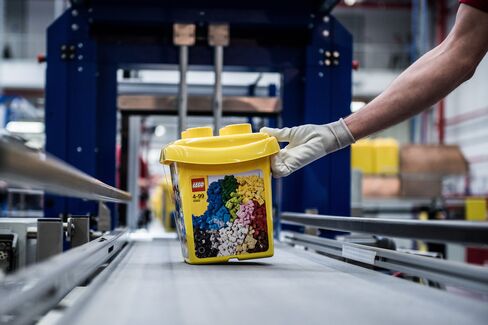 Lego A/S expanded revenue in the first half, bridging the gap with toy industry market leader Mattel Inc. as consumers flocked to pick up play sets from box office hit "The Lego Movie."
Sales rose 11 percent in kroner to the equivalent of $2 billion at the Billund, Denmark-based maker of plastic bricks, matching those of Barbie-maker Mattel, which reported a 7 percent decline in the same period.
The results pit the two largest toy companies against each other going into the all-important holiday shopping season, when El Segundo, California-based Mattel makes a greater proportion of annual sales. Lego is pushing out Star Wars-branded sets and its own Movie, City and Creator products to gain revenue, while Mattel saw declining demand for lines ranging from Barbie to Fisher-Price.
"Surely the shot in the arm has come from the phenomenal success of The Lego Movie," said Robert Porter, an analyst at researcher Euromonitor. "Not only did the movie gross around $500 million worldwide, it has also been pivotal in promoting new and existing product lines."
Lego, which gets 60 percent of total sales from new products annually, said "The Lego Movie," which opened in theaters earlier this year, was a significant contributor to revenue growth.
Star Wars
Products including the toymaker's Star Wars building sets and its traditional City line, which features firefighters and police, also continued to contribute to very strong growth globally, Lego said. Net income rose 14 percent to 2.7 billion kroner ($477 million).
"Our geographic growth was very evenly spread," Chief Financial Officer John Goodwin said in a telephone interview. "We had double-digit growth across all three regions: America, Europe and Asia."
The Danish company controls about 65 percent of the construction toy market, according to Euromonitor, which estimates the market will grow to about $12.8 billion by 2018 from $8.3 billion last year. Mega Brands, which was bought this year by Mattel, is number two with a 5.3 percent stake.
Lego last year overtook Pawtucket, Rhode Island-based Hasbro Inc. to become the world's No. 2 toymaker in terms of sales.
Revenue in the first half of 2014 more than tripled compared with six years ago, Chief Executive Officer Joergen Vig Knudstorp said in the statement.
Disappointed Kids
The Danish toymaker, which gets most of its sales in the last two months of the year, is now gearing up for Christmas.
"Meeting the demand of our retailers and our consumers is very important for us," Goodwin said on the phone. "We don't want to have any disappointed kids during the holiday period."
The company this year started building a new factory in China in order to increase flexibility by being closer to core markets. Consumer sales in the country rose by more than 50 percent in the first half, Lego said today.
"It's important to get the Goldilocks effect, to get it just right and that's what we're focusing on," Goodwin said.
Lego, whose name is derived from the Danish words for "play well," is controlled by the family of carpenter Ole Kirk Kristiansen, who founded the business in 1932. His grandson Kjeld Kirk Kristiansen, 66, is Denmark's richest man with a net worth of $7.2 billion, according to Bloomberg rankings.