Vietnam Casinos May Get Local Gamblers in State Revenue Push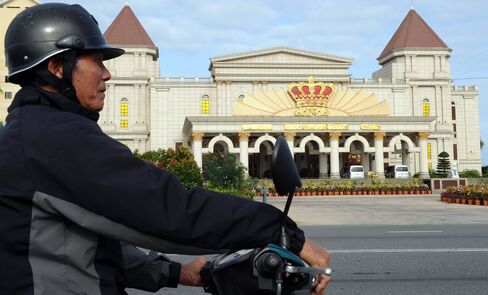 Vietnam is drawing closer to allowing its citizens to gamble in the nation's casinos as the government tries to boost revenue and compete for regional gaming investment.
The finance ministry plans to submit the final draft of a new casino decree to Prime Minister Nguyen Tan Dung as soon as October, Ngo Van Tuan, head of the department for banking and finance at the ministry, said by telephone in Hanoi yesterday. Approval is likely before the end of the year, he said. The decree is modeled on Singapore's gaming regulations and would permit Vietnamese to enter local casinos.
"There are many Vietnamese who gamble at casinos in Singapore and Cambodia, and it's obvious that we've lost some state revenue here," said Phan Thi Thu Hien, deputy head of the banking and finance department. "We've studied what regional countries have done and think we should do the same. These changes would help increase government income."
Vietnamese policy makers are seeking to replicate the success of Singapore and Macau in attracting gaming resorts and tourism. Vietnam's government is grappling with the challenge of spurring an economy that risks missing this year's growth target of 5.8 percent.
The government collected about 250 billion dong ($12 million) of taxes from the five casinos operating in 2012, on gaming revenue of 900 billion dong, state radio reported on its website last week. There are six casinos in operation, with another licensed one yet to start. Only foreign passport holders are permitted to enter and gamble in the casinos.
'Significant' Progress
The proposal is "significant progress toward the establishment of a more detailed legal framework for the gaming industry in Vietnam," Colin Pine, general director of Ho Tram Project Co., which runs the $4 billion Ho Tram Strip casino-resort complex in southern Vietnam, said in an e-mail. "There is demand for this form of entertainment in this market."
Vietnam has a population of almost 90 million, according to World Bank data.
The Grand Ho Tram Strip casino resort, which opened in Ba Ria-Vung Tau province in July 2013, is a two-hour drive from Ho Chi Minh City. Canada's Asian Coast Development is developing the Ho Tram Strip, bringing hotel resorts, a casino and a Greg Norman-designed golf course to the 2.2-kilometer (1.4-mile) beachfront, according to its website. The complex will include a second casino-resort operated by Pinnacle Entertainment Inc., the Las Vegas-based-owner of U.S. casinos, according to Asian Coast Development.
Entrance Fee
Under the draft proposal, Vietnamese who are at least 21 years old, and have "sufficient financial ability" will need to pay an entrance fee to gamble in casinos, according to Hien. The financial-assessment criteria and entrance fees will be specified by the prime minister in separate regulations after the decree's approval, Hien said.
In Singapore, citizens and permanent residents must pay a S$100 ($80) daily levy to enter the casinos, or S$2,000 for an annual pass, in a government effort to deter those who can't afford to gamble.
It is only a matter of time before liberalized gaming rules take effect in Vietnam and "attract significant amounts of development capital," according to an Aug. 14 research note from Union Gaming Group in Macau.
"Governments everywhere are considering gaming as a source of tax revenue, as well as an economic and tourism stimulus," Grant Govertsen, an analyst at Union Gaming, wrote in an e-mail. "Ultimately, gaming is proliferating throughout Asia, and no government wants to be the last to the party."
Budget Deficit
In Singapore, Las Vegas Sands Corp. and Genting Singapore Plc poured more than $10 billion into the two gaming resorts that opened in 2010 after the country ended a casino ban. The nation's economic growth surged to a record of almost 15 percent that year.
Combined gaming revenue of the two casinos will rise to $6.5 billion this year from about $6.3 billion in 2013, according to Aaron Fischer, head of consumer research at CLSA Asia-Pacific Markets. There were 15.6 million overseas visitors to Singapore in 2013, compared with 11.6 million in 2010, when the venues first opened, according to government data.
In Macau, gambling revenue jumped 19 percent in 2013 to $45.2 billion, data showed.
Vietnam's 2013 budget deficit widened to 5.3 percent of gross domestic product, compared with a planned 4.8 percent, according to the General Statistics Office. Tax cuts to help struggling businesses are estimated to reduce state revenue by an average 19 percent annually in the 2011-to-2015 period, Deputy Finance Minister Nguyen Cong Nghiep said on Aug. 7.
"Well-established gaming operators are going to need assurances that locals can participate in gaming," Union Gaming's Govertsen said. "The regulatory environment will need to be fair enough and stable so that any development can be competitive enough to attract foreign customers."