Mugabe Takes Over at SADC Bloc in Endorsement of Election Win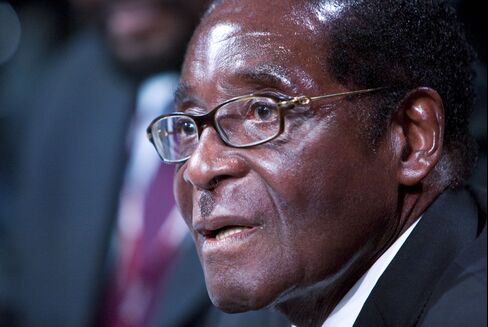 Zimbabwean President Robert Mugabe won an endorsement from his fellow Southern African leaders to head the main political bloc in the region, an affirmation of his victory in last year's disputed elections.
Mugabe, 90, was named as chairman of the 15-nation Southern African Development Community yesterday as leaders gathered for a two-day summit in the Zimbabwean resort town of Victoria Falls. He is also in line to lead the 54-nation African Union from 2015.
"This is an endorsement of the political change that has taken place in Zimbabwe," Aditi Lalbahadur, a researcher at the South African Institute for International Affairs, said by phone from Johannesburg on Aug. 15. African leaders are signaling they recognize Mugabe's "unequivocal winning of the election, contested as it was."
Mugabe has ruled Zimbabwe since independence in 1980, winning a five-year term in a July 2013 election that the main opposition party, Western nations and domestic observers said was flawed. Since the vote, the economy's outlook has weakened with factories closing down, consumer spending coming under pressure and the government struggling to pay wages.
In his acceptance speech yesterday, Mugabe said SADC should reduce its reliance on foreign funding and focus on developing minerals-processing in the region. He also criticized Western nations for failing to condemn Israel's military action in the Gaza Strip.
Political Turmoil
"The Western world, which claims the moral high ground on issues of human rights and the sanctity of life, has looked with moral and academic indifference while the Israeli army continues to butcher innocent women and children, all under the guise of fighting terrorists," he said. "It is criminal for the world to keep silent in the wake of such crimes against humanity."
Zimbabwean officials were excluded from positions of power within SADC for almost a decade, as the country grappled with economic and political turmoil. State-backed violence, mainly directed at the opposition Movement for Democratic Change, saw sanctions imposed on senior ruling-party officials by Western nations.
Mugabe was the only southern African leader who wasn't invited to the U.S.-Africa Leaders Summit in Washington, which was hosted earlier this month by U.S. President Barack Obama with the intention of boosting economic ties.
SADC forced Mugabe into a unity government with the MDC after a violence-marred 2008 vote. The coalition ended with last year's elections.
Human Rights
Zimbabwe must respect its own constitution if it wants to have credibility as head of the SADC, activist groups including Amnesty International and Human Rights Watch said on Aug. 14. The diamond-mining industry still lacks transparency and the government has failed to improve access to water and sanitation or provide justice for past political violence, the groups said.
"Zimbabwe will have to show its commitment to human rights now that it's returned to the SADC fold," Deprose Muchena, director of Amnesty's southern Africa office, told reporters in the capital, Harare, on Aug. 14.
SADC's members are South Africa, Botswana, Lesotho, Madagascar, Namibia, Mozambique, Tanzania, Malawi, Zambia, Zimbabwe, Mauritius, Angola, Swaziland, Seychelles and the Democratic Republic of Congo.
"SADC should also wean itself from exporting raw materials, but instead seek to create value chains that lead to the exportation of finished good," Mugabe said. "Our resources are capable of playing a pivotal role in the development of all SADC member states."
The regional bloc is hamstrung by a lack of resources and capacity and previous summits have rarely resulted in concrete action being taken, a situation that's unlikely to be rectified under Mugabe's leadership, Lalbahadur said.
"I'm unsure of the ability he has to further the regional agenda," she said. "Zimbabwe is still regarded quite skeptically by the international community."