Xi Remakes Internet in China's Year of Blogging Dangerously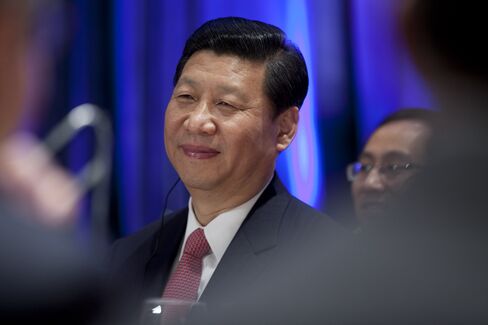 Last August, President Xi Jinping gathered his propaganda chiefs in Beijing to rally them against a force that long vexed China's ruling party: the Internet.
"We need to make online public opinion the top priority in our propaganda work," Xi said, according to excerpts published on official websites for the first time this month. The Communist Party must "seize the initiative on this battleground of public opinion as soon as we can, and must not be marginalized."
Within days, Chinese authorities began their most severe online crackdown yet. Famous bloggers were jailed. The government instituted new punishments for defamatory social-media posts. State media officials were setting up portals to influence the country's more than 630 million Web users.
In the year since Xi's Aug. 19 speech, China's Internet -- already one of the world's most heavily censored -- has grown even more tightly controlled, undercutting the idea that new technologies will lead to more open political debate and free speech. The government continues to expand its oversight, announcing new arrests and restrictions.
The crackdown has put pressure on Chinese Web companies including Tencent Holdings Ltd. and Alibaba Group Holding Ltd., which are required by the government to help censor content. Earlier this month, the agency led by Xi's Internet czar, Lu Wei, banned people who use Tencent's WeChat and other messaging apps from distributing political news without permission.
No Facebook
"The past 12 months has certainly been the toughest period" for the country's Internet, said Xiao Qiang, a professor who focuses on state censorship at the University of California, Berkeley's School of Information. "The past 12 months are only the beginning. We should see much harsher measures in the coming months and even years."
Chinese leaders for years have sought to rein in online discussion, with the party vowing at its October 2011 plenum to "cultivate a civilized, rational Internet environment." Authorities have blocked foreign social media sites, such as Facebook and Twitter, deleted sensitive social media posts and visited or detained those seen as the most persistent troublemakers.
Xi has taken a personal role, heading a new Internet security committee himself. His tougher approach was signaled by two events in the days after his speech: employees of a marketing firm were detained by Beijing police for spreading rumors and the Ministry of Public Security announced that a prominent blogger was taken into custody on suspicion of soliciting prostitutes.
Prison Terms
First, Beijing police on Aug. 21 confirmed the detention of two employees of Beijing Erma Interactive Marketing and Planning Co., including well-known Weibo writer Qin Zhihui, for pushing false information to help clients drive up Web traffic. The case began a nationwide anti-rumor dragnet that continues to snare Internet users.
Where previous leaders complained about the spread of misinformation online, Xi criminalized it. The Supreme People's Court and top national prosecutor issued an interpretation on Sept. 9 allowing prison terms of as long as three years for defamatory Web posts read by more than 5,000 people, reposted more than 500 times or cause people to hurt themselves.
In April, Qin pleaded guilty and was sentenced to three years in jail, the first person convicted under the new rules, according to Xinhua. Similar arrests continue, with four people accused Aug. 9 of spreading rumors, such as hearing gunshots in Beijing or predicting that an earthquake would hit the capital.
'Showing Swords'
"What characterizes Xi's Internet-censorship style is an unapologetic 'showing of the sword,'" said Chang Ping, a former editor for the Guangzhou-based Southern Weekly newspaper who moved to Germany after his writings were banned. "He neither pays any attention to international condemnation on curtailing the free flow of information, nor does he care that his Internet policy might be at odds with the constitution, which theoretically enshrines the freedom of speech."
The State Internet Information Office, which oversees online policy, hasn't responded to a request for comment faxed on July 23.
Two days after the Erma case, Beijing police held angel investor Charles Xue -- an American citizen known for sharing critiques of public policy with his 12 million followers on Sina Corp.'s Twitter-like Weibo -- on suspicion of soliciting prostitutes. It was the first in a series of moves against influential online commentators -- known as "Big Vs" because of the icon Weibo stamps on verified accounts.
Internet Czar
Xue later admitted to being "obsessed with" prostitution and abusing his online influence in video confessions aired on state broadcaster China Central Television. He also endorsed the government's Internet crackdown. He was never charged and was released on bail in April for health reasons.
Reached on his mobile phone in Beijing yesterday, Xue said he was unable to comment while his case remained unresolved.
"In the past, active bloggers were closely monitored and their accounts deleted, but they wouldn't usually be concerned about being sent to prison one day for putting up some online posts," said Qiao Mu, a professor of media studies at Beijing Foreign Studies University.
Amid the crackdowns, Xi's government has sped its adoption of new media to publicize its own version of events. The charge has been led by Lu, a former deputy Beijing propaganda chief, who was appointed Internet minister in May 2013, just after Xi's ascension to the presidency.
Thought Leaders
"We must push party and government members to get online, open up Weibo accounts and speak on behalf of the party and the government, foster our own group of 'thought leaders' on the Internet and occupy the new media, this new public opinion front," Lu's deputy, Ren Xianliang, said in an article posted on the website of the party journal Seeking Truth in April.
In October, the central government opened official accounts on four microblogging sites and one on WeChat. Traditional party mouthpieces have expanded their online presence, with the People's Daily adding a smartphone app to its existing line-up of nine new media portals in June.
Xi has also showed a willingness to embrace social media. Pictures of the president lining up at a steamed-bun restaurant with ordinary Beijingers in December spread across the Internet after being posted on the People's Daily's Weibo account.
The campaign has even taken state media into the realm of political expose, with the July 22 opening of ThePaper.cn. The online news site has published in-depth pieces about sensitive topics, such as the political ties of former security czar Zhou Yongkang, whom the party is investigating for alleged corruption. State media published photos of Lu visiting the newsroom in the days before its launch.
Combative Tone
"The previous regime took more of a reactive approach toward Internet regulation," said Beijing-based activist Zhao Jing, who writes about Internet and press freedom under the name Michael Anti. "But the new government sees the Internet as a larger threat, so a lot of what they do is preemptive."
It wasn't immediately clear that Xi's speech signaled a new phase in China's effort to rein in the Internet. The initial Xinhua report -- carried under the headline "Xi Says Ideology Is an Extremely Important Party Job" -- contained little new language.
In subsequent days, state-run media outlets and propaganda officials began to publish editorials praising the address with a new, combative tone. "If we mainstream media fail to take effective action to seize the ground of new media, others will, and our power to shape the public discourse will be taken by others," Xinhua Vice President Shen Haixiong told state broadcaster China Central Television Sept. 27.
Target: WeChat
Excerpts of the address were only posted on People's Daily Online and the Communist Party's official news website on Aug. 8 to publicize a new book about remarks by Xi.
Eighteen state media outlets, including CCTV, Xinhua and the People's Daily, are also drafting or have signed confidentiality agreements that reporters must sign "to maintain order of news communications," the People's Daily said today, citing the State Administration of Press, Publication, Radio, Film and Television.
Tighter restrictions could challenge Chinese Internet companies, which came under renewed fire in a "Cleaning the Web" campaign announced in April. The most high-profile target has been Tencent's mobile messaging app WeChat, with 438 million monthly active users.
Alibaba Risks
Asia's largest Internet company has in recent months repeatedly announced WeChat account closures for alleged violations of state content rules, including 20 million accounts shut in June for promoting prostitution. On Aug. 7, state Internet authorities released their most sweeping rules on messaging apps, requiring the people behind most of WeChat's 5.8 million public accounts to register their real names.
The shift shows the government's increased focus on mobile devices, which more than 83 percent people now use to access the Web, according to a July 21 report by the China Internet Network Information Center.
The regulations would have a "relatively minor" impact on Tencent, company president, Martin Lau, said during an Aug. 13 earnings call. "Most of the traffic on our public accounts actually sort of already comply with all the regulations. So, I think it doesn't really affect our platform," he said.
Alibaba, which holds a minority stake in Weibo Corp., cited obligations under Chinese law to monitor user content as a potential business risk in the prospectus it filed with the U.S. Securities and Exchange Commission in advance of what may be the biggest stock offering in U.S. history. An Alibaba spokeswoman declined to comment yesterday.
Harsher Measures
"People have little knowledge of what the government will impose, what are the regulations," said Benjamin Tam, a Hong Kong-based portfolio manager at IG Investment Ltd., which oversees about $1.5 billion. ''That might cause some short-term shocks for the investors.''
A year after Xi's speech, it's clear that China is more determined than ever to exert its control over the Internet. What remains to be seen is how far his digital campaign will go.
"The speech can be seen as the Party's acknowledgment of its failure in censorship and in setting the online public agenda," said Xiao, the Berkeley professor. "Therefore much harsher measures are needed."
Before it's here, it's on the Bloomberg Terminal.
LEARN MORE