Tesla Sued by Businesseman Claiming China Trademark Right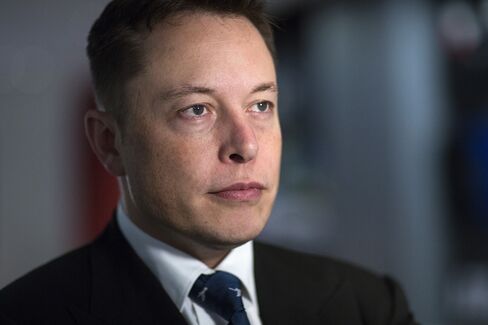 Tesla Motors Inc., the electric carmaker led by Elon Musk, was sued in China for trademark infringement in the latest example of the difficulties foreign companies face doing business in the country.
Zhan Baosheng, who registered the rights to the name before the U.S. carmaker entered China, is requesting that Tesla shut its showrooms, service centers and supercharging facilities there; stop all sales and marketing activities in the country; and pay him 23.9 million yuan ($3.9 million) in compensation, according to a lawsuit filed July 3 in Beijing and seen by Bloomberg News.
Zhan is the one attempting to steal the U.S. carmaker's property, Tesla spokesman Simon Sproule said in an e-mailed response to questions. The company, which has lodged complaints against Zhan to Chinese authorities and won, hasn't been served with or seen the lawsuit, he said. Tesla's shares fell 1.6 percent to $219.07 at the close in New York, and have gained 46 percent this year.
The lawsuit would need to overcome a ruling last year in which the Chinese regulator sided with the U.S. carmaker's claims that Zhan's trademarks were invalid, though he's appealing the regulator's decision. For Tesla, maker of the Model S sedan, the experience puts it with Apple Inc. and Burberry Group Plc among multinational companies that have clashed over their branding rights in the world's second-largest economy.
"We'll be watching how China deals with this very closely," said Paul Haswell, a Hong Kong-based technology law partner at Pinsent Masons. "So-called trademark trolls watch Western brand development and seek to register brands in China that are relatively well known in the rest of the world before they have any brand recognition in China, then use those trademarks as the brands expand into the East."
Court Filing
Initial demand for Tesla's Model S in China appears to be relatively strong, Barclays Plc analyst Brian Johnson said in a research note this week. The carmaker may have delivered as many as 1,300 vehicles to Chinese customers in the quarter that ended June 30, Johnson said, citing Chinese media reports.
Zhan, 36, paid a filing fee of 161,500 yuan for the lawsuit, according to a court receipt seen by Bloomberg News. An official at the Beijing Third Intermediate Court, who asked not to be identified because of court policy, confirmed a lawsuit had been filed against Tesla by Zhan.
Trademark Review
Zhan had applied to trademark the name in English in September 2006 -- three years after Tesla was founded in the U.S. -- for auto-related uses and it was granted by the trademark office in June 2009 for a period of 10 years, according to the website of the State Administration of Industry and Commerce, or SAIC, which oversees trademarks.
He subsequently applied to register more Tesla-related trademarks, including the logo and Chinese transliteration of the name.
SAIC's Trademark Review and Adjudication Board then revoked his Tesla trademarks in July 2013 in response to the U.S. carmaker's request. Zhan, who also has the Tesla.cn Internet domain redirect to his Twitter account, said he's appealed and the case is under review. Trademark rulings become official when appeals end, according to Chinese law.
"We have brought multiple actions against Zhan on account of his theft of our trademarks, and various Chinese authorities that have ruled on the matter have agreed with Tesla," Sproule said. Zhan's lawsuit "will not stop us in any way from operating in China," he said.
Previous Registrations
Besides Tesla, Zhan has also registered trademarks for Loremo, Cobasys and Cuill in China, according to the SAIC's website. Zhan said he filed for the first trademark because it was an abbreviation for "Local/Remote/Mobile," while the other two were registered for friends.
He said he's not aware of German automaker Loremo, Robert Bosch GmbH's Cobasys or the now-defunct search engine Cuil. Hamdi Taspinar, an investor relations representative for Loremo, said he wasn't aware of any trademark registration of the brand name in China, while spokesman Udo Ruegheimer said Bosch no longer has interest in the Cobasys brand name.
Zhan also said he's never had any disputes over trademarks with any company other than Tesla.
'Say Sorry'
"Tesla is violating my rights every day by selling their vehicles in China," Zhan said in an interview on the day he filed the lawsuit. "I want them to say sorry."
Tesla had contacted Zhan in 2012 about buying over the trademark, according to an e-mail provided by Zhan that's written in Chinese by a Tesla employee on behalf of Diarmuid O'Connell, who is in charge of business development at the automaker.
They met in November that year in Hong Kong, where Tesla offered $50,000 to buy the trademark, Zhan said. The offer was raised sixfold, to 2 million yuan, in May 2013 by then Tesla China General Manager Kingston Chang, who has since left the company, according to Zhan. Zhan said he rejected both offers.
"We believe that Zhan has not acted reasonably in returning our trademarks to us, which is why we opened the various proceedings before the Chinese administrative bodies," Tesla's Sproule said in response to queries about the meetings with Zhan. "There can be no legitimate dispute that we used these trademarks first as we were the ones that created them. Zhan's is a cynical attempt to steal a property that we spent time and effort creating, and put into use long before Zhan's crass attempts to steal them from us."
China Branding
Tesla isn't the first company to face hurdles with its brand in China.
Apple paid $60 million in 2012 to settle a two-year-old dispute over the iPad trademark in the country with Proview International Holdings Ltd., which had applied to Chinese customs to block local shipments of the U.S. company's tablets.
Burberry, the U.K. luxury-goods maker, said in November 2013 it was appealing a decision by Chinese regulators to restrict the company's trademark on its hallmark checkered pattern for leather goods.
For Palo Alto, California-based Tesla, the lawsuit comes as it gears up to expand in the world's largest auto market. It delivered the first Model S cars in Shanghai and Beijing in April, and is working to send the cars to customers in Shenzhen and Hangzhou. Chief Executive Officer Musk has said he expects to produce cars in China within four years.
Zhan, who says he graduated from Nanjing Tech University and is from southwestern Jiangxi province, said he registered the Tesla trademark after inventor Nikola Tesla -- the U.S. carmaker is also named after the same inventor. He said his wealth exceeds $1 million and currently runs skincare company Cengceng Inc.
— With assistance by Tian Ying, and Alan Ohnsman
Before it's here, it's on the Bloomberg Terminal.
LEARN MORE