Baffled-in-Brussels Cameron Shows U.K.-Europe Disconnect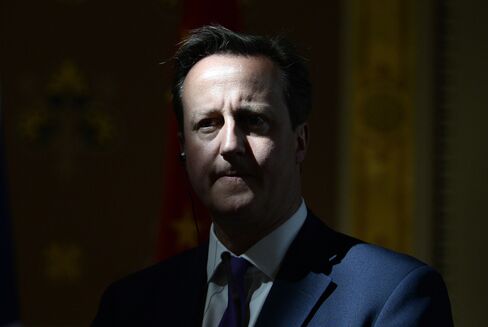 Baffled by the inner workings of the 28-nation European Union? Befuddled by the European Commission? Bewildered by the European Council?
"Welcome to the club," says U.K. Prime Minister David Cameron.
Cameron's detachment from the EU -- expressed at a June 5 press conference with U.S. President Barack Obama -- has come at a cost, lessening British influence over European policymaking and making a U.K. exit from the bloc a tangible possibility. It's a state of disconnect that threatens to further alienate Britain at a summit of EU leaders next week.
"How can the political leader of an important member state get Europe so wrong so often?" said Peter Ludlow, a Brussels-based historian and chairman of the EuroComment research firm. "For the U.K.'s partners, coming to terms with the implications of Britain's sleepwalk toward the edge may be the greatest strategic challenge which they will face over the next five years."
Cameron's EU dilemma is symptomatic of a foreign-policy drift that has seen the U.K. government spurn traditional allies in eastern Europe and fail to convince even its own lawmakers of the case for military intervention in Syria.
Juncker Gamble
The latest case in point is Britain's handling of the appointment of a new president of the European Commission, which oversees the EU's single market. Cameron declared the front-runner, former Luxembourg Prime Minister Jean-Claude Juncker, unacceptable from a U.K. standpoint, only to fail to drum up the votes to block him.
Juncker spent almost 19 years running Luxembourg, helping midwife the euro and defend it during the debt crisis. With Cameron pressing for "change" and "reform" in the EU -- all the more so after his Conservatives fell to third place in last month's European elections won by the anti-EU U.K. Independence Party -- his portrayal of the Luxembourger as "an experienced European politician" in an op-ed in continental newspapers last week had a hollow ring. It also had little effect: Juncker looks set to win enough support at the June 26-27 summit, EU officials said.
'Fair Deal'
There is a self-defeating element to Cameron's political opposition. Juncker vowed in his platform to strike a "fair deal" over Britain's EU membership, making him the rare European politician to offer concessions to Cameron to prevent the U.K. from leaving the bloc.
Cameron's anti-Juncker campaign "is a gamble," said Hylke Dijkstra, a Marie Curie fellow in politics and international relations at Oxford University. "It goes beyond what's in the U.K.'s interest and what's reasonable."
Cameron's fumbling of the Juncker interlude has its roots in decisions he made before becoming prime minister in 2010. Currying favor with EU-skeptics in his own party, in 2009 he pulled the Conservatives out of the Europe-wide center-right political family that includes German Chancellor Angela Merkel's Christian Democrats.
Merkel's Enemy
Following that divorce, Cameron's troops stumbled into a marriage last week with a German party that has made Merkel its mortal enemy, resenting her for lending German taxpayers' money to sickly southern European economies to keep the euro afloat.
The Conservatives' EU-level alliance with the Alternative for Germany party comes as Cameron needs Merkel more than ever, to reshape the EU along free-trade lines and, as a consequence, persuade the British public to stay in the bloc.
By virtue of its size and centrality, Germany has always been the EU's indispensable nation, even if it was reluctant to advertise that fact. The euro crisis reinforced the power of Germany and of Merkel, now the EU's longest-serving leader after winning a third term last year.
British 'Sulk'
Germany was in the ascendant in December 2011 when Cameron stood athwart Merkel's call for a deficit-limitation accord that would be binding on countries using the euro or aiming to in the future. Cameron crowed that he "vetoed" the pact after getting one other country, the Czech Republic, to sit it out.
"This was not so much a veto as a sulk," Richard Corbett, a member of the opposition Labour Party set to rejoin the European Parliament, said in a blog post. Britain ended up with "far less influence on the content, and had essentially given up its genuine veto by refusing to take its seat at the table," he said.
Along the way, Cameron un-friended eastern European governments by taking aim at immigration. British threats to cut welfare benefits to foreign workers -- already questionable under EU law -- were a provocation especially to the 579,000 Poles living in England and Wales, the second-largest migrant group, according to 2011 data.
Poland Ascendant
In 2004, Cameron's predecessor-once-removed, Tony Blair, enlisted Poland to defeat an earlier commission appointment; Poland has since broken free of its mentor. This time around, Polish Prime Minister Donald Tusk is siding with Juncker over U.K. objections.
Poland, the bloc's largest eastern country, is also shoving Britain aside as an engine of EU foreign policy. A decade ago, Britain, France and Germany formed a natural triad in leading the EU response to Iran's nuclear ambitions; this year, when the Ukraine crisis erupted on the EU's doorstep, Poland took Britain's place in an EU peacemaking mission.
Britain's back seat on Ukraine followed a signature foreign-policy failure for the former empire-builder still casting about for a role. Cameron in September became the first prime minister in at least 150 years to lose a war-powers vote in parliament when the House of Commons kept the U.K. military out of Syria.
EU Referendum
Cameron's biggest EU gambit -- inconveniently announced as Germany and France were marking the 50th anniversary of a friendship treaty that numbers among the EU's moral landmarks -- was a January 2013 pledge to hold a referendum on quitting the bloc, assuming he is re-elected in 2015.
Instead of appeasing anti-EU sentiment, the tactic fueled an appetite for more. The interim payoff came with UKIP's triumph in the European Parliament election.
Cameron "has been hijacked by the backbenchers in the U.K., they have driven the agenda," said Miguel Otero Iglesias, a senior analyst at the Elcano Royal Institute in Madrid. "He thinks there's a light at the end of this tunnel. But there is no exit, and that's his problem right now."