Maliki Turns to Militias to Halt Militant Onslaught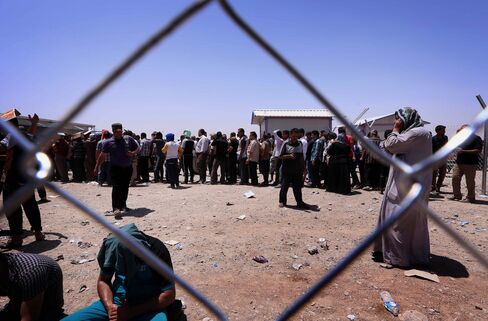 June 12 (Bloomberg) -- As his army flees from an al-Qaeda splinter group, Iraqi Prime Minister Nouri al-Maliki is rallying Shiite militias to defend his government, raising the specter of civil war in OPEC's second-biggest oil producer.
In a televised news conference yesterday Maliki urged citizens to take up arms after the Islamic State in Iraq and the Levant group seized control of the northern city of Mosul, stealing weapons and helicopters from police and army bases as Iraqi government forces fled. He vowed to build an army of volunteers to "pull the thorns out by ourselves."
By countering Sunni militants with elements of his own Shiite support, Maliki risks reigniting the sectarian conflict that flared after the 2003 U.S. invasion that led to the ouster of Saddam Hussein. At its worst, in 2006 and 2007, thousands of civilians were losing their lives every month.
"The unleashing of the Shia militias was a driver of the civil war," said Julien Barnes-Dacey, a senior Middle East and North African analyst at the European Council on Foreign Relations. "The question is, will Maliki try to maintain order over these militias or will the level of conflict spiral into something deeper?"
ISIL has been carving out a base in western Iraq along the border with Syria, where it's fighting to oust President Bashar al-Assad, and its territorial gains pose an increasing threat to the unity of Iraq.
Its militants seized the western city of Fallujah in January and Maliki has been using regular forces to try to recapture it ever since. His turn to the militias now lays bare the central government's inability to control the country.
Al-Sadr Responds
Even if the measure achieves its immediate goal, the use of such militia groups would sow the seeds of future crises, said Zaid Al-Ali, author of The Struggle for Iraq's Future.
"That could possibly help him in the short-run, if there were enough of them that could help pacify the city," Al-Ali said. "But in the long-term that would make things worse. We need regular, long-term Iraqi forces to be responsible for security. That's a no-brainer."
Shiite cleric Moqtada al-Sadr was among the first to respond to the premier's appeal. Al-Sadr led the Mahdi militia, which played a key role in the civil war before it was disbanded in 2008, a year after the surge of U.S. troops that ejected al-Qaeda-linked groups and reined in Shiite militants.
"We're ready to coordinate with some government entities to set up Al Salam Brigades to defend things that are sacred," the cleric said, according to Al-Mada Press.
Weapons Seized
Al-Sadr acknowledged the risk of sectarian conflict and insisted his newly formed militia wouldn't be drawn into one. He said it would be "only temporarily involved in the official security corps while still centrally reporting to us."
Lawmaker Hassan Al-Suneid told Iraqiya television that volunteers were fighting today alongside the army against ISIL.
Maliki and any militias that rally to his call will be taking on an enemy that's gained strength from its seizure of Mosul. ISIL took control of more than 200 U.S.-provided armored vehicles and masses of weaponry when it seized the city, according to local officials. It also released thousands of inmates from jails.
ISIL fighters moved yesterday into Saddam's hometown of Tikrit, about 80 miles (130 kilometers) north of Baghdad, Noureddin Qablan, vice chairman of the Nineveh provincial council, said by phone. Today, the group vowed to march on the capital.
"It will try to penetrate into Shia areas and provoke a civil war that it can use to establish the kind of state it wants to see," Al-Ali said.
No Trust
The disintegration of Maliki's mostly Shiite army as ISIL advanced in Mosul and surrounding areas may reflect wider local hostility, said Hayder al-Khoei, an Iraq analyst at Chatham House in London.
"Many residents in Sunni-dominated Mosul were hostile towards Iraq's Shia-dominated army because they were harshly treated," al-Khoei said in a report. "The decision by army units to flee en masse may indicate they felt that Mosul, where they were considered occupiers, was not a city worth dying for."
Such feelings may reflect Maliki's failure to forge a compromise with Iraq's Sunnis since coming to power in 2006. He's been re-elected twice with the votes of Iraq's Shiite majority, most recently last month when his State of Law party fell short of the majority needed to govern alone. It's currently searching for coalition allies.
In the Sunni areas that have fallen under ISIL's control, most people don't support the militants, and in theory there's plenty Maliki could do to win them over, author Al-Ali said.
"He could deploy an appropriate number of soldiers, treat the civilian population in a human way, address their grievances," Al-Ali said. "But at this stage, even if he were to say he'd do those things, very few people would believe him because he's been in charge for eight years, and during that time he promised to do these things, and never did."
To contact the reporter on this story: Caroline Alexander in London at calexander1@bloomberg.net
To contact the editors responsible for this story: Alaa Shahine at asalha@bloomberg.net Caroline Alexander, Ben Holland