White House Seeks $5 Billion Fund for Anti-Terror Push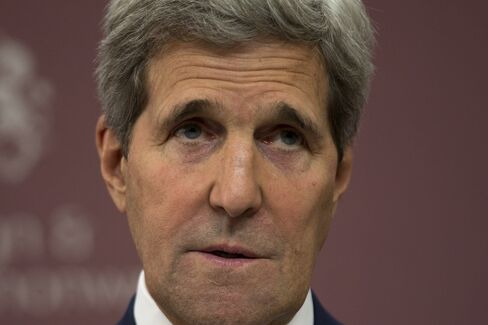 May 28 (Bloomberg) -- The White House will be asking Congress for a $5 billion anti-terrorism fund to help train other countries and form alliances.
The fund is part of a planned supplemental budget request for the Defense Department that will reflect President Barack Obama's decisions to pull troops out of Afghanistan, increase aid to the Syrian opposition and other shifts in U.S. foreign policy, according to a White House fact sheet made public today.
The counter terrorism money is designed "to take on this rising radical extremism that challenges rule of law in so many places," Secretary of State John Kerry said on "CBS This Morning" today.
"Terrorism is the principle challenge" for U.S. foreign policy, he said. The U.S. will also "ramp up assistance" to Syrian opposition, although it's "not going to put boots on the ground."
Obama plans to talk about his foreign policy today during his commencement speech at the U.S. Military Academy at West Point, New York. That policy seeks to balance the nation's commitments against the limits of American military, economic and political power.
When Obama submitted his budget to Congress on March 4, he didn't include the usual war operations funding because of the uncertainty over Afghanistan. Some lawmakers have objected to the delay.
The White House fact sheet said the $5 billion for the anti-terrorism campaign "will allow us to pursue a more sustainable and effective approach to combating terrorism that focuses on empowering and enabling our partners around the globe."
Within the $5 billion, the Defense Department would receive funds for increased intelligence, surveillance, and reconnaissance missions, along with an expanded special operations program.
To contact the reporter on this story: Roger Runningen in Washington at rrunningen@bloomberg.net
To contact the editors responsible for this story: Steven Komarow at skomarow1@bloomberg.net Elizabeth Wasserman