BlackBerry Market Share to Fall to 0.3% in 2018, IDC Says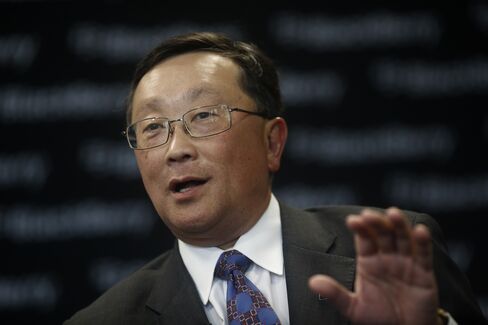 BlackBerry Ltd.'s share of the smartphone market is quickly vanishing.
BlackBerry's global shipments are projected to fall almost 50 percent this year to about 9.7 million smartphones, according to a new forecast today from research firm IDC. BlackBerry's worldwide market share will slide to 0.8 percent in 2014 and may slip to 0.3 percent by 2018, IDC said. The company's operating system accounted for 1.9 percent of the market in 2013.
"The question of whether BlackBerry can survive continues to surface," IDC said in the statement. "And with expectations that share will fall below 1 percent in 2014, the only way the company will be viable is likely through a niche approach based on its security assets."
John Chen, who was named chief executive officer in November, is reducing BlackBerry's dependence on the smartphones that made the company famous. Instead, he's stepping up reliance on business customers and fresh revenue streams from its QNX software and BBM instant-messaging services. The shift is key to Chen's goal of returning the money-losing company to profit by the fiscal year that ends in March 2016.
While BlackBerry's smartphone dominance continues to vanish, Google Inc.'s Android operating system is expected to continue to dominate with 80.2 percent of the global market this year. Android's share will dip to 77.6 percent in 2018, IDC estimated.
Microsoft Corp.'s Windows phones are projected to increase market share from 2014 to 2018, rising to 6.4 percent from 3.5 percent, according to IDC. Apple Inc.'s iOS operating system will account for 13.7 percent of the market in 2018, down from 14.8 percent this year.
Before it's here, it's on the Bloomberg Terminal.
LEARN MORE