EU Austerity Rethink Urged as Voters Back Protest Parties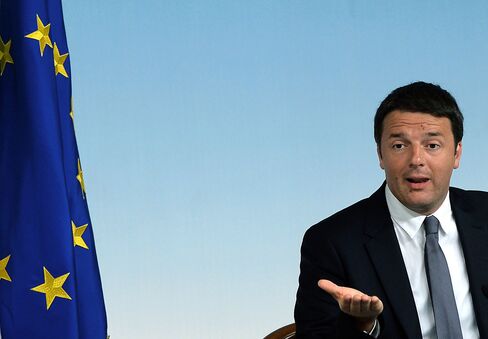 European Union leaders north and south of the economic divide are channeling an anti-austerity electoral backlash as they seek to push the case for an easing of fiscal policy throughout the euro zone.
Italian Prime Minister Matteo Renzi's victory and French President Francois Hollande's defeat in the European elections united them in seizing on the results to press for an overhaul of the EU's German-backed budget-cutting model that has held sway since the debt crisis erupted more than four years ago.
"Europe has overcome the euro crisis, but at what cost?" Hollande said in a televised address to the nation late yesterday after his Socialists were routed by the anti-euro, anti-immigration National Front. "Europe's priorities must be growth, jobs, investment."
As EU chiefs prepared to meet over dinner in Brussels today to discuss the way forward after the unprecedented surge of protest parties across the 28-nation bloc, the momentum for looser fiscal rules was building. With the euro-region's fragile political stability at stake, political leaders stepped up their demands for more tolerance of public spending as more necessary than ever to head off the anti-austerity upsurge.
"We're asking to change the rules or make them tailored closer to our expectations," Renzi told reporters in Rome yesterday. "We're asking to change the approach that Europe has had in recent years."
In Greece, the success of Syriza, which placed first, may help Prime Minister Antonis Samaras by heralding easier debt-repayment terms for the first euro-area country to call for an international bailout in 2010.
'Guinea Pig'
Syriza leader Alexis Tsipras told reporters that the election result sent a message against austerity "from the country which was chosen to become the guinea pig" of the economic crisis.
The yield on Greek 10-year bonds fell 25 basis points to 6.25 percent yesterday, was down another 2 basis points today.
"The election result puts Greece in a sweet spot for debt relief negotiations," said Michael Michaelides, a rates strategist at Royal Bank of Scotland Group Plc in London.
After a six-year recession that wiped 25 percent, or 50 billion euros ($68 billion), off national gross domestic product, Greece recorded a primary budget surplus -- which excludes interest and one-time payments -- equivalent to 0.8 percent of GDP last year.
Any EU attempt to force Greece to go further and target an "unrealistic" primary budget surplus through more austerity would mean "a Syriza victory in national elections is on the cards," said Michaelides.
Growth Sluggish
Even as threats to the euro's viability have faded, better economic data across Europe have been slow to emerge in many nations, with unemployment in the euro area now only slightly below last year's record.
Marine Le Pen, the leader of France's National Front, joined the stampede against the established parties' adherence to austerity, capitalizing on Hollande's status as the least-popular leader in France's modern history.
Faced with a sluggish growth rate -- the economy grew just 0.2 percent last year -- Hollande has been battling to cut his country's budget deficit to within the EU ceiling of 3 percent of GDP. Last year, the European Commission gave France an extra two years, meaning that it would have to meet the goal by 2015.
Credibility Question
With the commission, the EU's austerity controller, predicting that France will miss its relaxed target without changes in policy, a further extension may be on the cards.
"Brussels is damned if it does and damned if it doesn't," Nicholas Spiro, managing director of Spiro Sovereign strategy in London, said by phone. "If it shows more leniency toward France, its credibility will suffer further and Germany will be up in arms. But if it keeps pressuring France to speed up reforms, this will play into the hands of Ms. Le Pen."
In Italy, with debt weighing in last year at 132.6 percent of GDP -- the second-highest in the euro area after Greece -- the anti-austerity groundswell benefited a party in government rather than a protest group. Renzi, who came to power in February saying he would persuade the EU to adopt more expansive economic policies, won the biggest share of the vote in his country for more than 50 years.
The result gives him extra leverage as he seeks greater flexibility from the EU over cuts and spending, Renzi said yesterday, stopping short of saying where he wanted more leeway.
Victory Cheered
Italy's markets cheered his win over Beppe Grillo all the same. Italian 10-year bond yields dropped 16 basis points, the biggest decline since June 7, 2013, while Italy's benchmark FTSE MIB index rose 3.4 percent, extending this year's gain to 12 percent.
The elections reverberated in Ireland, which exited its 67.5 billion-euro bailout in December. Ireland's Deputy Prime Minister Eamon Gilmore resigned as Labour Party leader, saying his party had paid a "high political price" for implementing policies needed to narrow the fiscal deficit.
In Spain, where the government is struggling to narrow the budget deficit, Prime Minister Mariano Rajoy's PP claimed victory with 26 percent of the vote, while the opposition Socialists lost almost half of their support, prompting leader Alfredo Perez Rubalcaba to say he'll step down. The Socialists' share of the vote was eaten away by Podemos, a new movement that grew out of street demonstrations against politicians and banks.
Commission Forecasts
The EU forecasts Spain's budget deficit will widen to become the joint largest in the euro area next year, at 6.1 percent of GDP.
The commission's current mandate ends in October, meaning by the time it assesses euro-area countries' draft spending plans for 2015 in November and gives austerity guidance to governments, it could have a new president and economic chief.
EU heads meeting in Brussels are also due to discuss who to put forward as the next president of the commission. With leaders unlikely to come up with a name and the European Parliament intending to vote on the next commission president in July, there is set to be a month of political maneuvering in Brussels and national capitals over the job.
For the EU "there should be some more leeway," in fiscal policy, Carsten Brzeski, an economist at ING Group NV in Brussels, said by telephone. "But at the same time if the commission wants to stay credible, they have to get something in return from the Hollandes, from the Renzis."
Top Stories