Scene Last Night: Loeb, Jeb Bush, Jimmy Lee, Greenblatt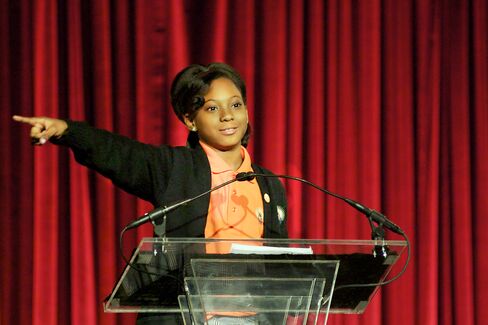 "Never go on after a cute kid," Dan Loeb said last night in front of 750 guests packed into Cipriani 42nd Street (twice the number assembled last year at the Mandarin Oriental) for the second annual Success Academy Charter Schools benefit.
The Third Point LLC hedge-funder and chairman of the Success Academy board spoke after a presentation from an exuberant fifth-grader. She attends the Success Academy Harlem Central Middle School, one of the three Success institutions whose grant of free space was withdrawn by Mayor Bill de Blasio in February and reinstated over the weekend.
"Did you know heat and pressure can form rock?" Kayla asked the crowd. Her favorite subjects are math and science, and she said she plans to graduate from either Juilliard or Columbia University in the class of 2025.
As for Loeb, he could probably take some public-speaking tips from Kayla, though public thank-yous to lawyers are never that riveting. Loeb's went to the ones who helped Success in their fight for free space: Arnold & Porter, Kirkland & Ellis and Paul, Weiss.
Loeb himself is keen to share his knowledge and network with students. He took a group to the floor of the New York Stock Exchange and has also brought journalist Carl Bernstein and chess champ Garry Kasparov to Success classrooms.
SEALS and Hedgies
The event was filled with men and women in the hedge-fund industry, including Kyle Bass of Hayman Capital Management, Joel Greenblatt of Gotham Asset Management, Boaz Weinstein of Saba Capital and John Paulson of Paulson & Co. Also present: Erik Prince, the founder of Blackwater USA and former Navy SEAL.
Loeb, the event's chairman, sat with former Florida Governor Jeb Bush and Jimmy Lee, vice chairman of JPMorgan Chase & Co., whose son Jamie Lee works at Goldman Sachs Group Inc. and is on a Success school board.
"I'm just very moved by what Dan Loeb does," Jimmy Lee said. "Away from all the business press he gets, I think being chairman of his board and giving his time, not just his money, makes him a role model. You can tell he cares."
The program for the gala was done up in the style of a school composition book, with a section featuring yearbook-style photos of students.
Yearbook Photos
Loeb said he keeps his own yearbooks. His seventh-grade yearbook photograph in the "1974 Patriot" of L.A.'s Paul Revere Junior High School (found by me on EBay) shows him with long bangs and a center part, pretty much a classic mullet. He's listed as "Danny." Back then he hired classmate Robert Schwartz to protect him from bullies, for 25 cents a day (Schwartz sports Bieber-ish side-swept bangs in the yearbook).
Boaz Weinstein said he has his yearbooks from Stuyvesant High School, which he noted was also Eva Moskowitz's alma mater. She is co-founder and chief executive officer of Success Academy Charter Schools.
In the keynote, Bush presented statistics pointing to the need to improve education in the U.S. and Success Academy's achievements lifting test scores and reading levels. Mooted as a potential Presidential candidate in 2016, he made only a brief mention of his own education track record in Florida.
Success started in 2006 with one school, 155 students and Moskowitz as the principal and sometime teacher.
Increased Scale
As of August, Success will have 32 schools and 9,000 students. Four years from now, Success plans to have 55 schools with 21,400 students, which, Moskowitz said, would make it the equivalent of the fifth largest district in New York State and half the size of the Washington, D.C. school system. A key part of the model is maintaining quality while scaling up, she said.
Expansion requires private funding (students' education is paid for with public funds.) The event raised $7.75 million, Loeb said, including a check for $250,000 handed to him during the event and a $4 million gift with a matching challenge for high school launches. Loeb also said Jefferies & Co., where he once worked, will be hosting a charity trading day for Success.
Loeb said that elementary school start-ups cost about $1.5 million apiece. Getting two high schools up and running will take $10 million (Success's first high school opens this year.) Success is also investing in an institute to provide teacher training across the country, as well as "a proprietary technology platform" to manage the schools, Loeb said.
De Blasio Critic
Campbell Brown, the journalist and Success Academy Network board member, used her speech as honoree to direct fighting words at Mayor de Blasio:
"He can fight charters and what they do as a threat to union privilege, or he can embrace reform and the chance to be a leader and even a great man, but he can't do both," Brown said.
She called on guests to make their voice heard, "whether you speak to politicians directly, whether you do it through your campaign contributions, through your writing, or through your support for our wonderful schools."
Brown, a founder of the Parents' Transparency Project, which pushes for teachers found guilty of sexual misconduct to be removed from schools, invoked a phrase used for U.S. Marines to describe Loeb: "There is no better friend and worse enemy."
Laura Blankfein, wife of Goldman Sachs CEO Lloyd Blankfein, joined Success when it took thousands of parents to lobby Governor Andrew Cuomo in Albany. A lawyer by training, she is on the board of Uncommon Schools' Excellence Boys Charter School, started by hedge-fund manager Paul Tudor Jones. She also tutors three to four days a week in an Association to Benefit Children after-school program.
The exposure gives her "very good perspective on education in the city," she said, where in 90 percent of elementary schools, the majority of kids can't read at grade level. "It's so sad, we are so failing. It's heartbreaking. That's why the work we're supporting tonight is so important."