Japan's Population Shrinks for Third Year as Aging Increases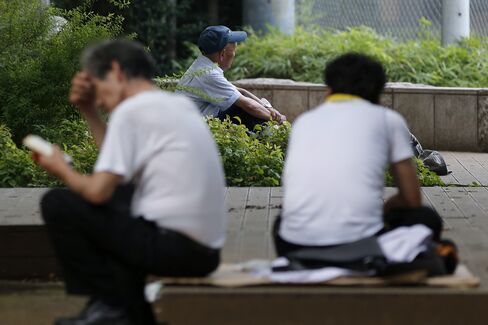 Japan's population slid for a third year with the proportion of people over the age of 65 at a global record, underscoring the challenge the world's most-indebted economy faces in financing its aging society.
The population declined by 0.17 percent to 127.3 million as of Oct. 1, as the country maintains one of the world's lowest birth rates. People age 65 or older made up one fourth of the total, the highest-ever percentage, as postwar baby boomers head into retirement, the Internal Affairs Ministry said on its website yesterday. That's the highest of any country in the world, according to the Population Reference Bureau.
Japan's debt has swelled to more than twice the size of the country's economic output, due partly to expanding health and social security costs associated with its aging population. As well as increasing the sales tax to 8 percent from 5 percent this month, Prime Minister Shinzo Abe is seeking to encourage more women into the workforce to bolster the economy and government coffers and has also considered loosening restrictions on immigration.
Lot to Learn
"We have argued for some time that Japan has a lot to learn from Australia and the U.S., which have demonstrated successfully that welcoming people from a variety of nations, who may think differently and have different cultures but are highly talented, strengthens the economy on both the demand and supply sides," Mizuho Securities Co.'s Chief Market Economist Yasunari Ueno wrote in a report on April 9.
A shrinking labor force is complicating the efforts to raise tax revenue. The working-age population, defined as those between 15 and 64 years old, fell to less than 80 million for the first time in 32 years, the ministry said in its report. Japan's fertility rate of 1.39 children per woman is the fourth lowest among the nations of the Organization for Economic Cooperation and Development.
"The problem of the low birthrate and aging population is getting more serious and the scale of the fall is remarkable," Chief Cabinet Secretary Yoshihide Suga told reporters. "Given the circumstances, it is a matter of urgency to build a society where women can shine," he said, adding that more child-care provision and a better working environment for women were among the necessary measures.
Children up to 14 years old made up just 12.9 percent of the population, according to the ministry, only slightly more than the 12.3 percent of the population age 75 or older.